Sports
Sonics beat Blazers
Fri., March 25, 2005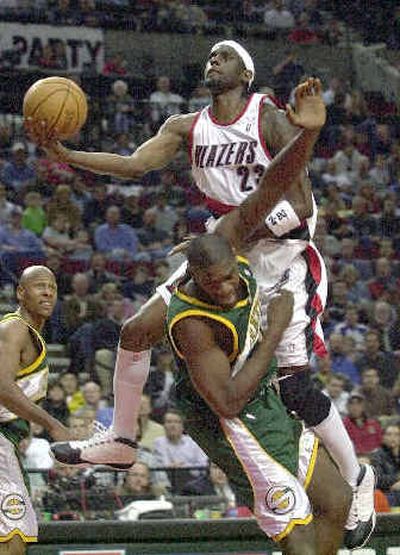 PORTLAND, Ore. — Rookie Damien Wilkins picked up where Rashard Lewis left off. And Ray Allen picked up where — well, Ray Allen left off.
Allen returned from an ankle injury and scored 19 points, and Wilkins filled in admirably after Lewis left with an injury in the Seattle SuperSonics' 96-91 victory over the Portland Trail Blazers on Thursday night.
Wilkins, a rookie out of Georgia, had 21 points.
"He shot it like he knew it was going to make it," Allen said of his young teammate. "He shot it like he had been there a million times before."
It was Seattle's fourth straight victory, but it wasn't easy. The Sonics had to overcome a furious fourth-quarter Trail Blazers rally without forward Lewis, who left early with left knee tendinitis.
Portland has lost seven straight and 11 of 12 since firing head coach Maurice Cheeks and replacing him with Kevin Pritchard.
The Sonics erased a first-half deficit with an inspired 18-3 run in the third quarter, and Wilkins' dunk gave the Sonics their biggest lead of the game — 72-61. But the Blazers came back with three straight 3-pointers — two from Damon Stoudamire and another from Derek Anderson — to close the gap to 72-70, and Stoudamire hit two more 3s to give Portland a 79-77 lead.
Wilkins' 3-pointer put the Sonics up 92-91 with 1:09 left, and he added a pair of free throws and had a one-handed dunk to finish off the scoring.
"The thing about Wilkins is he's paid his dues," Sonics coach Nate McMillan said. "He's in the gym every day. He works hard. And he hit a big 3 at the end there. That's a good shot for him because he's open."
Lewis left the game after just 10 minutes, but his tendinitis is not believed to be serious. He said afterward that it has been a lingering issue through the second half of the season and Thursday night the knee never loosened up.
"They might want to hold me out because we play again within 24 hours," Lewis said about his chances for starting against the New York Knicks in Seattle tonight.
Stoudamire made five straight 3-pointers during the Blazers' late run and had 19 points. Pritchard, who has said the Blazers are going to focus on evaluating young talent as the season winds down, leaned harder on his veterans against northwest rival Seattle.
"It's tough," said Darius Miles, who finished with 17 points. "But it's good for progress. We looked good out there. We looked like a team."
Allen sprained his right ankle in Sunday's win over the Los Angeles Lakers. Without him, the Sonics beat the Milwaukee Bucks 92-84 on Tuesday.
Blazers forward Ruben Patterson was activated from the injured list Thursday after he missed 11 games with a sore left knee. Patterson, who averages 10.7 points per game,came off the bench and had 13 points.
Local journalism is essential.
Give directly to The Spokesman-Review's Northwest Passages community forums series -- which helps to offset the costs of several reporter and editor positions at the newspaper -- by using the easy options below. Gifts processed in this system are not tax deductible, but are predominately used to help meet the local financial requirements needed to receive national matching-grant funds.
Subscribe to the sports newsletter
Get the day's top sports headlines and breaking news delivered to your inbox by subscribing here.
---