News > Features
Lessons for moms and dads
Mon., March 28, 2005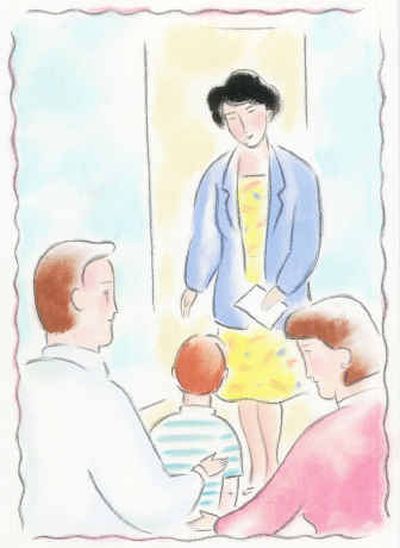 DALLAS – Jennifer Loh couldn't wait to begin teaching a dozen years ago. She eagerly stepped into her first classroom in Boulder, Colo., convinced she had found her calling.
"My vision was that I wanted to give the current generation the great education I had that made me who I am," says Loh, 34, now a high school mathematics teacher at the Ursuline Academy of Dallas.
What she didn't realize was that each of those kids comes with parents: Anxious parents. Protective parents. And, sometimes, hostile parents.
But Loh has learned skills of connecting with parents that have put her in the public eye. Ursuline principal Elizabeth Bourgeois recommended her for an interview for a recent Time magazine cover story titled "Parents Behaving Badly." She has since addressed the subject on "Good Morning America" and National Public Radio's "The Brian Lehrer Show" in New York City. She has taped a segment for "The Jane Pauley Show," which is scheduled to air this month.
"In Boulder, parents would come and bring their lawyer to the teacher meetings," she recalls. "That didn't happen to me. But I do remember my first Back to School Night. My colleagues pulled me aside and said, 'If you're not careful, you can get yourself in a corner you don't want to be in. Be proactive, and know what you want to say ahead of time."'
Loh quickly learned what they meant. Once, she had to defuse tension with a parent who was convinced Loh hated her child.
"I looked the parent in the eye and said, `I love your child. I care for him. I want him to do the best he can possibly do. Anything I said was in the context of wanting to help."'
Then she pulled out one of the folders she keeps on each student, giving examples of the child's strengths and weaknesses.
The parent, like the many to follow, became a partner, working with Loh to help her child succeed.
Tensions between parents and teachers have escalated in recent years, Loh says, because of increased competition for fewer college spots.
Texas' "10 percent rule," in which only the students ranked in the top 10 percent at their high schools are guaranteed admission to state schools, hasn't helped.
"It's no longer a focus on my child reaching her potential, but if this B is going to mess up her chances to get into a particular college and ruin her life," Loh says.
She wishes parents and teachers could reset the goals differently and work together "for the total development of the child's spiritual formation and intellectual growth."
Loh, who became a mother two years ago, says that has helped her understand why parents fight so hard and worry so much.
"Every child has a family, and to his family, this child is the most important thing in the world. You have an innate instinct to protect your child from pain and get him the best possible life experiences. But as a teacher, I also know that difficult situations help a child learn how to persevere."
Here's a question-and-answer with Loh:
How do you talk with a parent whose child is struggling?
I believe in helping parents understand the truth about their child. So in a parent-teacher conference, I pull out the child's actual work. We look at a recent test or assignment, and I turn it into a discussion of their strengths and weaknesses. "Their work was perfect on this problem – clear and organized. But this problem is wrong – why?" I analyze how their brain is working. I bring the parents in as partners to focus on how to help the weaknesses and capitalize on the strengths.
What do you do when you can't defuse the tension?
Every once in a while the parents will bring up some kind of personal issue about something you said, an assignment you gave, a test or even the curriculum itself that you can't resolve. I'll say, "This is an important issue, but I'd like to have a private meeting with a mediator present." That gives you time to plan so it's not adversarial. We want to be the parents' partner. If there's a third person, it can be more congenial and the conversation can be more productive.
Is there ever a situation when a teacher and a child just don't get along?
It happens because teachers are just people with many different personalities and we teach kids with many different personalities. But I believe that a child can learn a lot from not having the best teacher for him. Maybe, one day, that child will have a boss that he won't fully get along with. You have to take the situation that you've been given and make the best out of it.
If there's one thing you could change about parents today, what would it be?
I wish we could get back to focusing on the whole child instead of his grade. Things go sour when parents buy into society's message that success equals a certain grade-point average because that equals a certain wonderful college and not another college. It's no longer about what a child is learning. For some kids, getting a B in an honors math class means they are not working as hard as they could. But for others, it is outstanding.
Local journalism is essential.
Give directly to The Spokesman-Review's Northwest Passages community forums series -- which helps to offset the costs of several reporter and editor positions at the newspaper -- by using the easy options below. Gifts processed in this system are not tax deductible, but are predominately used to help meet the local financial requirements needed to receive national matching-grant funds.
Subscribe now to get breaking news alerts in your email inbox
Get breaking news delivered to your inbox as it happens.
---