News > Nation/World
Pope's blessing is silent
Mon., March 28, 2005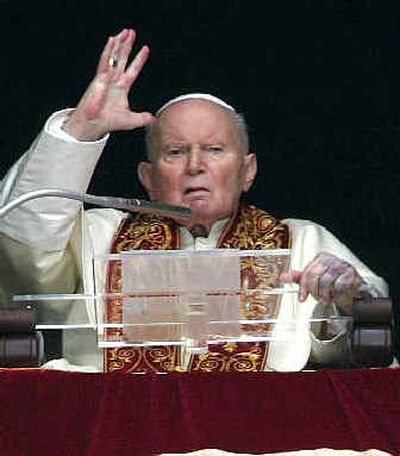 VATICAN CITY – Millions waited to hear him but waited in vain. Some cried as they stood shoulder-to-shoulder in St. Peter's Square.
For the first time in his long papacy, John Paul II fell silent throughout Holy Week, able only to make a few unintelligible sounds when he tried to speak Easter Sunday.
In the end, the pontiff managed only to greet the saddened crowd with a sign of the cross.
Aides had readied a microphone, and the pope tried to utter a few words from his studio window overlooking the square. But after issuing only a few guttural sounds, he just blessed the crowd with his hand and the microphone was taken away.
Vatican watchers had been anxiously awaiting John Paul's appearance for signs of how the 84-year-old pontiff was faring after Feb. 24 surgery to insert a tube in his throat to help him breathe. After the dramatic appearance, many in the crowd cried or applauded in sad appreciation for John Paul's pained efforts to greet them on the holiest day of the church calendar.
John Paul last spoke to the public March 13, shortly before he was discharged from the hospital.
"Look, it's Easter and everybody is so sad, and so many have tears in their eyes," said Hubert Wichert, from the German town of Essen, who was in the square.
A physician from Nice, France, Milou Drici, said he and others were saddened by what they saw – but also heartened.
"As a doctor, I felt for him. It is an ordeal for him and you could see his frustration," he said. "You have to admire his strength and fortitude. The faith of the people, as you saw today, helps him overcome his difficulties."
For the first time since John Paul's papacy began in 1978, Easter Sunday Mass at the Vatican was celebrated without him as he continued his convalescence following two recent hospitalizations for breathing crises. John Paul also suffers from Parkinson's disease, which makes it difficult for him to speak, as well as knee and hip ailments.
As a result of his infirmities, the pope missed participating in all major Holy Week events and designated top cardinals to stand in for him.
On Sunday, it fell to the Vatican's No. 2 official, Cardinal Angelo Sodano, to celebrate Easter Mass in the flower-decked square jammed with more than 50,000 people. Millions more watched in TV hookups in 74 countries.
John Paul appeared at his window after the service ended, drawing applause from the crowd. He coughed at first, but remained at the window for 12 minutes, looking stronger than he has in recent appearances.
He had papers on his lectern and turned the pages himself, following along as Sodano read his Easter message in the square below.
At the end of the message, a microphone was put in front of him and John Paul touched it as if readying to impart the papal blessing. After trying to utter the words, the pope rested his hands on the lectern in apparent resignation that he could not speak and the microphone was taken away. Soon after, John Paul withdrew from the window.
The Vatican had said the pope would appear to the faithful Sunday, but officials never confirmed he would speak and many in the crowd said they were not necessarily expecting it.
"It would have been better with the pope," said Sheri Zimpelman.
But her husband, Thomas Zimpelman, a U.S. serviceman stationed in Aviano, northern Italy, said: "If he's sick, he should do what's best for him. His presence is enough."
The Turin daily newspaper La Stampa quoted one of the pope's doctors Sunday as saying that the pope does indeed speak regularly in private, but public discourse is much more difficult for him.
"You must consider that the physical and psychological effort of a public speech, even a brief one, is radically different and something that requires much more effort for a recovering patient," the doctor was quoted as saying.
The doctor, who spoke to the paper on condition of anonymity, stressed that the pope was recovering well but should continue to curtail his duties for "some weeks." Vatican officials previously have acknowledged that the pope may be recovering more slowly than hoped.
In his Easter message read by Sodano, John Paul said people around the world were hungering for "truth, freedom, justice and peace."
John Paul also asked God to "give also to us the strength to show generous solidarity toward the multitudes who are even today suffering and dying from poverty and hunger, decimated by fatal epidemics or devastated by immense natural disasters."
A prayer was said during the Mass asking "life and new energies" for the ailing pontiff and the entire Catholic Church.
Cardinal Theodore E. McCarrick, archbishop of Washington, said Sunday that John Paul must see his own ailments and inability "as joining the sufferings of the Lord in a very special way." But in an interview with ABC's "This Week," he did not count out a full recovery for the pope.
"I think you know how many times we've crossed the Holy Father off, how many times we've counted him out and he's come back. He's come back strong, he's come back powerfully," he said.
Local journalism is essential.
Give directly to The Spokesman-Review's Northwest Passages community forums series -- which helps to offset the costs of several reporter and editor positions at the newspaper -- by using the easy options below. Gifts processed in this system are not tax deductible, but are predominately used to help meet the local financial requirements needed to receive national matching-grant funds.
Subscribe now to get breaking news alerts in your email inbox
Get breaking news delivered to your inbox as it happens.
---