News > Features
Sweet tees
Mon., March 28, 2005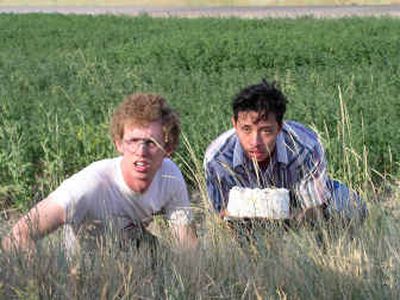 GRAPEVINE, Texas – As Napoleon Dynamite would put it, a sweet deal has fallen into Randall Sowa's lap.
For four summers in the 1980s, Sowa hawked T-shirts with a helicopter image on them designed by a pal, Phil Goettl.
Each summer there was a different design, and each summer Sowa sold a couple of hundred shirts to the rough-and-tumble guys who explored – with dynamite – for oil and natural gas in remote areas of the American West.
Two decades later, the geeky, quirky, tetherball-loving Napoleon, title hero of the wildly popular cult movie, showed up onscreen wearing these same shirts.
Now Sowa, 51, a Grapevine, Texas, resident who works in aircraft maintenance at Fort Worth Meacham Airport, figures he'll soon be able to buy all the Tater Tots he wants.
Since the film's release last spring, his family has sold several thousand of the Napoleon helicopter tees online. And now the shirts are for sale in 600 Hot Topic stores in malls in all 50 states and Puerto Rico.
Gosh!
"I'm into this as long as I want to be because it's not going anywhere for a long time," said Sowa, who runs www.noridershirts.com with his wife, Sharon, and daughter Emily, 15. "It just dropped into my life. It's so much fun."
The film, made in 2003 by the husband-and-wife team of Brigham Young University students Jared and Jerusha Hess, has grossed more than $45 million in theaters alone and sold more than a million DVDs in just over three months.
The unexpected success of the film has meant that numerous lines of dialogue have become pop culture nuggets loved by teens and college students.
From local high schools to university campuses, T-shirts that read "Vote For Pedro" or "I caught you a delicious bass" have become common – many also sold online.
Scott Morton, men's T-shirt buyer for Hot Topic, said he assumes Sowa's helicopter shirt will be in demand.
" 'Napoleon Dynamite' stuff has been a phenomenon for us," he said.
So how do these old helicopter shirts factor in?
Jerusha Hess picked up one of the Sowa/Goettl shirts at a thrift store in Salt Lake City while shopping for the wardrobe that the actor playing Napoleon, Jon Heder, would wear.
Sowa and Goettl had no idea any of this was happening until July, when a friend from the 1980s called him and told him he saw Napoleon wearing one of the shirts.
Sowa, being no fool, put together a Web site and began selling the shirts, some to soldiers in Iraq and to fans of the movie from as far away as Alaska.
He says he's had to warn two competitors against copying the artwork, which he and Goettl copyrighted.
"I went to the movie to see the T-shirt, and I loved it," Sowa said. "It's a funny movie. And I knew there would always be kids who would want to go see it. It's fallen into the culture of young people."
Sowa and Goettl say the shirts began as nothing more than a way to earn a little extra money. In the early 1980s, they both worked for the company whose logo is the basis for the design, Air Services International. Sowa was a mechanic, and Goettl drove fuel trucks.
At the time, oil and natural gas in states such as Montana, Wyoming, Utah and Colorado was hot. The guys doing the exploring were called "juggies."
Juggies would conduct seismic exploration in remote areas. As a result, they went to and from work in helicopters. The juggies were a proud bunch, and they wanted their own T-shirts. So Goettl designed them.
"My artwork has always had a lot of aviation stuff," said Goettl, now a graphic artist and cartoonist in Vancouver, Wash. "We just wanted something the guys working the seismic could relate to and get their attention. And the logo promoted the company."
Over the four summers, only about 1,000 shirts were sold. The chance of one of them showing up in a thrift store where Jerusha Hess was looking for wardrobe is, give or take, a billion to one.
But it happened, and the two guys that made them all those years ago are as surprised as anyone.
Goettl said he has asked his 16-year-old daughter, Julia, exactly why 'Napoleon Dynamite' is so popular.
"They like the dialogue and the funny scenes," he said. "It's hard to explain. Her friends talk about it at school, and even the grade-school kids around here think it's funny. They can quote the dialogue just like the older teens and re-enact scenes. It's happened before – fads happen."
Local journalism is essential.
Give directly to The Spokesman-Review's Northwest Passages community forums series -- which helps to offset the costs of several reporter and editor positions at the newspaper -- by using the easy options below. Gifts processed in this system are not tax deductible, but are predominately used to help meet the local financial requirements needed to receive national matching-grant funds.
Subscribe now to get breaking news alerts in your email inbox
Get breaking news delivered to your inbox as it happens.
---