News > Business
New HP chief sees changes
Thu., March 31, 2005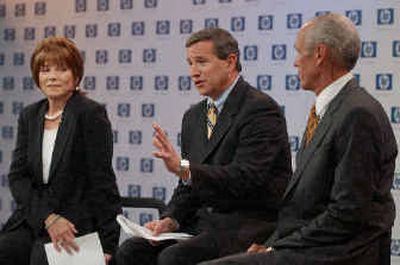 PALO ALTO, Calif. — The newly appointed leader of the Hewlett-Packard Co. acknowledged Wednesday that the computer and printer maker is ailing but stopped short of saying whether the Silicon Valley stalwart should remain intact.
A day after being named president and chief executive, Mark Hurd, 48, said he plans to take several months to learn about the diversified technology company, with one of his first priorities being comprehensive financial evaluations of its five divisions and dozens of product lines.
"I don't think you'll find me doing anything tricky," Hurd, who previously headed Dayton, Ohio-based NCR Corp., said at a news conference at HP headquarters.
Director Patricia Dunn told reporters she expected Hurd to overcome the most daunting obstacle — learning and blending into HP's fraternal corporate culture, known as "the HP way" — within six months.
"It's a challenge he will absolutely meet quickly," Dunn said.
Earlier in the day, Dunn told financial analysts that the board is eager to hear Hurd's opinion about whether directors should make major changes to HP's business strategy, including whether to break HP into two or more pieces.
Hurd's appointment comes less than two months after HP's board ousted chief executive Carly Fiorina amid concerns she failed to deliver the benefits of the company's acquisition of Compaq Computer Co. nearly three years ago.
"Strategy is a living, breathing thing, and it's the responsibility of the CEO to recommend strategy, and I'm sure Mark will do that," Dunn said.
Financial analysts praised Hurd's selection, though some question whether any executive can reverse the waning fortunes of HP, which is locked in a fierce battle on multiple fronts against rivals IBM Corp. and Dell Inc.
HP's stock has dramatically underperformed that of its competitors. The company is making less money on its once unrivaled printers, and employee morale is flagging after years of cost cutting and layoffs.
Hurd, a unanimous pick of HP's board of directors, will assume the CEO responsibilities next week. But during a conference call with analysts and a media event Wednesday morning on HP's Silicon Valley campus, he refused to provide details about how he would lead HP, insisting that he needs to study the company's operations first.
Hurd said he would approach his new job with "excitement and humility." He planned to speak Wednesday with key HP executives, including some who were passed over for the top position.
"I don't know any other way to do it other than to get under every single piece of the business," said Hurd, who has spent the last 25 years NCR.
Hurd dismissed speculation that he would follow a business strategy similar to that of NCR, a computer services company that operates ATMs and data warehouses that store countless bits of information from corporate customers.
Before he took the helm of NCR, Hurd was NCR president and chief operating officer and led NCR's lucrative Teradata warehouse division.
Starting in the late '90s, shareholders questioned whether NCR should spin off the unit. Hurd refused. But that decision doesn't mean he'll keep HP in tact, Hurd said.
In trading Wednesday, HP shares rose 22 cents to close at $22 on the New York Stock Exchange. The stock has traded in a 52-week range of $16.08 to $23.75.
Local journalism is essential.
Give directly to The Spokesman-Review's Northwest Passages community forums series -- which helps to offset the costs of several reporter and editor positions at the newspaper -- by using the easy options below. Gifts processed in this system are not tax deductible, but are predominately used to help meet the local financial requirements needed to receive national matching-grant funds.
Subscribe now to get breaking news alerts in your email inbox
Get breaking news delivered to your inbox as it happens.
---