Sports
Nicklaus' last stand?
Thu., March 31, 2005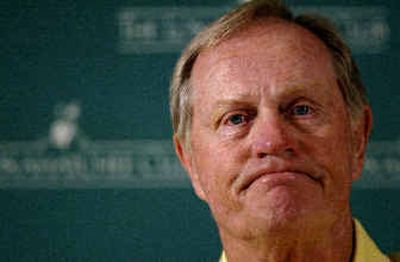 Jack Nicklaus is 65, he has had his hip replaced and also arthroscopic surgery on his back, though he would surely say nothing can match the pain he and his family have endured since his grandson drowned nearly a month ago.
Since 17-month-old Jake Nicklaus, the son of Steve Nicklaus and his wife Krista, died in a hot tub at their North Palm Beach home, Nicklaus has said he's not sure whether he will play the Masters for a 45th time next week.
Nicklaus doesn't have to make his mind up by Friday, which is the case at a regular PGA Tour event, and he's probably going to take his decision right up to the last moment.
He played Augusta National last week and the six-time champion is going to be back in town Monday to be honored by the city of Augusta. He also is attending the Champions dinner Tuesday night.
The six-time Masters winner, who won his last one in 1986 at 46, may not have made up his mind, but according to Ken Bowden, his biographer and close friend, Nicklaus might be leaning toward another appearance – one that probably would be his last.
"My guess is that he will play," Bowden said. "It's plain and simple a guess, but I suspect once he gets there, with family members urging him on, he'll decide to go ahead and play."
Bowden also believes that if Nicklaus plays, it could be his last Masters. He would simply walk away.
"That's more Jack's way of doing things," he said. "I don't think he wants any big song and dance over it. No fuss, like the way he stopped the U.S. Open (in 2000). He'd just say, `Great, enough is enough.' "
That would mean Nicklaus would forego the public relations-type farewell postcard that Arnold Palmer delivered when he played his 50th consecutive – and last – Masters a year ago.
"I don't see it," Bowden said.
There is also a question of how well Nicklaus can expect to perform on the demanding Augusta National layout.
"He doesn't want to go out there, shoot two 78s and have everybody congratulate him. He's got to have some chance of doing reasonably well by his own expectations."
Sorenstam cashing in
The fallout from Annika Sorenstam's streak of five consecutive victories, including last week's major title at the Kraft Nabisco Championship, has hit the bargaining table.
Sorenstam's deal with Callaway Golf, which was supposed to expire at the end of the year, instead has been extended into a multiyear agreement. The deal is believed to be more than $1 million a year.
Her agent at IMG, Mark Steinberg, said he spoke with Sorenstam Wednesday to discuss new business proposals, including real estate opportunities and additional endorsements.
"They're all very deserving opportunities for what Annika is doing right now in golf," Steinberg said.
In addition to Callaway, Sorenstam endorses Mercedes-Benz, Oakley, Cutter & Buck, Rolex, Kraft and ADT.
Montgomerie to miss Masters
In case you missed it, it's official; Colin Montgomerie will miss the Masters for the first time in 14 years. Montgomerie needed to win or place second at a European Tour event in Jakarta to crack the top 50 in the rankings. And despite his closing round of 60, he tied for fourth and his ranking of 54th doesn't cut it.
Meanwhile, Tom Lehman, Tim Clark, Graeme McDowell and Craig Parry earned trips to Augusta with their rankings and Joe Ogilvie made it by being in the top 10 on the money list.
Van de Velde on comeback
Jean Van de Velde, whose spectacular collapse and triple-bogey seven on the 72nd hole of the 1999 British Open was one for the books, is trying a fourth comeback on the European Tour.
Van de Velde, 39, has had two knee operations since 2002 and played on a medical exemption in 2003 and 2004. He is playing in the Estoril Portuguese Open this week.
Lopez praises Sorenstam
It wasn't exactly "Tiger who?" but Nancy Lopez raised some eyebrows when she said Sunday at Mission Hills, where Sorenstam was on her way to winning her eighth major, that Sorenstam isn't on par with Woods, she's better.
"We have a lot of great players out here and nobody is even coming close to her. I know when Tiger first came out, it was like that, but she's so dominant right now and I think she will be for a long time
"Tiger, he was awesome, he's won and played great golf, but I just don't think he dominated the way she has."
Local journalism is essential.
Give directly to The Spokesman-Review's Northwest Passages community forums series -- which helps to offset the costs of several reporter and editor positions at the newspaper -- by using the easy options below. Gifts processed in this system are not tax deductible, but are predominately used to help meet the local financial requirements needed to receive national matching-grant funds.
Subscribe to the sports newsletter
Get the day's top sports headlines and breaking news delivered to your inbox by subscribing here.
---