Sports
Scrimmage image
Thu., March 31, 2005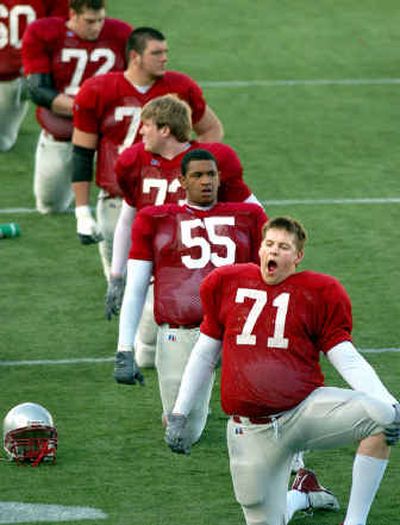 PULLMAN — As nice as it would be to show off an offense scoring points at ease and a defense stuffing people at will, Bill Doba knows that his team needs the work.
So when the head coach was mulling the options for the annual Crimson and Gray game, which ends spring practices, he figured the best option was, essentially, to get rid of it.
Doba said Wednesday that instead of playing the starters against the backups, the April 16 scrimmage, which usually draws thousands of fans wanting an early glimpse at the Cougars, will look more like a normal scrimmage with starters on offense going against starters on defense and backups playing backups.
"It looks good," Doba said of the old format. "You end up with a 50-15 score or 50-0 — but I don't think you accomplish very much."
One reason for not squaring off the starters was to build a rapport between the offensive and defensive units, the Washington State head coach said. But the coach feels this year's team already gets along well enough that there's no reason to fear any negative reaction from having them play one another on the field.
"We've got good esprit de corps, good camaraderie on offense and defense," he said. "So we'll get a lot more work out of just having a regular scrimmage."
Derting watch
Middle linebacker Will Derting's left wrist continues to heal well, but the rising senior will have the injured area casted once again, probably today, to help speed up the process.
"It's more precautionary than anything," Derting said. "Instead of letting this happen in June or July when I'm going to need to be training hard, they're going to take the precaution now and make sure it's good then."
Derting was limited all last season by the wrist injury, suffered early in fall camp last August. He had surgery to fuse two bones in December, and isn't participating in any of spring ball.
Even still, Derting was named Wednesday to the Lombardi Award preseason watch list. Fifty-four players are on the list, which will be whittled down to name college football's best linebacker.
"He should be," Doba said. "I don't want him on the list, I want him to win the (darn) thing. He made second-team all-conference last year with one hand. He was out there with it, but he missed a lot of tackles because he wasn't able to grab."
Bump up?
Soon-to-be sophomore receiver and punt returner Michael Bumpus could add another duty in the future. The ex-high school quarterback has practiced at holder this spring, and Doba said it opens up a possibility.
"He's got great hands," Doba said. "Having Bump back there's not a bad idea."
Still, Doba said he prefers to have the punter work as the holder because kickers and punters work together for all of practice while position players are doing drills.
"Maybe if I get it down they'll put me in there," Bumpus said. "But right now I'm just experimenting, seeing if I can do it or not."
Notes
Wide receiver Marty Martin has a bruised right quadriceps and trainer Bill Drake said he could miss 1-2 weeks. … Eastern Washington head coach Paul Wulff and some of his staff members visited WSU's practice Wednesday. Last summer, the Cougars and Eagles players worked together over the summer months to help prepare for the season. … Fullback Brandon Asuega-Stark, also the current backup running back, has been out this week with a sprained right ankle and could miss more time before making a return. … Linebacker Brian Hall, who is being held out of spring practice with a nerve problem in his neck and shoulder, has made slight improvements, Drake said. … Cody Boyd made a nifty one-handed grab over the middle near the end of practice, reaching up with his 6-foot-8 frame to reel in a pass. … Wide receiver Blake Ferguson hurt his right ankle Wednesday and limped back onto the field later wearing a boot. … Wednesday was a "big-play day" for the Cougars. The team begins the session with a to-do list of 12 wind sprints, but for each big play – called out by the coaches at any time – one wind sprint is subtracted. WSU finished the day with 11 big plays and one wind sprint. Tight end Troy Bienemann tried to call out "big play" at one point, but Doba caught him doing so and that led to some good-natured hollering from the head coach.
Local journalism is essential.
Give directly to The Spokesman-Review's Northwest Passages community forums series -- which helps to offset the costs of several reporter and editor positions at the newspaper -- by using the easy options below. Gifts processed in this system are not tax deductible, but are predominately used to help meet the local financial requirements needed to receive national matching-grant funds.
Subscribe to the sports newsletter
Get the day's top sports headlines and breaking news delivered to your inbox by subscribing here.
---