News > Business
Steaks are high
Thu., March 31, 2005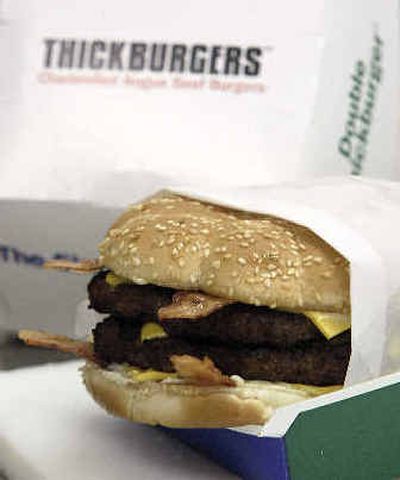 ST. LOUIS — In the fast-food equivalent of a research-and-development department, Hardee's is trying to build a better — and perhaps more colossal — burger.
The test kitchen on the top floor of a downtown office tower already has turned out gargantuan fare like the Monster Thickburger. With researchers who try out ingredients like onion-flavored mayo and jalapenos, St. Louis-based Hardee's hopes to take its burgers to an even higher level of culinary decadence.
There is much at stake in this kitchen: It is where the once-flagging food chain began its turnaround by creating an arsenal of ever-bigger combinations of beef and bun. Hardee's expects to roll out a new burger every few months, so the test kitchen must keep producing — especially since it can take from nine months to a year for a product to go from the idea stage to actual sales in Hardee's restaurants.
Presiding over this laboratory is Bruce Frazer, the chief of research and development for CKE Restaurants Inc., the California-based parent of Hardee's Food Systems. The job means Frazer inevitably ends up as one of his own test subjects.
"I have every intention of not trying six versions of a burger, but I always do," said Frazer, who manages to carry just 160 pounds on a 5-foot-9 frame despite the high-fat, high-calorie food his staff concocts.
CKE expects such efforts to translate into higher sales and profits. And in recent years, they have — CKE's stock has been rising since early 2003, when it fetched just $3.10 on the New York Stock Exchange, to its current level of around $16, a five-year high.
The test kitchen by design emulates a typical Hardee's cook site, complete with a charbroiler near "quality assurance" workers weighing and measuring chicken strips.
One recent afternoon, they showered a reporter with samples to taste, from a piping hot basket of French fries with the potato skins still on to a Frisco Thickburger, complete with onion-flavored mayo like the original.
"Give this a try," Frazer said as he handed the reporter a Spicy BBQ Thickburger being test-marketed, spiked with Texas Toothpicks — spicy, batter-fried slivers of onions and jalapenos added for an extra kick.
"That's a hot one!" the reporter said after a couple of bites that drew sweat on his forehead and a request for a drink to squelch the flames.
There are the occasional flops, including the eventually scrapped idea of a "smoked sausage burger." The French onion burger also didn't make it, proving to be too overpowering.
"Each step is a hurdle, and the product can fall off at any point," said Brad Haley, the company's executive vice president of marketing.
Hardee's has an army of food tasters available to pass judgment on would-be menu items. With a library about 700 e-mail addresses of people working downtown, every few weeks the company invites some to a free lunch, after which they critique it in a questionnaire.
High fat content hasn't been a problem — Hardee's has found its niche being a contrarian. As restaurants scrambled in recent years to satisfy the health-conscious, Hardee's put its test kitchen to work, perfecting Thickburger incarnations fetching $2.39 to roughly $5.
And it seems that customers do indeed crave big, fast food, and Hardee's and its rivals will keep on serving them. This week, rival Burger King introduced the Enormous Omelet Sandwich, a 700-plus calorie breakfast item that includes two eggs, a sausage patty, two slices of cheese and three strips of bacon on a bun.
It's no surprise, then, that the recent success of Hardee's has been largely due to its Thickburgers — Angus beef burgers of up to two-thirds of a pound. They take longer to cook than more typical fast-food burgers, but Hardee's says they're better food that's worth the wait. Hardee's introduced the Thickburger family in April 2003, perhaps not coincidentally about the time the company's stock started its upward march.
Now available in 10 varieties, the Thickburger has helped propel Hardee's to 21 straight months of same-store sales gains, those from stores open at least a year; such sales are considered the best gauge of performance. The average Hardee's store had $862,000 in sales in the past fiscal year, an 11-year high.
Local journalism is essential.
Give directly to The Spokesman-Review's Northwest Passages community forums series -- which helps to offset the costs of several reporter and editor positions at the newspaper -- by using the easy options below. Gifts processed in this system are not tax deductible, but are predominately used to help meet the local financial requirements needed to receive national matching-grant funds.
Subscribe now to get breaking news alerts in your email inbox
Get breaking news delivered to your inbox as it happens.
---