Sports
Suns' Nash slices Sixers
Thu., March 31, 2005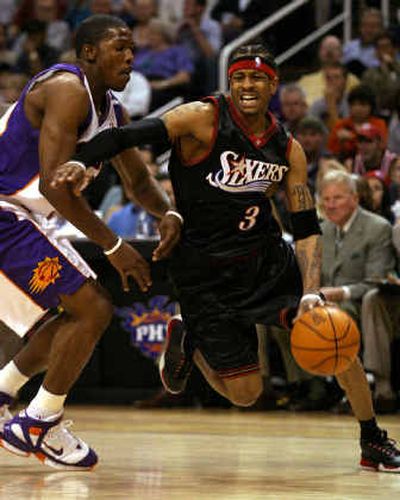 Steve Nash had a triple-double, Quentin Richardson set team records for 3-point shooting and the Phoenix Suns clinched their first Pacific Division title in 10 years by beating the Philadelphia 76ers 116-87 Wednesday night at Phoenix.
Nash, who played only 27 minutes, had a career-high 13 rebounds to go with 12 points and 12 assists. The stylish point guard drew a loud ovation with his 10th assist, a pass to Steven Hunter for a dunk that put Phoenix ahead 77-58 with 5:07 left in the third quarter.
Richardson broke Dan Majerle's franchise records for 3-pointers and 3-point attempts, set in 1994-95. Richardson went 4 for 11 from deep to finish with 201 made in 559 tries.
Shawn Marion had 26 points and nine rebounds, Joe Johnson had 20 points, seven rebounds and seven assists, and Jim Jackson scored 19 points for Phoenix.
Allen Iverson had 26 points for the Sixers. Chris Webber scored 12, but hurt his shoulder in the third quarter.
Mavericks 112, Celtics 100: At Boston, Dirk Nowitzki scored 36 points and Keith Van Horn added 21 points off the bench to lead Dallas to a victory over Boston, sending the Celtics to their fourth straight loss, tying a season high.
Pistons 99, Kings 82: At Auburn Hills, Mich., Richard Hamilton scored 24 points and Ben Wallace added 19 points and 14 rebounds as Detroit beat Sacramento.
Nuggets 109, Jazz 98: At Salt Lake City, Andre Miller had 24 points and nine assists and led a key fourth-quarter run for Denver in a win over Utah.
Rockets 100, Trail Blazers 84: At Portland, Yao Ming scored 29 points and Tracy McGrady had 26 points and 10 rebounds to lead Houston to a victory over Portland. Magic 108, Raptors 96: At Orlando, Fla., Grant Hill scored 21 points and rookie Dwight Howard contributed 18 points and nine rebounds as Orlando won its second game in a row after a prolonged slump, beating Toronto.
Nets 95, Clippers 78: At East Rutherford, N.J., Vince Carter scored 31 points and Jason Kidd had eight points and 13 assists as New Jersey beat Los Angeles to help keep its playoff hopes alive.
Wizards 102, Hawks 99: At Washington, Gilbert Arenas scored nine of his 36 points in the final 3 1/2 minutes, including the go-ahead basket on a driving layup in traffic with 34 seconds to play, leading Washington over Atlanta.
Bulls 102, Bobcats 99: At Charlotte, N.C., Ben Gordon showed Emeka Okafor why the Rookie of the Year award is still up for grabs, scoring 22 of his career-high 35 points in the fourth quarter to lead Chicago to victory over Charlotte.
Warriors 113, Bucks 109: At Milwaukee, Baron Davis scored 25 points and handed out 15 assists, and Mickael Pietrus scored 21 points off the bench to lead Golden State over Milwaukee.
Off the court
Utah Jazz forward Carlos Boozer will miss the rest of the season while he recovers from a foot injury he suffered in February. … The Dallas Mavericks activated Jerry Stackhouse from the injured list and want to ease him back into the rotation in time for the playoffs. … Chicago Bulls leading scorer Eddy Curry did not start against the Charlotte Bobcats because of flu-like symptoms.
Local journalism is essential.
Give directly to The Spokesman-Review's Northwest Passages community forums series -- which helps to offset the costs of several reporter and editor positions at the newspaper -- by using the easy options below. Gifts processed in this system are not tax deductible, but are predominately used to help meet the local financial requirements needed to receive national matching-grant funds.
Subscribe to the sports newsletter
Get the day's top sports headlines and breaking news delivered to your inbox by subscribing here.
---