Sports
Veteran pitchers make list
Thu., March 31, 2005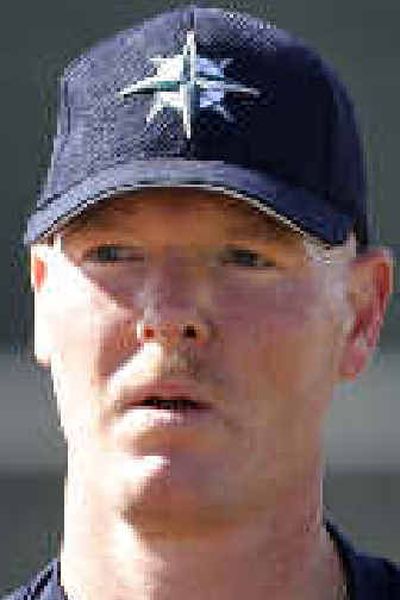 PEORIA, Ariz. – Jeff Nelson and Aaron Sele, two veteran pitchers who came to spring training with no guarantee of winning jobs with the Seattle Mariners, made the team.
The two right-handers, who played with the Mariners previously in their careers, were told Wednesday that they will be placed on the opening-day roster.
The Mariners will not officially announce the decision until 9 p.m. Saturday, the deadline for teams to finalize their 25-man roster.
Nelson, 38, pitched for the Mariners from 1992-95 and from 2001-2003. Sele, 34, who graduated from North Kitsap High School in Poulsbo and starred at Washington State University, pitched for the M's in 2000 and 2001.
Both pitchers had provisions in the minor league contracts they signed over the winter stipulating that they must be told by the end of the day Wednesday if they would be placed on the roster.
Late in the afternoon, Nelson and Sele were called into manager Mike Hargrove's office and given the decision by Hargrove and general manager Bill Bavasi.
When they emerged, both players were smiling. But, on instructions from the team, they wouldn't talk with reporters about their status.
Sele, who last pitched Tuesday and said afterward he was scheduled for a minor league game in Peoria on Sunday, was asked when he would pitch next.
"I'm not 100 percent sure," he said.
If Sele stays on an every-fifth-day schedule, he would be in line to pitch April 8 against the Texas Rangers at Safeco Field.
The Mariners would not announce the moves, or even discuss them, because several other decisions must be made before Saturday's roster deadline.
Nelson will pitch in a right-handed setup role and Sele as a starter.
With Sele making the roster, the Mariners have six pitchers for the five starting spots available. Barring injury or trade, there has been speculation that Ryan Franklin, who has struggled this month, could be moved to the bullpen.
Because Nelson and Sele were non-roster players, someone else would need to be removed from the 40-man major league roster to make room for each of them.
The Mariners could do that by placing a current 40-man player on the 60-day disabled list. The likely candidates for such a move are pitcher Rafael Soriano, who had major elbow surgery last summer and isn't expected to be ready until June or July, and first baseman Bucky Jacobsen, who had knee surgery last September and only last weekend began hitting off a tee.
The Mariners are waiting to make an official announcement because there could be more activity before the roster is finalized. The last days before the season typically are busy with trades and waiver claims as teams make a late push to fill needs.
Last year, the Mariners obtained utility player Jolbert Cabrera three days before the season in a trade with the Los Angeles Dodgers.
Nelson and Sele both proved at spring training that they are strong after health problems hampered them in 2004.
Mariners fall to Royals
Brian Anderson allowed two singles in five scoreless innings as Kansas City defeated the Mariners 5-3. He faced only two batters more than the minimum, lowering his spring ERA to 2.08.
Jamie Moyer, scheduled to pitch the season opener for Seattle on Monday against Minnesota, gave up two runs and five hits in five innings. He settled down in the third, holding Kansas City to one hit the rest of the way and retiring his final eight batters.
"I think we are ready to go. Overall, we had a pretty good day. This was a very well-played ballgame," said Hargrove.
Local journalism is essential.
Give directly to The Spokesman-Review's Northwest Passages community forums series -- which helps to offset the costs of several reporter and editor positions at the newspaper -- by using the easy options below. Gifts processed in this system are not tax deductible, but are predominately used to help meet the local financial requirements needed to receive national matching-grant funds.
Subscribe to the sports newsletter
Get the day's top sports headlines and breaking news delivered to your inbox by subscribing here.
---