News > Features
Growing up Romano
Mon., May 2, 2005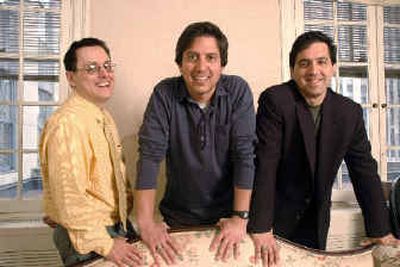 Ray is grayer, Richard more reflective, and Robert's head no longer has the shape of a bean.
But otherwise, the Romano brothers will tell you, not much has changed since they were kids growing up in Queens, N.Y.
Of course, Ray also is one of TV's highest-paid stars on the CBS sitcom "Everybody Loves Raymond." That's at best an afterthought, though, when he's with his brothers.
The Romanos put their childhood memories into a new children's picture book, "Raymie, Dickie, and the Bean: Why I Love and Hate My Brothers" (Simon & Schuster, 32 pages, $17.95).
It chronicles the good (riding the Vomitizer), bad (Bean's stench after eating hot dogs) and ugly (Dickie's face after a magic wand fails to transform it) of what happens when the Romano family spends the day at an amusement park.
Gary Locke illustrates the boys as caricatures, all with mops of dark hair and toothy grins, and he emphasizes Ray's familiar long face and puppy-dog eyes.
The most important thing to 47-year-old Ray was to make the book funny. He has a reputation to protect, after all.
Richard, 48, wanted it to carry a positive message about siblings. Robert – who, at 39, is still Bean to everyone – is a second-grade teacher in New York City; he wanted to make sure it would entertain his students.
When Simon & Schuster first approached Ray about doing a kiddie book, he turned them down.
"I wasn't really inspired to do it," he says. "And then I thought about what would I write about if I did do it, and when I thought of childhood, all I thought about was these guys. Then I thought, 'Why not do it with them?'
"Bob's a schoolteacher … so he knows about kids, and Richard has children and he had written a couple of little things growing up. I remember him with his diaries and journals, and I thought he was creative."
"We thought adding his brothers to the book was terrific. It underscores his family values," says Rick Richter, president and publisher of Simon & Schuster's children's publishing division.
Ray and his wife, Anna, have four children who range in age from 7 to 14. They live in Los Angeles.
Richard lives on Long Island, N.Y., and has a 19-year-old daughter and a 4-year-old son, and Robert and his wife live in Yonkers, N.Y.
When you see the brothers in action, it doesn't take long to figure out the dynamics of the relationships.
Ray might be the big star now but he has admiration and respect for Richard, whom Ray spent many of his formative years competing against in sports.
Richard, a retired police sergeant with a rugged handsomeness that could lead him to play a seasoned cop on TV someday, has mellowed and is the most thoughtful when he speaks. He's also the brother with battle wounds, since he forged the path with their strict father that made life a little easier for his younger siblings.
Then there's eager-to-please Robert. He's shorter than his brothers by several inches and wears glasses. He remembers lying beneath his brothers' legs in the car as they passed through the gates of Six Flags' Great Adventure, an amusement park in New Jersey they visited often as kids, so his family wouldn't have to buy him a ticket.
His brothers' obsession for athletics left a bad taste in his mouth, though he has somewhat recovered and would now sit down with them to watch a game.
"He's our mascot," Richard says.
Ray adds, "We remember torturing him for fun." Then he and Richard re-enact how they'd stomp up the stairs – banging a baseball bat the whole way – saying in the most haunting tone two adolescent boys could muster, "The doctor is coming. The doctor is coming."
Despite the teasing, Ray and Richard would never allow anyone else to target Robert.
In the book, Raymie has to take Bean to the bathroom before they can go on the Roaring River ride. As Raymie waits outside the stall, Bean calls out to him.
"Raymie, are you still there?" Bean says.
"Yeah," Raymie responds.
He asks this again and again – and again. The second and third times, Raymie says "yeah." The fourth time he says "no."
"Hey! You didn't fool me anyhow," Bean says.
They share a laugh and then Raymie admits, "He's not a bad little brother."
Real-life Ray, whose TV show ends its nine-year run on May 16, says the collaboration worked even better than he thought.
"We did a lot of work over the phone … which limited a lot of the fighting," he says. "Once we became parents and adults, we became war buddies. … We don't have the energy to fight each other."
Another collaboration is a possibility.
" 'Book Two: Raymond Gets a Rash' would spice things up," Ray says with a laugh.
Local journalism is essential.
Give directly to The Spokesman-Review's Northwest Passages community forums series -- which helps to offset the costs of several reporter and editor positions at the newspaper -- by using the easy options below. Gifts processed in this system are not tax deductible, but are predominately used to help meet the local financial requirements needed to receive national matching-grant funds.
Subscribe now to get breaking news alerts in your email inbox
Get breaking news delivered to your inbox as it happens.
---