News > Spokane
Horses get home off the range
Mon., May 16, 2005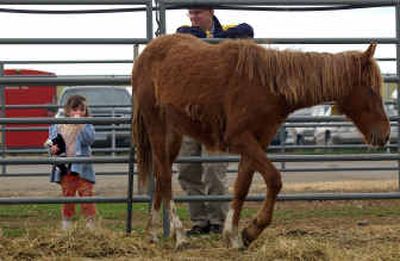 Three-year-old Caroline Jacobs squealed with excitement when the last herd of mustangs stormed into a pen at the Spokane County Fair and Expo Center on Sunday.
Jacobs pointed her chubby finger at the gray yearling filly in the pack and clung to the leg of her father, George Jacobs. If she got the horse, she decided, she would name her Happy.
"What little girl doesn't love a horse?" said Jacobs' mother, Alexandra Jacobs.
The family had spent most of Saturday at the fairgrounds getting to know the 43 horses that were up for adoption. The Bureau of Land Management was auctioning off the untamed animals, in conjunction with the Ride the West Horse Expo at the fairgrounds over the weekend.
The Jacobs family, of Spokane, returned Sunday and decided on "Happy," also known as Horse 5659.
When the bidding started, it wasn't meant to be. Nearly everyone in the crowd of 200 gathered for the auction wanted the young gray horse.
"We had a budget," Alexandra Jacobs said. Five hundred dollars was more than they could pay.
"Maybe next time," George Jacobs said.
Or maybe, they will go down to Burns, Ore., where the horses are corralled and available for adoption year-round through the BLM Wild Horse and Burro program.
The BLM is mandated by law to manage public lands, which includes gathering and trapping wild horses.
Horse herds, which can increase by 20 percent a year, can surge beyond what the land can support, said Rick McComas, a natural resource specialist for the BLM.
"They'd eat themselves out of house and home," if they weren't captured, McComas said.
Though they are available for adoption year-round, the horses are auctioned to screened adopters just three times a year in various places in Washington. This is the first time the auction has come to Spokane in five years. The horses available were gathered from the wilds of southeast Oregon last fall, said Kathy Helm, a planning and environmental coordinator for the BLM.
People wanting a horse must have a good home for it and prove they can care for the animal before placing a bid, she said.
The horses can be adopted for as little as $125, but the animal remains the property of the federal government until owners pass a series of inspections.
"We need to know they are going to provide humane care for the animal," Helm said.
All of the 43 horses brought to the fairgrounds over the weekend were adopted Sunday. It's very rare that a horse does not find a home, Helm said. If a horse is not adopted, it will be sent back to Burns, where it has two more chances to be adopted at auction before being sold to just anyone.
"I think adoption is a great concept," George Jacobs said. "I like the idea of adopting a wild animal that has been free to roam the land."
The BLM holds adoptions in every state, with 8,000 horses adopted nationwide each year, said McComas. There are 150 to 200 adopted in Washington each year, he said.
Most people who come to the auctions are previous adopters, McComas. Once gentled, the wild horses make excellent trail-riding horses because they are used to uneven terrain and don't spook easily.
But like the Jacobs family, a lot of people come to the auction out of curiosity, and some end up taking a wild horse home.
Take Jessica Berube, of Naples, Idaho, for example.
She adopted three wild horses Sunday, two yearlings and a 2-year-old strawberry-colored gelding. She owns other horses, but liked the idea of adopting and gentling the wild animals.
"I thought that was so cool," Berube said. "I just wanted to provide a good home for them."
Local journalism is essential.
Give directly to The Spokesman-Review's Northwest Passages community forums series -- which helps to offset the costs of several reporter and editor positions at the newspaper -- by using the easy options below. Gifts processed in this system are not tax deductible, but are predominately used to help meet the local financial requirements needed to receive national matching-grant funds.
Subscribe now to get breaking news alerts in your email inbox
Get breaking news delivered to your inbox as it happens.
---