Sports
Kanaan grabs Indy 500 pole
Mon., May 16, 2005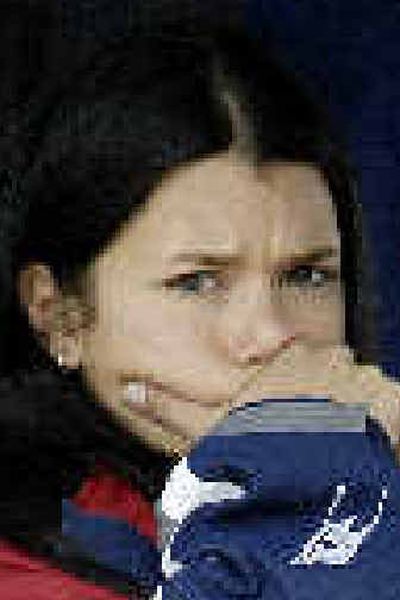 INDIANAPOLIS – While Danica Patrick and her team agonized over whether to make another qualifying attempt Sunday at the Indianapolis Motor Speedway, Tony Kanaan waited nervously.
Even when Patrick rolled her car back to the garage, done for the day and a disappointing fourth among Sunday's 22 qualifiers for the May 29 race, Kanaan wasn't able to relax.
He sat restlessly in his car as several other drivers took unsuccessful shots at knocking him off the top spot in the final hour of pole qualifying.
"I had my fingers crossed, and I almost broke most of them," Kanaan said, grinning. "I was hiding them inside the car so nobody would know."
In the end, though, Kanaan held onto the prestigious pole.
"When I got hired by this team, I think they had a lot of trust in me," said Kanaan, in his third year with Andretti Green Racing, co-owned by former driving star Michael Andretti, Kim Green and Kevin Savoree. "I hadn't had a lot of good results in my career up until that point, and they put a lot of faith in me.
"I gave them the (team's) first pole position, the first win, the first championship and the first Indianapolis pole. The list is getting shorter. Maybe an Indianapolis 500 win is next."
Kanaan, whose best previous Indy start in three tries was second in 2003, has finished third and second in the race the last two years.
He was third qualifier Sunday, posting a four-lap, 10-mile qualifying average of 227.566 mph on the historic 2 1/2 -mile oval. Kanaan then had to wait through nearly six hours while other drivers tried to knock him off his perch.
Several drivers took advantage of Indy's new qualifying rules that allow up to three shots at qualifying on each day of time trials to try to beat Kanaan's speed.
Two-time Indy Racing League champion Sam Hornish Jr., who had qualified 11th early in the day at 225.847, withdrew that speed and re-qualified at 227.273, taking the middle spot on the first of what will be 11 three-car rows for the race.
Dario Franchitti, one of Kanaan's AGR teammates, also gave it a shot, withdrawing a 226.475 that was good for seventh at the time, and improved to 226.873, good for sixth.
The final serious pole contender to take a shot at Kanaan was two-time Indy 500 winner Helio Castroneves, Hornish's Marlboro Team Penske teammate, who withdrew a 227.077 that was fourth on the grid, and slipped to fifth at 226.927 in the final 10 minutes of the session.
Local journalism is essential.
Give directly to The Spokesman-Review's Northwest Passages community forums series -- which helps to offset the costs of several reporter and editor positions at the newspaper -- by using the easy options below. Gifts processed in this system are not tax deductible, but are predominately used to help meet the local financial requirements needed to receive national matching-grant funds.
Subscribe to the sports newsletter
Get the day's top sports headlines and breaking news delivered to your inbox by subscribing here.
---