News > Features
Mentor Makeover
Mon., May 16, 2005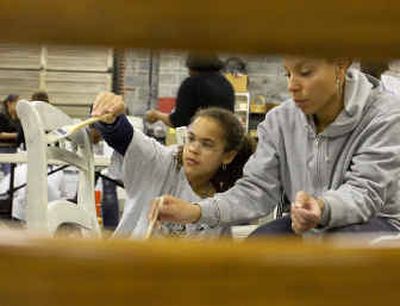 WASHINGTON – Tall and lean, a paint-smeared apron hanging from his neck, artist Steve Prince stands before a clutch of teenage girls explaining the strong foundation necessary to build something as simple as a chair.
Without solid support, he tells them, a brick wall would be unstable. Even the pyramids in Egypt would have fallen.
"The foundation is the most important part," Prince says, as 15 pairs of eyes watch his felt-tip marker slashing and dashing lines on a giant sheet of paper to illustrate.
The artist and educator has driven from North Carolina to the Art League warehouse in Alexandria, Va., this evening to start the girls on a project to decorate bedroom chairs. But his lecture is as much a metaphor for life and the challenges that have brought the teenagers here as it is about the artistic aesthetic.
"Don't feel you can't do this," Prince assures the class about the project. "We're here together for a reason."
Known as Space of Her Own, or SOHO, the program serves low-income girls considered "at risk" – a term used to describe myriad troubles, including delinquency and habitually running away from home. Officials say about half the participants are on court-ordered probation for crimes that include shoplifting and assault.
The girls were steered to the program by the juvenile justice system, social workers or educators who wanted to provide them with some direction. But what has inspired them to come to this warehouse two nights a week, rather than hang out with friends, was not an official mandate. Rather, it was a clever ploy by officials with Alexandria's Court Service Unit and the Art League, who created and run the program.
It goes something like this: Learn about art, hang out with a mentor and in 16 weeks you will be treated to a new bedroom like you've seen on the hit show "Trading Spaces" – complete with a surprise revealed at the end.
"They think they're signing up because they want a new bedroom, but they get hooked," said co-manager Linda Odell, program coordinator for the Alexandria Court Service Unit. "They start to really care about each other."
The arts-based mentoring program was started in 2003 in hopes of giving girls ages 12 to 14 an appreciation for the arts while developing positive, long-term relationships with their mentors. Officials believed it would reduce crime and promote the girls' overall success in school and home.
The girls and their mentors – volunteers from the community – meet after school to attend sessions in team building, art, space planning and life skills such as phone etiquette and healthy eating.
Each mentor volunteers at least 200 hours of service during the project, which is supported by the annual $12,000 commitment of Alexandria's Youth Fund, and agrees to a yearlong mentorship. Officials have relied primarily on word of mouth to attract mentors and say volunteers, particularly minorities, are always needed.
The girls work with instructors such as Prince to make papier-mache masks, wooden "dream" chests, decorated "ya-ya" chairs, floor cloths and lampshades. The personalized items will be used in their refurbished bedrooms, along with new items purchased with a $250 stipend for each girl's room.
Program officials said the concept is so appealing to the girls – many of whom reside in clothes-strewn bedrooms, use garbage bags as dressers and in some cases sleep without mattresses – that this year's class is over capacity, with 15 girls.
While the bedroom is clearly the hook, officials said, they expect the program to improve behavior and skills, with the target of keeping at least 80 percent of the girls from using drugs or alcohol or committing an act of physical violence for one year after the program ends. Of the 27 girls who have completed the program, officials say, only two wound up back in the court system: one arrested for burglary, another picked up for shoplifting.
"Those are pretty good statistics," said Odell, noting all the girls have expressed an overall improvement in their perception of "where they stand in the community and how many people care about them."
Over the years, Stephanie Vides, 14, has been referred to a host of after-school programs for at-risk youth. She rejected them all.
"If I feel like someone is forcing me, I don't like it," said the bright young seventh-grader, who was quick to raise her hand every time Prince asked the group a question about the day's tasks.
While she's never been in serious trouble with the law, she's skipped a lot of classes and gets some poor grades, even in science, the class she professes to like the most. It was her interest in art that brought her to SOHO.
Officials say mentoring is just what a girl such as Stephanie needs to improve her focus and boost her self-esteem.
"I want to go to college but I'm not really that good" in school, Stephanie said. "I'm afraid that I'll do the same things and not get good grades."
Already, she seems skilled at helping others in the program, applying gluey plaster strips to another girl's face with precision as they construct a mask.
"You doing OK?" she asks Zoe Wohiren, 12, who is fidgeting under the weight and clammy feel of the plaster. "Can you still breathe?"
Her mentor, Cassandra Chess, knew her from a youth program that Chess ran out of a community center. Stephanie "is very sweet," said Chess, a health educator. "She just needs that extra push."
That's where the educators and mentors come in. Like Prince, the teachers are current or former instructors at the Art League.
The concepts of community and collaboration are woven into the fabric of Prince's art, just one reason he was selected to participate in the program three years ago. He instructs the girls about new art techniques, sharing some of his work along the way.
Prince showed the girls how to make masks, dissolving cotton lentil in water and straining the wet pulp between pieces of window screen. The pulp was then pressed into their plaster masks, which will eventually be decorated.
"Sometimes I'm asked, 'Will you draw this for me?' " Prince tells the girls. "The answer is no. I will guide you. I will help you, but I will not do."
The girls seem to understand.
"This program isn't just about caring for yourself; it's about caring for others," Prince says. "I want them to know I care about them. I have a genuine love for them and want to see them succeed at what they do.
"They need to know you can be creative despite whatever situation is in front of you."
Local journalism is essential.
Give directly to The Spokesman-Review's Northwest Passages community forums series -- which helps to offset the costs of several reporter and editor positions at the newspaper -- by using the easy options below. Gifts processed in this system are not tax deductible, but are predominately used to help meet the local financial requirements needed to receive national matching-grant funds.
Subscribe now to get breaking news alerts in your email inbox
Get breaking news delivered to your inbox as it happens.
---