News > Features
Singing duel
Tue., May 24, 2005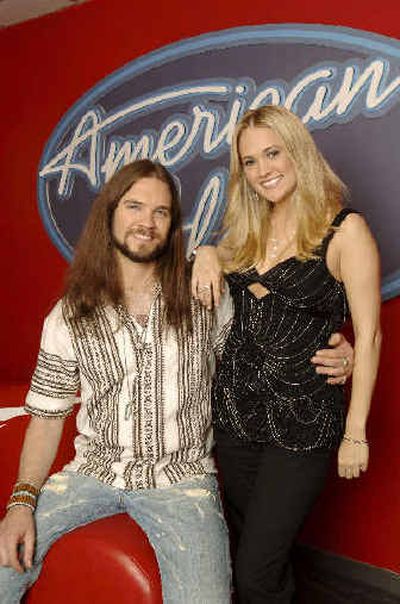 It all began with thousands of young hopefuls. Optimism soared. Talent, however, sometimes didn't.
Now "American Idol" concludes tonight and Wednesday with two contestants left standing: Bo Bice and Carrie Underwood.
The difference might come down to choosing the right songs.
Susan Slamer and Debra Byrd know that. As the "Idol" music director and vocal coach, respectively, they've seen the extremes.
A high: Last year, Fantasia Barrino chose "Summertime" – a song she'd never heard of, written 50 years before she was born.
"She said, 'I chose it because I feel it … and I know exactly how I'm going to do it. I'm going to sit on the floor, barefoot,' " Byrd recalls.
Barrino promptly drew raves and was soon the champion.
A low: This year, singers could choose any song from the year of their births. Nadia Turner chose "When I Dream," an obscure 1977 song.
Byrd recalls that.
"She said, 'I'm going to choose a Crystal Gayle song,' " Byrd says. "I said (sounding doubtful), 'Okaaaay.' I even said, 'Is this your final answer?' "
It was. Judges grumbled, and viewers failed to vote to keep her on.
Last week, songs were chosen by the judges, guest judge Clive Davis and the contestants.
Bice scored spectacularly. Singing without accompaniment, he gave a rich rendition of Badlands' "In a Dream." A short time later he rocked deliriously with The Rolling Stones' "Satisfaction."
Underwood, meanwhile, gave a moving performance of "Crying."
Previously, each had their weak choices. On country week, Bice did the casual "It's a Great Day To Be Alive," which judge Simon Cowell called "lazy."
During "Philadelphia Sound" week, Underwood tried "If You Don't Know Me By Now." Judges vastly preferred Anthony Fedorov's rendition of the same song.
When song categories are announced each week, Byrd says, "Susan Slamer has a listening party. She plays hundreds of songs for them."
Some categories draw groans. Still, there are exceptions.
While others in the first season were complaining about big-band week, Kelly Clarkson instantly announced she was doing a song from the Bette Midler movie "For the Boys." While others in the current season floundered during Broadway week, Constantine Maroulis was at ease; he's a musical-theater veteran.
At times, definitions are disputed. During dance-song week, producer Nigel Lythgoe argued that Bice's choice ("Vehicle," by The Ides of March) didn't fit the category.
"I told him, 'Excuse me, but in my neighborhood we danced our butts off to that song,' " Byrd recalls. "Maybe they didn't in Nigel's neighborhood, but they did in mine."
Bice often does songs he's been singing in rock clubs for years, while others sometimes struggle to learn them in a week.
Each singer faces different challenges, Byrd says: "For Carrie (Underwood), it's personality. For Anthony (Fedorov), it was focus."
Underwood has begun to learn and expand. When she growled "I'm evil" while kicking over a microphone stand, the crowd was delighted.
"She's starting to come into her own," says Slamer. "She's a country girl, and she's used to standing there and singing."
But as Underwood stretches for that energy, she faces complications.
"Piece of My Heart" was a blistering Janis Joplin rock song in 1968, then a Faith Hill country song in 1994. Underwood tackled it.
"She listened to the Faith Hill version," Byrd says. "That's the one she aligned with."
Judges didn't. Instead of crediting her for a good Faith effort, they criticized her for doing bad Joplin.
Underwood, 22, is an Oklahoma farm girl who reportedly collects bunnies and brought a teddy bear (from her boyfriend) to Hollywood.
"She really loves animals," says Vonzell Solomon, who was eliminated last week. "We'll be walking down the street and she'll go, 'Oh, look at that doggie.' And she's a vegan."
Bice, 29, has long hair, tattoos and a live-in girlfriend (who Star Magazine says is pregnant). He rules the stage with rock power.
Offstage, Bice (whose given name is Harold) gives music lessons, speaks well of his mom and has Scriptures mailed to him from his pastor. Speaking to a hometown crowd in Alabama, he had to fight back tears.
He also has managed to live down the recent news that he was arrested on drug charges a few years ago, according to thesmokinggun.com. (Fox says it was aware of his record.) The charges were dismissed last year after he finished a "so-called diversion program," the Web site says.
Local journalism is essential.
Give directly to The Spokesman-Review's Northwest Passages community forums series -- which helps to offset the costs of several reporter and editor positions at the newspaper -- by using the easy options below. Gifts processed in this system are not tax deductible, but are predominately used to help meet the local financial requirements needed to receive national matching-grant funds.
Subscribe now to get breaking news alerts in your email inbox
Get breaking news delivered to your inbox as it happens.
---