News > Features
Leslie Tomaszewski attains Eagle rank
Mon., May 30, 2005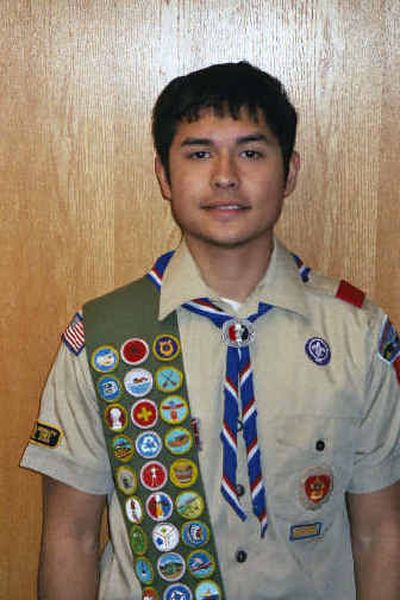 Leslie Tomaszewski Jr., a member of Troop 171, has earned the rank of Eagle Scout. His Eagle Scout project involved constructing a large information display screen at Riverside State Park's Bowl and Pitcher area. Tomaszewski has 32 Merit Badges, and is the son of Les and Marj Tomaszewski of Spokane.
"The following Spokane Public Schools students were chosen as Washington Scholars, a program that recognizes three high school seniors from each of the state's 49 legislative districts by providing scholarships that can be used at any Washington public or private college or university.
They are Elizabeth Goossen of North Central, Sarah Hershman and Rebecca Ball of Ferris, Leslie Griffith of Lewis and Clark and Amanda Ogle of Shadle Park.
"The following Spokane Public Schools students recently won a Washington Award for Vocational Excellence scholarship, which provides two years of free tuition at a university, community or technical college, or licensed private vocational school, located in Washington. The students are Megan Carpenter, who attends Ferris High School; Aleksandr Makarov, a senior at Rogers High; Lela Shastany, a student at North Central High; and Christine Mertins, who attends Shadle Park High School.
" Princeton University junior Christopher Douthitt, of Spokane, has won the Beinecke Scholarship, which gives students the opportunity to pursue graduate studies in the arts, humanities and social sciences. It will provide him with $2,000 just before he enters graduate school and an additional $30,000 while he is enrolled. Douthitt, a National Merit Scholar, was a 2002 valedictorian at Lewis and Clark High School.
" Army Pvt. Carl Drake has graduated from the machinist advanced individual training course at Aberdeen Proving Ground, Aberdeen, Md. He is the son of April Williamson of Deer Park and a 2004 graduate of Deer Park High School.
"Air Force Airman Sarah Paullin has graduated from basic military training at Lackland Air Force Base, San Antonio. She is the daughter of Joanne Sanchez of Spokane and a 2000 graduate of Central Valley High School.
"Kyle Knudsen of Mead has graduated from Minot State University-Bottineau in North Dakota.
"John Owen, a 2003 graduate of Lewis and Clark High School, and Connor Dinnison of Spokane were named to the University of Washington's winter quarter 2005 dean's list.
"Donnie Johnson of Spokane recently graduated from the Biblical Studies major of the Moody Bible Institute, with a Bachelor of Science.
"The following area high school seniors received a total of $9,000 in scholarships for their first year of college from the Spokane Central Lions Club:
Renee Grant of North Central High School, Christopher Schillios of Shadle Park High School, Jessika Sanders of Havermale High School, Lich Pham of Rogers High School, Tatiana David of Ferris High School and Jessica Anderson of Gonzaga Prep.
Local journalism is essential.
Give directly to The Spokesman-Review's Northwest Passages community forums series -- which helps to offset the costs of several reporter and editor positions at the newspaper -- by using the easy options below. Gifts processed in this system are not tax deductible, but are predominately used to help meet the local financial requirements needed to receive national matching-grant funds.
Subscribe now to get breaking news alerts in your email inbox
Get breaking news delivered to your inbox as it happens.
---