News > Idaho
UI researchers develop language for robots
Thu., Nov. 24, 2005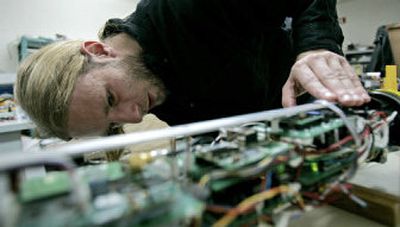 MOSCOW, Idaho – Dean Edwards' underwater robots speak a language, but it isn't English.
The little submarines communicate through sound waves, and he's hoping to demonstrate that they can cooperate and make decisions on their own – a valuable quality for dangerous tasks like sniffing out underwater mines.
The military and others already use "autonomous underwater vehicles," but the work of Edwards and other researchers at the University of Idaho suggests the possibility of teams of cooperating robots hunting for mines in harbors. The robots can even "learn," Edwards said, improving their performance over time.
"This is kind of a new scenario," Edwards said. "Now you have communications between the vehicles and these cooperative behaviors."
A Defense Department agency supports some of the research through the UI's Center for Intelligent Systems Research, and the Navy will get the underwater robot technology when it's done. But the systems could also have non-military applications, such as water quality testing or pipeline inspections.
The vehicles are designed to run themselves – programmed to gather information and follow programmed decision-making patterns in response.
With mine sweeping, for example, not only would the job be done without putting people in harm's way, it would be done without involving people at all.
"Once they're down there, they're on their own," Edwards said.
UI researchers have built one sub and tested it with other transmitters. They're building four additional subs and plan to test them together in the spring at the Navy's research facility at Bayview on Lake Pend Oreille.
One day earlier this month, the sub sat in a research lab on the UI campus – a 40-inch tube capped by a yellow nose and tail, with computer chips and other electronics mounted inside.
"Inside that little sub," says associate professor Richard Wall, "are five microprocessors communicating over a network like you have in your office."
Communications over that network are what the team is working on – the "language" the robots speak.
They're working with both algorithms and linguistics to create the language, expressed in sound waves underwater. They're already running computer models for their five-robot test this spring, and they hope the team of vehicles will search part of the bottom of Lake Pend Oreille in a series of orderly lanes called a "lawnmower search pattern."
But teamwork – even among robots – can sometimes be elusive, and part of the process involves working out the bugs.
A large team of researchers, graduate students and undergrads are working on the project with Edwards and Wall, including engineers Tom Bean and Geoff Beidler. Among the graduate researchers are three students from the Inland Northwest – Troy Cuff of Post Falls, Douglas Welling of Hayden Lake and Michael Santora of Spokane.
Edwards has been working on autonomous vehicles of all sorts since the 1990s. Other projects in his office include a small, four-wheel rover type vehicle being developed for the Department of Defense. There's also a small bulldozer, an underwater "crawler" and another vehicle that could be used for timber skidding and clearing brush.
"The idea here is to reduce the expense of clearing this hazardous material, flammable material, from the woods," he said.
The work on the robot communications has been under way for about a year and a half, and it feels like a breakthrough to Edwards.
"You're going to have these vehicles communicating with each other, and it's kind of pioneering," he said.
Local journalism is essential.
Give directly to The Spokesman-Review's Northwest Passages community forums series -- which helps to offset the costs of several reporter and editor positions at the newspaper -- by using the easy options below. Gifts processed in this system are not tax deductible, but are predominately used to help meet the local financial requirements needed to receive national matching-grant funds.
Subscribe now to get breaking news alerts in your email inbox
Get breaking news delivered to your inbox as it happens.
---