News > Features
Beyond Japan
Wed., Nov. 30, 2005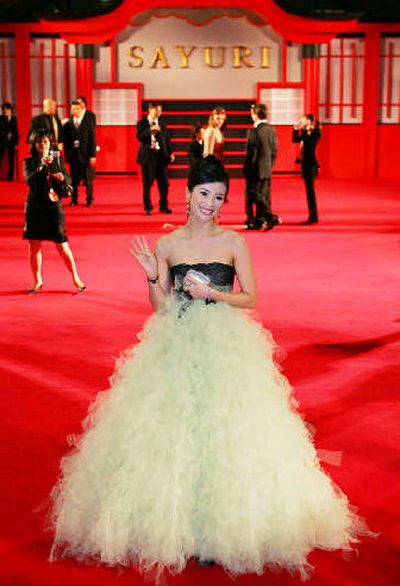 TOKYO – For an American film starring a Chinese actress in a Japanese role, "Memoirs of a Geisha" picked a tough town for its world premiere.
The film version of the best-selling novel of the same title debuted Tuesday in Tokyo to mixed reactions fueled by concerns of cultural authenticity.
The film is rife with international credentials, but that global touch has many questioning: Can Chinese actresses accurately portray the subtleties of Japanese culture? Can an American director – working from an American novel – do justice to a geisha tradition that is largely misunderstood outside Japan?
Director Rob Marshall, who won a best picture Oscar with "Chicago" in 2002, has tried to dispel some of those concerns, saying he aimed to set the record straight on geisha – who often are seen in the West as glorified prostitutes.
He also defended the choice of Chinese star Zhang Ziyi ("Crouching Tiger, Hidden Dragon") for the title role of the Japanese geisha, Sayuri, saying "she is just the right person for that part."
Set to open Dec. 9 in the United States and Dec. 10 in Japan, the joint U.S.-Japan production is based on the novel of the same name by Arthur Golden. The book spent two years on the New York Times best-seller list and sold more than 4 million copies in English.
The story chronicles a young girl's rise from poverty in a Japanese fishing village to life in high society as a geisha – a woman schooled in the art of dance, singing and conversation to be a companion for wealthy men.
Besides Zhang, the cast includes Japanese actor Ken Watanabe ("The Last Samurai") as Chairman, Sayuri's secret lifelong love interest, and Chinese actresses Michelle Yeoh ("Tomorrow Never Knows") and Gong Li ("Raise the Red Lantern").
Three Japanese actresses play the other major female parts – Kaori Momoi, Youki Kudoh, and Suzuka Ohgo as the young Sayuri.
Watanabe said Monday he was "very impressed at how dedicated" his Chinese colleagues were in learning about Japanese culture, referring to a six-week crash course in geisha culture that Zhang and the others underwent.
The director and his multinational cast were at Tokyo's national sumo arena for the first public look at a film that already has created an international buzz.
"We wanted to premiere the movie here because it is a love story, and it also a love story about Japan," Marshall said.
Japanese viewers were curious to see how Hollywood would portray their country, but not all were convinced.
"I felt like I was watching a movie set in China rather than Japan," said 28-year-old office worker Yumiko Kamiyama.
"I am big Zhang Ziyi fan, which is why I wanted to see this. But I will not be recommending it to my friends."
Others, however, thought the appealing story line overcame such concerns.
"We very quickly got drawn into that world of the geisha, and I forgot about those things," said Kiyomi Matsumoto, 39. "This movie showed a beautiful side of Japan. The women and the kimono were very beautiful."
"The life of the geisha is something foreign to most modern Japanese anyway, so it doesn't matter if Chinese or Japanese play the roles," said premiere attendee Yuriko Ozawa.
"I think the story line is very simple, and women especially will like it."
Local journalism is essential.
Give directly to The Spokesman-Review's Northwest Passages community forums series -- which helps to offset the costs of several reporter and editor positions at the newspaper -- by using the easy options below. Gifts processed in this system are not tax deductible, but are predominately used to help meet the local financial requirements needed to receive national matching-grant funds.
Subscribe now to get breaking news alerts in your email inbox
Get breaking news delivered to your inbox as it happens.
---