Sports
Former powers turn back clock
Mon., Oct. 3, 2005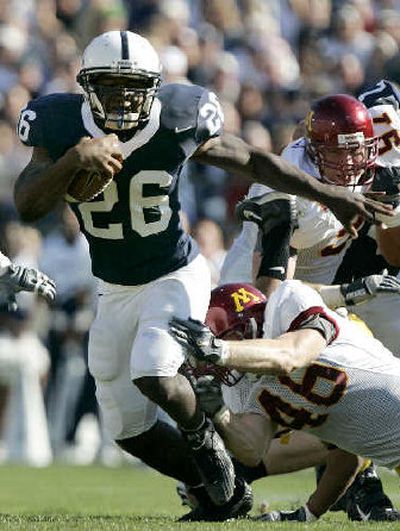 For decades they dominated college football, one in the Deep South, one in the Northeast and the other in the Heartland.
With iconic coaches and powerful teams, Alabama, Penn State and Nebraska were Saturday afternoon staples. If the Cornhuskers, Crimson Tide or Nittany Lions were on television, Keith Jackson was probably calling the game and something big was on the line.
In recent years, scandals, messy coaching changes and lots of losses have marginalized those three marquee programs.
But on the first day of the second month of the 2005 season, relevance returned to State College, Pa.; Tuscaloosa, Ala.; and Lincoln, Neb. The Lions, Huskers and Tide all remained unbeaten with big wins against conference rivals in what turned out to be a turn-back-the-clock Saturday in college football.
Nebraska beat then-No. 23 Iowa State 27-20 in overtime Saturday with the flurry of short, high-percentage passes racking up a record-setting day.
The win wasn't enough to get Nebraska (4-0) back in the rankings, but it certainly makes next week's game against No. 15 Texas Tech in Lincoln pretty interesting.
Not quite as interesting as Penn State's game in State College, against No. 6 Ohio State.
Joe Paterno and the Nittany Lions have endured four losing seasons since 2000 – or three more than Paterno had in his first 34 seasons. This year Paterno has guided the Nittany Lions to their first 5-0 start since 1999, Joe Pa's last national title contender team.
"Hopefully we made a little bit of a statement," quarterback Michael Robinson said after a 44-14 win over Minnesota on Saturday.
The Lions did, but it was nothing like the proclamation Mike Shula's Crimson Tide made by beating Florida 31-3.
After crushing Florida, the Crimson Tide (5-0) moved to No. 7 in the AP poll.
USC still No. 1
The top three spots in the Associated Press Top 25 were unchanged. Southern California, with 24 straight polls at No. 1, again received 59 first-place votes and the other six went to No. 2 Texas. Virginia Tech is No. 3 and Florida State is up to No. 4 with Georgia at No. 5 and Ohio State at No. 6.
In the USA Today coaches' poll, the top three are USC, Texas and Virginia Tech. Georgia is No. 4 and Florida State is No. 5.
The top six teams in the second Harris Interactive poll were the same as in the AP poll – USC, Texas, Virginia Tech, Florida State, Georgia and Ohio State.
Michigan's 34-31 overtime win over Michigan State put the Wolverines back in the rankings at No. 21. No. 22 Auburn re-enters the Top 25 for the first time since the preseason. No. 25 Oregon also rejoined the poll.
Falling out of the rankings were Minnesota, Purdue, Virginia and Iowa State.
Boise State beats Hawaii
Orlando Scandrick returned two blocked kicks, including the game-tying extra-point attempt with three minutes left, in a wild 44-41 Boise State win over Hawaii on Saturday night in Honolulu.
The Broncos (2-2, 1-0 Western Athletic Conference) scored 37 second half points, including two special teams touchdowns, to extend their conference winning streak to 27 games.
Hawaii (1-3, 1-1) was led by Colt Brennan, who threw for 426 yards and four touchdowns.
Boise State hasn't lost a conference game since Nov. 3, 2001.
Local journalism is essential.
Give directly to The Spokesman-Review's Northwest Passages community forums series -- which helps to offset the costs of several reporter and editor positions at the newspaper -- by using the easy options below. Gifts processed in this system are not tax deductible, but are predominately used to help meet the local financial requirements needed to receive national matching-grant funds.
Subscribe to the sports newsletter
Get the day's top sports headlines and breaking news delivered to your inbox by subscribing here.
---