News > Features
From comics to console
Mon., Oct. 3, 2005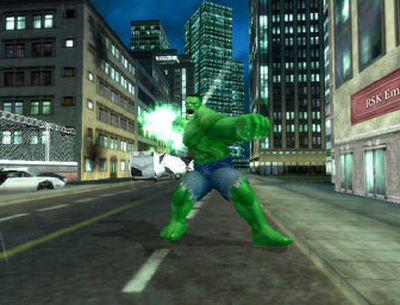 Video games give us the chance to do things most of us couldn't do in real life, whether it's throwing an 80-yard touchdown pass, piloting a rocket ship or fighting Nazis. So why not go the extra step and give us superpowers?
Alas, the history of video games is littered with the corpses of superheroes who couldn't make the leap from comic book to console. Superman is the most glaring example: The Man of Steel has never starred in a decent game, and many critics consider 1999's "Superman 64" the worst video game ever.
Batman, Aquaman, the Fantastic Four and dozens of others have stumbled thanks to developers who spent too much money on licensing the characters and not enough on making playable games.
The superhero curse seems to have lifted lately, though, thanks largely to two PC games: the strategy role-playing game "Freedom Force" and the online role-playing game "City of Heroes."
And Marvel Comics, in particular, seems to have taken a real interest in making sure its characters are starring in games that live up to their reputations. There are still some duds out there ("Marvel Nemesis: Rise of the Imperfects" is considerably less than imperfect), but the following three games put the "super" back in "superhero."
•"Ultimate Spider-Man" (Activision, for the PlayStation 2, Xbox, GameCube, $49.99, www.ultimatespidermangame.com/): For Spider-Man's latest video game outing, developer Treyarch has wisely taken a step away from the blockbuster movies and returned him to his comic-book roots. In a story taken directly from Marvel's "Ultimate Spider-Man" series, the monstrous Venom is terrorizing New York, and the game lets you control both Spidey and Venom.
As Spider-Man, you'll be swinging from rooftops and crawling up buildings; as Venom, you'll be whipping your prehensile tongue at Marvel heroes like Wolverine. Between the Venom story sequences, you can web-sling all over the Big Apple, taking down small-time crooks and rescuing civilians.
Featuring plenty of guest appearances from the likes of Doctor Strange, Nick Fury and the Green Goblin, "Ultimate Spider-Man" feels like the Marvel Universe brought to vivid life. Three stars out of four.
•"X-Men Legends II: Rise of Apocalypse" (Activision, for the PlayStation 2, Xbox, GameCube, $49.99, www.xmenlegends2.com/): The original "X-Men Legends" was an appealing action/role-playing game in which the X-Men fought to rescue one of their own from the nefarious Brotherhood of Mutants. Now, a new threat has emerged – the overwhelmingly powerful mutant Apocalypse – so the X-Men and the Brotherhood have to team up against him.
You can use a team of four heroes, such as the weather-controlling Storm and the eyebeam-shooting Cyclops, or four villains, like the shape-shifting Mystique and the nearly indestructible Juggernaut. True mutant fans will want to mix and match, and much of the fun comes from trying out all the superpowers at your disposal.
With a solid story line, plenty of action and some truly epic battles against Apocalypse's henchmen, "Legends II" lives up to the 40-year legacy of the Uncanny X-Men. Three stars out of four.
•"The Incredible Hulk: Ultimate Destruction" (Vivendi Universal, for the PlayStation 2, Xbox, GameCube, $49.99, www.hulkgames.com/): The last "Hulk" game, which accompanied the 2003 movie, made the mistake of combining classic Hulk smash-and-bash action with poorly realized stealth levels starring his alter ego, Bruce Banner. Fortunately, Banner is sidelined for most of "Ultimate Destruction," and the result is pure mayhem.
The government wants the big green guy dead, so it's using soldiers, tanks, fighter jets and just about everything else in its arsenal to try to stop him. The Hulk isn't exactly a turn-the-other-cheek kind of guy, though, so after pounding a tank into sheet metal he can hurl it at one of the aircraft.
The developers haven't stinted on creative ways to destroy things; you can, for example, rip a car in two and then use the halves as metallic boxing gloves. You will like this "Hulk" when he's angry. Three stars out of four.
Local journalism is essential.
Give directly to The Spokesman-Review's Northwest Passages community forums series -- which helps to offset the costs of several reporter and editor positions at the newspaper -- by using the easy options below. Gifts processed in this system are not tax deductible, but are predominately used to help meet the local financial requirements needed to receive national matching-grant funds.
Subscribe now to get breaking news alerts in your email inbox
Get breaking news delivered to your inbox as it happens.
---