Sports
Favre's magic falls short
Tue., Oct. 4, 2005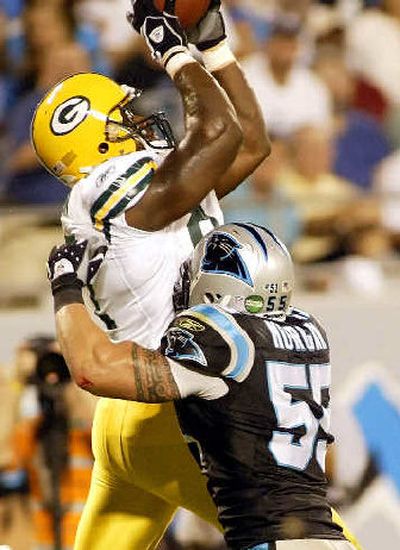 CHARLOTTE, N.C. – Brett Favre showed he still has some Monday night magic – just not enough to prevent the Green Bay Packers from getting off to their worst start in 17 years.
Favre threw four touchdown passes but couldn't overcome two early turnovers that the Carolina Panthers used to build a big lead and then held on for a 32-29 victory. The Packers are 0-4 for the first time since 1988.
Rallying Green Bay from a 19-point third-quarter deficit, Favre threw two touchdown passes and two 2-point conversions in the fourth quarter and had the Packers in position to possibly win the game on their final drive.
But with running back Ahman Green out with an injured knee and no timeouts left, Favre had to do it all on his own when Green Bay got the ball back with 1:58 to play. He completed two passes before Carolina (2-2) stopped the Packers on a fourth-and-2.
Favre threw the ball to Donald Driver past the first down line but Chris Gamble knocked the ball out of his hands and it fell incomplete.
Favre stood alone at the 44. Soon, Carolina tight end Kris Mangum, a fellow Mississippian, walked over and patted the dejected Favre on the helmet. Mike Wahle, the left guard who spent seven years protecting Favre before signing with Carolina, embraced him.
The Panthers let out a sigh of relief.
"You're never safe – No. 4 can do some amazing things back there," Wahle said. "I've seen him do it many times."
Jake Delhomme threw two touchdown passes and Stephen Davis ran for two more as the Panthers built an early lead and put themselves in position to ride out an easy win.
Perhaps that's just where Favre wanted them.
"I was just praying for our defense to get a stop," Delhomme said. "He was awesome tonight. I'm just honored to be on the same field with him."
Delhomme was 17 of 24 for 206 yards and Davis carried 19 times for 51 yards. Steve Smith, who scored three times last week against Miami, caught two passes for 12 yards.
"They tried to take Steve Smith out of the game, which they did a bit, but that opened up things for other people," Delhomme said.
Green, who ran for 119 yards and three TDs in a win over Carolina last season, was held to 36 yards before leaving the game with the leg injury in the third quarter.
Trailing 26-7 midway through the third quarter, Favre turned it up a level. He led by example on an 80-yard scoring drive, sprinting up the middle for a 12-yard gain on third-and-8 then finishing it off with a 26-yard TD pass to Driver.
Favre was 28 of 47 for 303 yards and four touchdowns, his 19th game of four or more TD passes, second to Dan Marino's record 21.
Green Bay receiver Terrence Murphy, taken off the field on a stretcher in the second quarter, was alert and awake in the locker room with movement in his limbs but was complaining of numbness and tingling before being transported to Carolina's Medical Center for further evaluation.
Local journalism is essential.
Give directly to The Spokesman-Review's Northwest Passages community forums series -- which helps to offset the costs of several reporter and editor positions at the newspaper -- by using the easy options below. Gifts processed in this system are not tax deductible, but are predominately used to help meet the local financial requirements needed to receive national matching-grant funds.
Subscribe to the sports newsletter
Get the day's top sports headlines and breaking news delivered to your inbox by subscribing here.
---