News > Features
Melanoma survivor
Tue., Oct. 4, 2005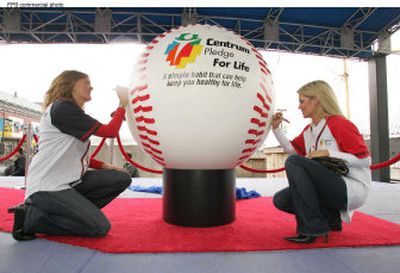 As a young woman, Shonda Brewer Schilling loved the sun. Sometimes she would sneak onto the flat black roof of her parents' rowhouse in Dundalk, Md., slather herself in baby oil and catch a few rays. Or she'd spend hours on the beach at Ocean City. Later, studying broadcast journalism at Towson University, she discovered that a tanning booth could help maintain her beautifully bronzed look year-round.
She met baseball pitcher Curt Schilling while he was playing for the Baltimore Orioles and she was working in production for the cable network Home Team Sports. After marriage and moves to Philadelphia and Arizona, she continued to tan in salons, never imagining that her quest to look "healthy" would threaten her life.
"I spent 10 years getting myself through the winters that way," she says. "Now, the part of my body where I was flat on my back in the tanning bed is the part that is the most cut up."
Schilling is a survivor of skin cancer. Four years ago, a dermatologist removed a suspicious mole on her back that turned out to be malignant melanoma. Six surgeries removed additional melanomas from her back, legs, chest and arms. Fortunately, there was no sign the deadly cancer had spread any further – and she remains cancer-free.
At the time she was diagnosed, Shonda Schilling was 33. Her three children, Gehrig, Gabriella and Grant – baby Garrison was not yet born – were under the age of 6.
"It probably took me a year not to be petrified (about a recurrence)," she says. "I was trying to be brave for my mom and dad and for the kids, and I didn't want to be the cause of my husband playing badly. It was very tough."
Her painful ordeal became the basis of a public service campaign to inform more Americans about skin cancer.
In 2002, she founded the Shade Foundation of America (shadefoundation.org) to serve as an educational resource about sun safety procedures as well as about detecting and preventing skin cancer. Her main goal is to raise awareness of the particular danger that ultraviolet rays from the sun and tanning booths pose for children and young adults.
"Melanoma is the leading cancer killer of women 20-29," she says. "People are blown away by that when we tell them."
The American Cancer Society estimates that this year, 7,700 Americans will die of melanoma, a cancer of the melanocyte, a skin cell that produces the brown pigment called melanin. Although this cancer can develop in anyone, fair-skinned people are 20 times more likely to develop melanoma than blacks, says Dr. James Spencer, professor of clinical dermatology at the Mount Sinai School of Medicine in New York.
Unlike other forms of skin cancer that may disfigure but rarely kill, melanoma can spread to vital organs if it is not treated early enough.
The cancer is linked to excessive exposure to ultraviolet light.
"When epidemiologists look at the people with melanoma, those who had recreational exposure to the sun before the age of 20 seem to be more vulnerable," Spencer notes. "Now, with indoor tanning parlors, young women are the growth market. Tanning parlors offer no difference in the UV rays."
One way to gauge an individual's risk of sun damage is by complexion and eye color. As a blonde with green eyes, Shonda Schilling was probably more sensitive than many. When ultraviolet rays hurt the skin, the body produces melanin, the dark pigment that turns into a tan. The bronze glow she prized for so many years was actually her body's form of damage control.
"Melanin is nature's sunscreen," says Spencer "If you're born with dark skin, you're basically born with sunscreen on. But fair-skinned people who want a tan for cosmetic purposes must actually damage their skin first."
For decades, dermatologists have been warning Americans about the dangers of too much sun – a threat that can produce cancers decades after the original skin damage – and now they have chilling statistics to back them up.
"The incidence of melanoma has tripled between 1980 and 2003," says Florida dermatologist Susan Weinkle, a board member of the American Academy of Dermatology. She says that tanning booths, which came into vogue in the 1980s, are as destructive to the skin as sun.
In 1935, one out of 1,500 Americans had melanoma. Now it's one out of 60, says Spencer.
"I'll bet you anything that your grandmother did not lie out next to the pool in a bikini and use baby oil," he says. "And these days, we can hop on a plane and go to the Caribbean and Florida any time of the year."
Local journalism is essential.
Give directly to The Spokesman-Review's Northwest Passages community forums series -- which helps to offset the costs of several reporter and editor positions at the newspaper -- by using the easy options below. Gifts processed in this system are not tax deductible, but are predominately used to help meet the local financial requirements needed to receive national matching-grant funds.
Subscribe now to get breaking news alerts in your email inbox
Get breaking news delivered to your inbox as it happens.
---