News > Nation/World
This could be big month for hurricanes, experts say
Tue., Oct. 4, 2005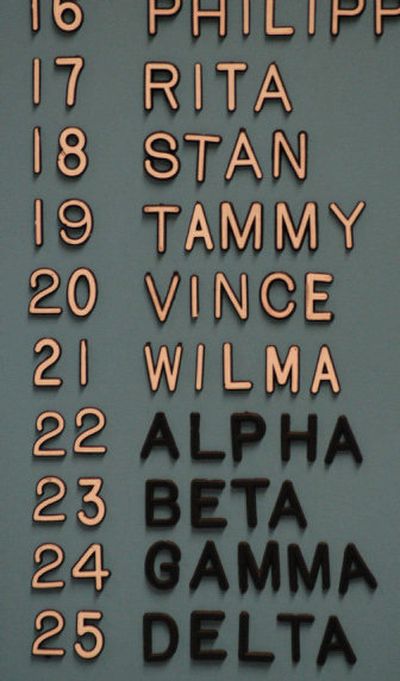 BATON ROUGE, La. – This has already been one of the worst hurricane seasons on record and, according to forecasters, it's not over yet.
Hurricane researchers at Colorado State University announced Monday that October could be another bad month for storms, with an above-average chance that another hurricane will make landfall.
"We project that October will continue the trend of above-average activity that we have witnessed in the preceding four months," researcher William Gray said in a statement. "This year is already the most destructive hurricane season on record. We expect that by the time the 2005 hurricane season is over, we will witness seasonal tropical cyclone activity at or very near record levels."
Gray's team is predicting three named storms this month, two hurricanes and one major hurricane, nearly twice the usual tropical storm activity for October.
In August, the researchers predicted five named storms, three hurricanes and one intense hurricane. In that month, there were five named storms, two hurricanes and one intense hurricane, Hurricane Katrina, which devastated New Orleans and the Gulf Coast.
In September, they predicted five named storms, four hurricanes and two intense hurricanes. There were five named storms, five hurricanes and two intense hurricanes Ophelia, which soaked the Carolinas, and Rita, which hit Texas and western Louisiana.
For storm-battered Louisiana, the forecast barely raised an eyebrow. After two major hurricanes in two months, the state is as prepared as it will ever be for another hit, said Mark Smith, spokesman for the Louisiana Office of Emergency Preparedness.
"What the good doctor says in Colorado is absolutely irrelevant to what we do here to prepare," Smith said. "At this point, everyone in the state of Louisiana is a weather forecaster."
As of the end of September, there have been 17 named storms, nine hurricanes and five major hurricanes. An average year sees fewer than 10 storms, six hurricanes and two or three intense hurricanes. A variety of factors combined to turn 2005 into a major hurricane season: unusually warm surface temperatures in the Atlantic, lower than normal sea level pressure, and moister air in the lower and middle atmosphere.
But Gray said there is little evidence that global warming is behind the recent outbreak of ferocious storms in the Gulf. If that were the case, he said he would expect to see an increase in hurricanes and cyclones around the world, and Gray said the Pacific Ocean has actually seen fewer storms than usual.
Nor is it unheard of to have two major hurricanes strike the same area of the U.S. coast in a single year. In 1915, he said, Category 4 storms struck near Galveston, Texas, and New Orleans almost the same areas hit by Rita and Katrina.
Local journalism is essential.
Give directly to The Spokesman-Review's Northwest Passages community forums series -- which helps to offset the costs of several reporter and editor positions at the newspaper -- by using the easy options below. Gifts processed in this system are not tax deductible, but are predominately used to help meet the local financial requirements needed to receive national matching-grant funds.
Subscribe now to get breaking news alerts in your email inbox
Get breaking news delivered to your inbox as it happens.
---