Sports
Hexed no more
Mon., Oct. 10, 2005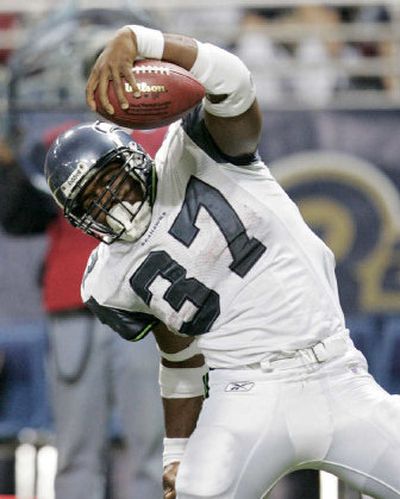 ST. LOUIS – The hex was a hoax.
Now the Seattle Seahawks have proof: their first victory over the St. Louis Rams in five tries, a 37-31 catharsis Sunday in the previously haunted Edward Jones Dome.
"It's great," running back Shaun Alexander said. "We're real excited about this game because we knew it was something that just had to be done if we were ever going to get the monkey off our back.
"We definitely felt like we were division champs (in 2004), but we knew we had to beat them to claim it to ourselves. They owned us last year and we let a lot of balls bounce the wrong way last year. It's a new year and a new team and we're excited."
Beaten by the Rams three times last season, the Seahawks opened this game by allowing a 99-yard kickoff return for a touchdown.
Oops.
The play jump-started a late-arriving crowd of 65,707 that had seemed weary after watching this city's baseball team play late Saturday night and into Sunday morning.
But the Seahawks persevered. They showed a level of poise and maturity not associated with past Seattle teams. The Rams are a flawed team, to be sure, but so was the St. Louis squad that knocked Seattle from the playoffs in January.
These Seahawks held the Rams to 3 of 12 on third-down conversions, this after watching Washington converted 13 of 18 during the Hawks' overtime loss last week. The Rams converted 11 of 17 third-down chances in their playoff victory at Qwest Field nine months ago.
Kicker Josh Brown, whose winning field-goal try at Washington bounced off the left upright, hit the left upright with another important field goal Sunday. This time, the ball bounced through the uprights.
And when it appeared as though the Rams would get a shot at the winning touchdown drive, Seattle's special teams made the play of the game.
Cornerback Jordan Babineaux stripped the football from return man Shaun McDonald, who was on the field only because Terry Fair had violated protocol by taking himself out of the game. Long-snapper J.P. Darche recovered and Seattle ran out the final two minutes, 51 seconds.
"He was playing defense and he asked to come out," Rams coach Mike Martz said. "You don't take yourself out. He is new here and this is his first game up. Shaun McDonald, God bless him, he just tried to make something happen."
For the first time since 2003, Seahawks coach Mike Holmgren was able to talk about what went wrong for the Rams.
"It's nice to stand up here and be able to talk about a victory," Holmgren said. "I thought it was a great effort by our team because we had a little adversity with injury and the guys stepped up and played.
"All those things will help us. A win like this will help us down the road."
The Seahawks lost starting cornerback Andre Dyson to a pulled hamstring. They saw starting linebacker D.D. Lewis leave the game with a sprained ankle. And they watched medical personnel strap starting strong safety Michael Boulware to a board and rush him to a hospital with no feeling in his legs.
But like the Seahawks, Boulware would be OK. Feeling returned to his legs and he was able to rejoin his teammates in an upbeat-but-not-quite-jubilant locker room.
The Seahawks had felt for some time that they were better than the Rams. They were simply lacking in evidence. They had been unable to live down the time one year ago today when they blew a 17-point fourth-quarter lead to the Rams and lost in overtime, 33-27.
"I think especially the way we won this game – with them coming out and returning the kick and having some ups and downs and being able to stay resilient and get the win out of it – is going to be huge in the long run for our confidence," tight end Jerramy Stevens said.
Alexander rushed 25 times for 119 yards and two touchdowns. Quarterback Matt Hasselbeck, playing without injured starting receivers Darrell Jackson and Bobby Engram, found Joe Jurevicius nine times for 137 yards and a touchdown. Stevens, left open when the Rams failed to jam him at the line of scrimmage, caught a 29-yard scoring pass among his three receptions for 65 yards.
"They came out and pretty much had their way with us offensively," Rams safety Adam Archuleta said.
Hasselbeck completed 27 of 38 passes for 316 yards. His completion percentage (.711) and yardage total marked season highs. And for the third consecutive game, Seattle did not commit a turnover.
"The Seahawks did a nice job offensively keeping us off balance," Martz said. "I asked our defense to put in a new coverage and they scored two touchdowns on that coverage, so that is my fault.
"I take full responsibility for that. I thought it would help us in the running game."
Seattle amassed 433 yards and 26 first downs. Hasselbeck took four sacks, but the pass protection was good enough most of the time. The Seahawks benefited when the Rams lost leading pass rusher Leonard Little to a lower-back injury, but backup Tyoka Jackson played well and finished with a sack.
As is their custom, the Seahawks used the pass to open up running lanes. Alexander ran hard and broke tackles.
And when the offense sputtered, newly signed punter Tom Rouen proved to be a huge upgrade over the recently released Leo Araguz. Rouen posted a 39.3-yard net average while dropping four punts inside the 20; his flustered counterpart, rookie Reggie Hodges, hurt the Rams repeatedly on his way to a 27.6-yard net.
The Seahawks started five possessions inside Rams territory and a sixth at midfield. The Rams started at their own 19 on average. The one time Seattle started inside its 10, Hasselbeck led the Seahawks on their second 91-yard touchdown drive in as many weeks.
"They stayed poised and were able to stick to their game plan and they made more plays than we did," Rams receiver Torry Holt said. "It's a very tough loss against a division opponent at home."
A year ago, the Seahawks could relate. But not Sunday. Not on the day when they turned hex into hoax.
"I promise you, everybody made a much bigger deal about it than we did," said defensive end Grant Wistrom, who signed with Seattle in 2004 after six years with the Rams. "We weren't really that concerned with it. It's a new team, a bunch of new guys on this team."
Local journalism is essential.
Give directly to The Spokesman-Review's Northwest Passages community forums series -- which helps to offset the costs of several reporter and editor positions at the newspaper -- by using the easy options below. Gifts processed in this system are not tax deductible, but are predominately used to help meet the local financial requirements needed to receive national matching-grant funds.
Subscribe to the sports newsletter
Get the day's top sports headlines and breaking news delivered to your inbox by subscribing here.
---