News > Features
Diverse career
Mon., Oct. 17, 2005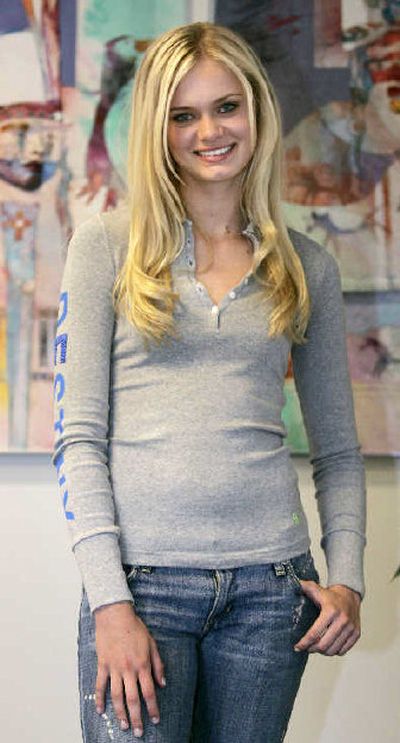 With a popular TV series, a clothing line, an upcoming film and debut CD, it's been suggested that Sara Paxton could be crowding Hilary Duff for the title of pop culture teen queen.
Paxton is too busy to concern herself with such who's-in-and-who's-out speculation, though.
Back in her hometown Los Angeles to shoot a video for her album, the perky 17-year-old is trying to figure out how to balance a senior year of high school there with her Canadian-based TV show, "Darcy's Wild Life."
She's casually dressed in a gray pullover shirt, blue jeans and open-toed shoes as she sits for an interview in her publicist's office. Also present are "Darcy" creator Stan Rogow and Paxton's father, Steve.
She could be wearing something from her new "Darcy's" line of casual Western wear – "if I could fit into it," she says, sounding just mildly exasperated.
The clothes are being marketed for preteen and younger teenage girls, who make up the core of Paxton's fan base and who are still a bit tinier than the trim actress. But Rogow quickly assures her some in Paxton's size are on their way.
Although she has been acting professionally for more than a decade, the clothing line, the TV show, the album on Epic Records and the starring role in the movie "Aquamarine" (in which she plays a love-struck mermaid) have all happened in the past two years.
Paxton acknowledges it's been a bit overwhelming but notes she still has the same four best friends she met in sixth grade.
"I'm a lot busier. And, like, I guess I'm away from home more," she says. "But whenever I come back, it's like I was never gone, and I don't really think it's changed me as a person."
Then she makes eye contact with her father and bursts into a nervous giggle.
"My dad just went, 'Yeah, cough, cough,' " she adds sheepishly.
Serious one moment, giggly the next, Paxton can exude self-confidence on one subject and a whispering, head-ducking shyness on the next as she evaluates a career that began at 6 with a soft-drink commercial.
She was one of the finalists for the part that made Duff a star on the Disney Channel's "Lizzie McGuire."
"It's cool that, you know, people say that," she says of comparisons to Duff. "I mean, I am not Hilary Duff. Like I have my own path that I'm going to go on. But I think it's a compliment that people would say that."
Then she laughs and whispers: "I'm hoping they're right."
Rogow, who also created "Lizzie McGuire," finds the perceived competition between the two blond teen actresses annoying but understandable.
"They were both doing kid shows coming up and are now singing and having those diverse careers," Rogow says. "But I think they're both individuals, and I think their individual talents finally will speak for themselves."
In "Darcy's Wild Life," Paxton plays a Malibu teenager whose mother uprooted her from the beach and moved her to a small town where she must deal each week with cows, chickens, pigs and even the occasional tarantula.
"Sara's got some really wonderful comic abilities that I think are very, very special," Rogow says.
"On top of that, I think she's gifted with real physical beauty but has this disarming quality," he continues as Paxton blushes with embarrassment. "With all of that, there's a kind of universality to Sara that is still approachable."
Born and raised in L.A.'s San Fernando Valley, Paxton retains one noticeable quality of her Valley Girl heritage – the ability to work the word "like" into almost any sentence.
"I don't notice that I do it, but people tell me that I say it a lot. So I'm workin' on it!" she declares good-naturedly.
In school she gets mostly A's despite her busy schedule, and she plans to study film and business at USC.
"I've kind of learned to balance, like, school and everything like that," Paxton says, noting that while away on location she completes school assignments by e-mail.
"Whenever I come back it's always like I was never gone," she adds. "My friends are, like, 'Hey, she's back.' My teachers are, like, they know the drill – kind of like, 'Oh, yeah. Back. OK. You're not special anymore. Get to work!' "
Local journalism is essential.
Give directly to The Spokesman-Review's Northwest Passages community forums series -- which helps to offset the costs of several reporter and editor positions at the newspaper -- by using the easy options below. Gifts processed in this system are not tax deductible, but are predominately used to help meet the local financial requirements needed to receive national matching-grant funds.
Subscribe now to get breaking news alerts in your email inbox
Get breaking news delivered to your inbox as it happens.
---