Sports
Maddox's four turnovers help Jags edge Steelers
Mon., Oct. 17, 2005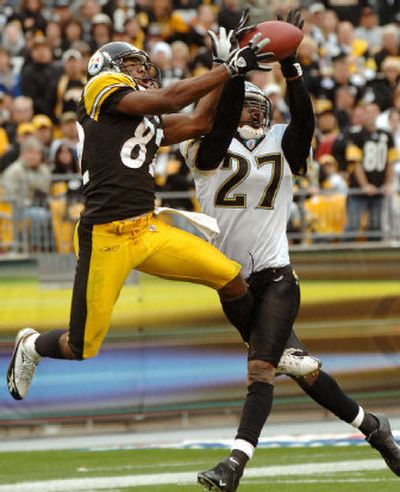 PITTSBURGH – Between the formation and Tommy Maddox's eyes, Jacksonville Jaguars cornerback Rashean Mathis knew the ball was coming his way.
If this had been Ben Roethlisberger throwing to Hines Ward, it might not have mattered. But the Steelers were running the play with Maddox and Quincy Morgan, and that was the difference Sunday.
Mathis stepped in front of Maddox's pass and scored on a 41-yard return in overtime and the Jaguars, taking advantage of four turnovers by Pittsburgh's backup quarterback, rallied to upset the injury-thinned Steelers 23-17 on Sunday.
For the Jaguars, it was proof they belong among the NFL's elite.
"I think we showed we're one of the toughest teams in the league," Mathis said. "This is huge. This is a statement game around the league about us."
The Steelers, losing their second straight at home but only their third overall in 21 regular season games, were in position to win it following Morgan's 71-yard kickoff return to start the overtime. But Maddox fumbled the ball away at the 27 with Jeff Reed readying to attempt a game-winning field goal on the next play.
"We've got a saying around here: 'Don't blink because you never know what's going to happen,' " Mathis said. "We didn't blink, we stopped them and then a big play happened for us."
After the Jaguars punted, Maddox looked to his left, then went back to his right to try to find Morgan on a second-and-10 play from the Steelers' 35, but Mathis cut in front for his first career interception return touchdown.
Maddox, starting for the injured Roethlisberger, threw three interceptions while going 11 of 28 for 154 yards in his second start in 13 months.
"They ran the same route on the same formation before so I knew what I was getting," Mathis said.
The Jaguars took away the pass and a Steelers running game that was largely responsible for a 24-22 win in San Diego on Monday, limiting Pittsburgh to 73 yards and a 2.4 average. Jerome Bettis, who came off the bench for 54 yards and a touchdown Monday, had four yards on four carries and Willie Parker was held to 55 yards on 21 carries.
Maddox, booed much of the game, was intercepted twice on Pittsburgh's first three possessions, and the Jaguars turned the second pickoff into Greg Jones' 7-yard TD run and a 7-0 lead. Jones ran for 77 yards while subbing for the injured Fred Taylor (ankle).
Steelers coach Bill Cowher considered pulling Maddox for Charlie Batch, but didn't because Batch has played only a handful of downs since 2001. Asked if Maddox had a bad day, Cowher said, "I think that's an obvious statement."
Maddox disputed that, saying wind gusts of 25 mph disrupted the throws of both quarterbacks. Jacksonville's Byron Leftwich was 19 of 35 for 177 yards and was intercepted in the end zone in the final minute of regulation, preventing a possible game-winning field goal try.
While the Steelers did almost nothing offensively, they stayed in the game by scoring twice in a 62-second span of the second quarter. Maddox found rookie Heath Miller on a 15-yard scoring pass, and Antwaan Randle El followed a 72-yard punt return touchdown to put the Steelers up 14-7.
The Jaguars felt they should have won it before overtime. They passed up three sure points when coach Jack Del Rio chose to go for it on a fourth-and-2 from the Pittsburgh 22 and Jones lost a yard. Fullback Derrick Wimbush dropped an apparent touchdown pass while wide open. And the Jaguars settled for a field goal to end the first half after having a first-and-goal at the Steelers 1.
Local journalism is essential.
Give directly to The Spokesman-Review's Northwest Passages community forums series -- which helps to offset the costs of several reporter and editor positions at the newspaper -- by using the easy options below. Gifts processed in this system are not tax deductible, but are predominately used to help meet the local financial requirements needed to receive national matching-grant funds.
Subscribe to the sports newsletter
Get the day's top sports headlines and breaking news delivered to your inbox by subscribing here.
---