Sports
White Sox rock Chicago
Mon., Oct. 17, 2005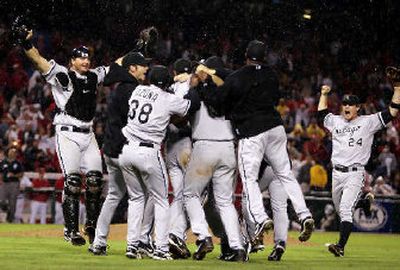 ANAHEIM, Calif. – The Chicago White Sox haven't played in a World Series game for 16,811 days.
In 105 years of baseball, the White Sox have won a total of 13 World Series games.
They have a grand total of six World Series home runs.
They haven't hit a triple in a World Series game for 86 years.
Their relief pitchers have a total of two World Series saves.
The last time the White Sox won a World Series game, they had to beat Sandy Koufax to do it.
Saturday night at the corner of 35th and Shields on the South Side of the baseball-batty city of Chicago, the opening game of the 102nd World Series would be played … if only the White Sox could make it so.
That they did Sunday night with a 6-3 victory over the Los Angeles Angels in Game 5 of the American League Championship Series that clinched the pennant.
It snowed 99 years ago when a World Series game was played at the Sox's home park on 39th Street – that's right, 39th Street – for the first time.
A "crowd" of 12,693 sat through freezing weather and snow flurries on Oct. 9, 1906, to see at 2-1 victory over the heavily favored Cubs.
It rained Sunday night here in Anaheim – a town few people from the Midwest knew existed back in 1906 – as the local Los Angeles Angels did their best to rain on Chicago's parade, much the way that the Los Angeles Dodgers did by knocking off the White Sox in '59.
The game was 1-0 in the Sox's favor after two innings, so their fans from coast-to-coast felt pretty good about it …
But then the Angels tied it 1-1.
The game was 2-1 in the Sox's favor after the top of the fifth inning, so fans in Chicago's bars and cars and everywhere under the stars crossed their fingers …
But then the Angels went on top 3-2.
The game was knotted 3-3 after seven innings because Sox third baseman Joe Crede socked a ball over Angel Stadium's left-field wall, so fans who believed this could be the night began to clap hands and slap palms and bump knuckles and say, "Say it's so, Joe!"
But someone still needed to score at least one more run.
And if nerves weren't jangled before, a storm of controversy interrupted play in the top of the eighth.
It involved – again – the umpires, Angels pitcher Kelvim Escobar and Sox batter A.J. Pierzynski, the same individuals at the center of Wednesday night's Game 2 tempest at U.S. Cellular Field.
This time Pierzynski ran to first base and was called out, not safe, because Escobar tagged him.
But then the umps had to huddle and overturn this decision because Escobar tagged the runner with an empty glove, not with the ball.
The Sox promptly grabbed a 4-3 lead on a two-out base hit by Crede, the same man who drove home the game-winning run after the Game 2 controversy.
Aaron Rowand raced home with the go-ahead run. He made a headfirst slide, happily getting a mouthful of dirt.
Championship-starved Chicagoans wanted this one so badly, they could taste it. So did the players.
The Sox spent their Sunday morning trying to act normally, as if this were just another day at the office. A number of the team's players went to chapel services.
Paul Konerko, Mark Buehrle and others watched pro football on TV and tinkered around with their fantasy league teams.
"Like a normal Sunday," Konerko said with a smile, because this one was anything but normal.
The fantasy league that mattered most to the Sox, of course, was the American League.
And winning a game for the 106th time this season.
And making it to the World Series, every boy's Little League dream.
Konerko had said a night earlier, after the Sox's success in Game 4, "I think you have to resist the urge to think about how close you are."
And before Game 5 Konerko, a well-spoken veteran who would be this team's captain if baseball clubs anointed men with such titles, spoke for everybody when he said, "I don't think anybody is complacent or that we've done anything yet because our major goal is to win the whole thing."
In other words, not simply to get to a World Series, but to win it.
OK, one thing at a time, guys.
White Sox fans have waited a long, long, long time.
They can wait a little longer.
Baseball is coming back to the South Side of Chicago this week. Let it snow.
Local journalism is essential.
Give directly to The Spokesman-Review's Northwest Passages community forums series -- which helps to offset the costs of several reporter and editor positions at the newspaper -- by using the easy options below. Gifts processed in this system are not tax deductible, but are predominately used to help meet the local financial requirements needed to receive national matching-grant funds.
Subscribe to the sports newsletter
Get the day's top sports headlines and breaking news delivered to your inbox by subscribing here.
---