Sports
Means just couldn't run away forever
Tue., Oct. 25, 2005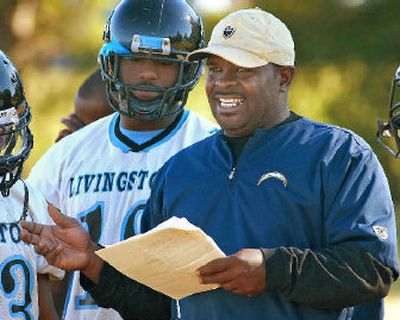 SALISBURY, N.C. – Natrone Means made his living running straight at – and sometimes over – tacklers. Yet the big, bruising NFL back seemed to be doing his best to sidestep the next step in a life built on football.
After injuries ended his playing days, Means dabbled in real estate. He played golf. He started a youth football association. But he couldn't get away from the pull of the sport he had played since he was 7.
Finally, he succumbed and became a coach.
"It almost seems like I was kind of running away from coaching," he said.
Means, who helped the San Diego Chargers reach the Super Bowl, is in his first season coaching running backs at Livingstone, a Division II school with about 1,000 students approximately 40 miles from Charlotte. The packed stadiums and cozy player lounges of his playing days have given way to a small practice field lined by a chain-link fence on a residential street.
In some ways, Means has come home. He is coaching just a few miles from where he starred in high school almost 20 years ago.
"We can't all be businessmen," Means said. "We can't all be Donald Trump or come up with that invention that's going to change the world. But football is what I know."
The 33-year-old Means spent eight seasons in the NFL, playing with San Diego and Jacksonville before ending his career with a brief stop at Carolina in 2000. His best season was 1994, when the 5-foot-10, 245-pound back ran for 1,350 yards and 12 touchdowns while leading the Chargers to the Super Bowl in his second year.
He entered the NFL in 1993 as a second-round draft pick out of North Carolina after skipping his senior season. In three college seasons, he ran for 3,074 yards.
Livingstone's interim head coach, Robert Massey, knew Means from when they both played for Jacksonville in 1996. Massey talked with Means about joining him when he landed a college job. That happened when Ben Coates, a former NFL tight end, left for the Cleveland Browns' staff.
"He's a big name, not only for publicity but for recruiting," Massey said. "And he's a hell of a coach. He has a good football mind. Knowing that he's a former pro athlete, the kids will be very attentive and will work hard for him."
Means said he answers most of his players' questions about his days as a pro – "I don't think they're ready for those off-the-field stories," he added, shaking his head – and knows those experiences give him credibility as he masters the finer points of college coaching.
The NFL left its mark on Means. His walk is sometimes stiff – a remnant of knee injuries – and at a recent practice he sported a dark blue pullover with a Chargers logo. Even if his players are too young to remember the days when he was the "Natrone Bomb," they see his pro experience as a badge of accomplishment.
"When you're a young athlete growing up, everybody's dream is to play in the NFL," said Tyrome Baisden, a junior transfer tailback. "To be coached by a coach that's been in the NFL who can give you the experience that he has, I feel that's an edge for me at this level."
Massey recalled watching a freshman take instruction from Means.
"He's like a kid in a candy store and a deer in headlights," Massey said. "He's amazed that Natrone Means is his coach."
Means is already talking like a coach, saying he gets frustrated if a player doesn't give enough effort or repeatedly makes the same mistakes. But he doesn't yell much. He barely raises his voice and talks with players in the low-key style he appreciated from his coaches.
"I'm a slow roller," Means said. "I wasn't the kind of guy that needed to be yelled at and screamed at to get my job done. I don't want a kid to be so worried about me jumping on him that he blows an assignment or fumbles the ball."
Local journalism is essential.
Give directly to The Spokesman-Review's Northwest Passages community forums series -- which helps to offset the costs of several reporter and editor positions at the newspaper -- by using the easy options below. Gifts processed in this system are not tax deductible, but are predominately used to help meet the local financial requirements needed to receive national matching-grant funds.
Subscribe to the sports newsletter
Get the day's top sports headlines and breaking news delivered to your inbox by subscribing here.
---