Sports
New inductees bedeck Hall
Wed., Oct. 26, 2005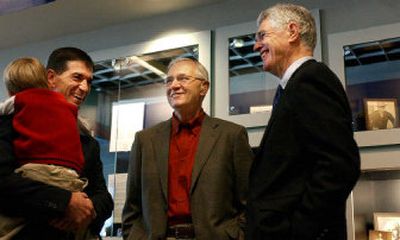 There was a quandary when the selection committee was considering Jack Spring for the Inland Northwest Sports Hall of Fame: athlete, coach or contributor?
Some consider Spring the best high school pitcher in Spokane history from his days as a baseball player at Lewis and Clark before he embarked on an 18-year professional odyssey that included stints with seven major league teams in eight seasons. Then he returned to Spokane to teach and coach at West Valley, guiding the Eagles to Spokane's only state baseball championship in 1978 before becoming the school's athletic director until he retired after 23 years.
But Spring made it obvious why he was selected for his baseball prowess when he made his acceptance speech at the Hall of Fame luncheon at the Arena Wednesday afternoon.
"When I was the athletic director at West Valley High School, to show you what a brilliant job I did, one of the finalists for the head coaching basketball jobs my first year was Wayne Gilman," he recalled. "Now how smart is that?"
The late Gilman never coached a game for the Eagles but was 347-113 in 18 years at Ferris, which is why he is part of the Hall of Fame Class of 2005 along with Spring, broadcasting pioneer Ed Sharman and basketball superstar John Stockton.
Spokane's "Mr. Handball," Jim Slavin, and Carl Cirullo, who has been involved with the local hockey scene since 1948, were added to the Scroll of Honor.
All spoke of the love and support of family, mentors and the community.
Spring averaged 15 strikeouts a game in high school from 1949-51 and had five no-hitters in that time, counting American Legion play. He started and finished his professional career with the Spokane Indians, with his longest major league stint in between being three seasons with the Los Angeles Angels.
He passed on a few stories about former teammates such as Satchel Paige and Lou Piniella, but his most poignant moment was about his late sister Liz, who raised him and always believed he should be in the Hall of Fame.
"I knew that I had already been given this honor," he said. "The biggest disappointment I have … is I didn't get by to see her, to tell her about this great honor I was being given. So the message is: Don't forget the ones you love and the ones who love you."
That tied in nicely with Stockton's comments about the path to success for other Hall of Famers in general and himself in particular.
"What was behind it?" asked the former Gonzaga Prep and Gonzaga University standout who went on to a 19-year career with the Utah Jazz that should land him in the NBA Hall of Fame. "Reflecting back on my situation it can be traced pretty easily – family, neighborhood and schools I went to and the people I came across in that time. I'm honored for what people have done and done for me."
Local journalism is essential.
Give directly to The Spokesman-Review's Northwest Passages community forums series -- which helps to offset the costs of several reporter and editor positions at the newspaper -- by using the easy options below. Gifts processed in this system are not tax deductible, but are predominately used to help meet the local financial requirements needed to receive national matching-grant funds.
Subscribe to the sports newsletter
Get the day's top sports headlines and breaking news delivered to your inbox by subscribing here.
---