News > Idaho
Golf trip a fun outing for Dalton fifth-graders
Sat., Oct. 29, 2005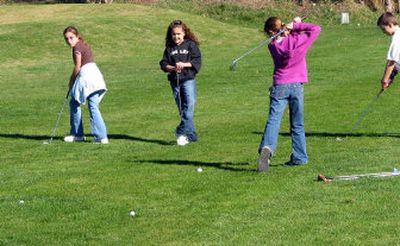 Dalton Elementary School fifth-graders couldn't have asked for more perfect weather than what they got Oct. 21. Under warm sunny skies, both classes – about 60 students – took a field trip to Ponderosa Golf Course to play nine holes of golf. This culminated the golf unit of their physical education class.
Physical education teacher JoAnn Harvey set up a nine-hole practice course at Dalton and started the golf lessons at the beginning of the school year. Ponderosa was just about to shut down for the season, so the students had the entire golf course to themselves. Kim and George Hushman, two of the parent volunteers, made the arrangements with the golf course managers. They are very grateful to the folks at Ponderosa for being so accommodating to the students.
"This is a skill they can hold on to for a lifetime; a lifetime sport," Harvey said.
She said the golf lessons meet the requirements of teaching an activity that helps to reduce stress as well as giving students something fun they can do with family and friends. She hopes to bring golf back to the P.E. curriculum in the spring.
Fifteen adults, including the two fifth-grade teachers, Brandi Meade and Jared Staples, and Harvey guided the students, divided into groups of six, through the course. Both Meade and Staples are new to Dalton; this is Staples' first teaching job.
The day of golf began with a shot-gun start. Only one boy got wet, attempting to jump a small creek rather than walking to one of the footbridges.
"It's fun," said students Jessica Mather and Kylee Hushman. They were taught golf etiquette at school, and it was impressive to see Hushman carefully replace a divot before moving down the course.
Staples said he isn't an avid golfer but knows the basic rules. He was just happy that the kids were having a lot of fun.
"He knows what fun is!" said one of his students Madison Palm.
Red Ribbon Week brings anti-drug message
Last week was Red Ribbon Week, a program sponsored by Idaho Drug-Free Youth designed to create awareness of drug and alcohol abuse. At Canfield Middle School, students received red ribbons during their advisory period Monday. By wearing the ribbon to school each day of the week, students were eligible for raffle drawings for prizes.
On Tuesday, Canfield students signed drug-free pledges and received a red drug-free wristband, similar to the yellow "Livestrong" bands. The pledges were used to create a flag under a "United We Stand for a Drug Free Land" banner.
At Lakes Middle School, IDFY kids who tested drug-free were rewarded with a trip to the corn maze in Hauser Thursday. Lakes students were given the red wristbands to wear all week. They also had an "anti-drug" pumpkin carving contest. The pumpkins will be on display at the school's fall festival tonight.
Halloween bike festival at NIC
A Halloween bike festival presented by North Idaho College's Outdoor Pursuits and Vertical Earth will be today with registration beginning at 10 a.m. behind Sieter Hall for a cyclocross race on the NIC campus.
The race will begin at 1 p.m. Riders are encouraged to come in costume, as prizes will be awarded for the best costumes. Following the race, the Skeleton Drag Bike Cruise at 2 p.m. will take participants in costume through Coeur d'Alene. Best-costume prizes will be awarded for the cruise.
Call Vertical Earth at 667-5503 for cyclocross race registration. For race or cruise information, call Outdoor Pursuits at 769-7809.
Big day in NIC volleyball
Today is also a big day for sports at NIC. The No. 6 ranked NIC volleyball team takes one the No. 1 ranked College of Southern Idaho at 3 p.m. in Christianson Gym.
The NIC athletics department will give out prizes during a Halloween costume contest for NIC students at 5 p.m. in the Edminster Student Union Building. First prize is $100, second prize is $50 and the third place winner receives $25.
Local journalism is essential.
Give directly to The Spokesman-Review's Northwest Passages community forums series -- which helps to offset the costs of several reporter and editor positions at the newspaper -- by using the easy options below. Gifts processed in this system are not tax deductible, but are predominately used to help meet the local financial requirements needed to receive national matching-grant funds.
Subscribe now to get breaking news alerts in your email inbox
Get breaking news delivered to your inbox as it happens.
---