Sports
Broncos team to beat in new-look WAC
Thu., Sept. 1, 2005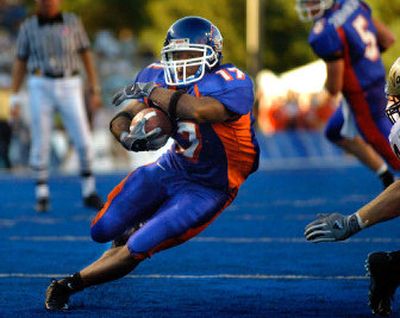 Just when you thought it couldn't get any tougher for the Idaho Vandals, it did.
The Vandals happily left the far-flung Sun Belt Conference for the Western Athletic Conference. It's a better fit in virtually every respect – conference recognition, travel, fan interest.
But for a Vandals program with just 14 wins over five consecutive losing seasons, it's a decided step up the college football ladder. Boise State and Fresno State are ranked in the preseason top 25. Since 2001, only Oklahoma has more wins (47) than Boise State's 44. Fresno State and Hawaii rank in the top 10 with 38 and 36 wins, respectively. The WAC trio's 118 combined wins trails only the Big 12's Oklahoma, Texas and Nebraska (123), and the SEC's Georgia, LSU and Tennessee (119) for most victories over the last three seasons.
WAC teams also have the best bowl winning percentage (63.6) of any conference in the nation over the last three seasons.
"It's a pretty big jump," Vandals second-year coach Nick Holt said. "I think North Texas and Troy (of the Sun Belt) are as good as anybody, but from top to bottom this is a pretty big jump, which is good. It'll make us better in the long run."
The Vandals are picked to finish last in the WAC, but nobody's sure what to expect from the teams projected in the bottom half of the reconfigured conference. New Mexico State and Utah State also left the Sun Belt for the WAC and both programs have new coaches. San Jose State was last in the WAC in 2004, but BSU coach Dan Hawkins has referred to the Spartans as a possible sleeper in the conference race.
The WAC is known for high-powered offenses. WAC teams averaged 31.9 points per game last year, tops nationally. Conference USA was next at 29.4.
Four WAC teams were in the top 11 in scoring and six cracked the top 40. Four teams were in the top 20 in rushing and four were in the top 30 in passing. By contrast, only Fresno State, at 36, ranked in the top 45 nationally in team defense.
"The conference is very explosive offensively; there's a lot of points being scored," said Holt, who also serves as Idaho's defensive coordinator. "It's really good offensive football. It's pretty cool."
Boise State has ruled the WAC the last three years, posting a 24-0 mark and an average winning margin of 30.5 points. The Broncos return quarterback Jared Zabransky, a handful of experienced running backs and tackle Daryn Colledge, an All-American candidate. Oregon State transfer Cole Clasen adds to the receiving unit.
The defense returns eight starters and special teams have long been one of the team's strengths. Perhaps the biggest obstacle working against BSU is a schedule with road dates at Georgia and Oregon State to kick off the season. The Broncos are also at Hawaii, Fresno State and Louisiana Tech.
Most preseason polls have BSU at the top, but some are predicting Fresno State will end BSU's run. The Bulldogs are stocked on both sides of the ball with quarterback Paul Pinegar, running back Bryson Sumlin and tackle Garrett McIntyre, the projected defensive player of year. The Sporting news lists McIntyre as the fourth best defensive tackle in the nation. Kyle Young is ranked sixth among centers and Richard Marshall is eighth among cornerbacks.
Fresno State's non-conference schedule isn't quite as daunting as previous years. The Bulldogs sandwich home games with Weber State and Toledo around a road date with Oregon.
Nevada, Hawaii, San Jose State and Louisiana Tech all have designs on an upper-tier finish. The Wolf Pack return quarterback Jeff Rowe and senior receiver Nichiren Flowers, who had 91 catches last season. La Tech's Ryan Moats was drafted by Philadelphia in the third round, leaving a big hole at running back. San Jose State is searching for its first winning season since 2000, but new coach Dick Tomey is eighth among active I-A coaches with 158 career wins.
New Mexico State, Utah State and Idaho are expected to struggle in their first seasons in the WAC. NMSU figures to be pass-happy under new coach Hal Mumme, who directed I-AA Southeastern Louisiana to 408 yards passing per game in 2004. First-year Utah State coach Brent Guy has defensive roots, having served as coordinator at Boise State and Arizona State under ex-BSU coach Dirk Koetter.
Boise State Broncos
Coach: Dan Hawkins, 5th season, 44-7
2004 record: 11-1, 8-0
Starters returning: 8 offense, 8 defense
When they play the Vandals: Nov. 19, in Boise
Outlook: The Broncos return another potent offensive unit, led by versatile quarterback Jared Zabransky, who set a school record with an 85-yard touchdown run against Hawaii. The defense has its share of standouts with tackles Alex Guerrero and Andrew Browning and BSU's special teams are always solid. Biggest issue is on defense, which gave up 30 or more points in five games last season. Three-time champs will have to overcome tough WAC road schedule with road dates at Hawaii, Fresno State and Louisiana Tech.
Fresno State Bulldogs
Coach: Pat Hill, 9th season, 64-38
2004 record: 9-3, 5-3
Starters returning: 9 offense, 7 defense
When they play the Vandals: Oct. 22, in Moscow
Outlook: Nobody is better positioned to unseat the Broncos than Fresno State. The Broncos caught fire offensively last season, averaging 52.8 points over the final six games. Quarterback Paul Pinegar has 54 career touchdown passes and running back Bryson Sumlin rushed for 1,102 yards last season. The defense returns most of its key personnel, including all-WAC tackle Garrett McIntyre and second-team cornerback Richard Marshall. WAC title could come down to Fresno State-Boise State game on Nov. 10 in Fresno, Calif.
Nevada Wolf Pack
Coach: Chris Ault, 21st season, 168-70-1
2004 record: 5-7, 3-5
Starters returning: 6 offense, 8 defense
When they play the Vandals: Oct. 8, in Reno
Outlook: The Wolf Pack has been middle of the pack in the WAC the last four years, but they appear to have the pieces to climb up a rung or two. It starts with quarterback Jeff Rowe, who passed for 2,633 yards and 15 touchdowns in 2004, and a quality set of receivers. Nichiren Flowers was second in the WAC in receptions (91) and receiving yards (1,126). Defense was torched late last season (112 combined points allowed to Fresno State and Boise State), but returns eight starters, including talented end J.J. Milan.
Hawaii Warriors
Coach: June Jones, 7th season, 48-30
2004 record: 8-5, 4-4
Starters returning: 4 offense, 5 defense
When they play the Vandals: Sept. 24, in Moscow
Outlook: Warriors have the fewest number of returning starters in the WAC, but June Jones has developed a solid program with five winning seasons in six years. Also gone is record-setter Timmy Chang, but Jones has a proven track record developing quarterbacks. Hawaii is always tough to beat at home (8-0 last year). Jerry Glanville is the new defensive coordinator and he faces a tough chore. Hawaii was 116th nationally in total defense last year.
Louisiana Tech Bulldogs
Coach: Jack Bicknell, 7th season, 33-38
2004 record: 6-6, 5-3
Starters returning: 5 offense, 4 defense
When they play the Vandals: Nov. 12, in Moscow
Outlook: Nobody outside of Ruston cried when running back Ryan Moats passed up his senior season and entered the NFL draft, where he was taken by Philadelphia in the third round. If the Bulldogs can establish a running game, the offense could be impressive, given Bicknell's fondness for the forward pass. Bicknell might be on the hot seat if La Tech flounders. Even with a visit to Florida in the opener, La Tech's schedule isn't as arduous as last year (Miami, Tennessee and Auburn).
San Jose State Spartans
Coach: Dick Tomey, 1st season, 0-0
2004 record: 2-9, 1-7
Starters returning: 6 offense, 7 defense
When they play the Vandals: Nov. 26, in San Jose
Outlook: Tomey takes over a downtrodden program, but not one void of talent. The Spartans top three receivers return and the defense, which got pushed around last year, should be improved. Josh Powell is a standout safety and Kinji Green is a three-year starter at tackle. Tomey's staff has coached in 48 post-season bowls or pro playoff games. It may take a while to spark a turnaround, but Tomey will begin making inroads this year.
New Mexico State Aggies
Coach: Hal Mumme, 1st season, 0-0
2004 record: 5-6, 4-3 Sun Belt
Starters returning: 8 offense, 6 defense
When they play the Vandals: Oct. 29, in Las Cruces
Outlook: The Aggies were often a chic pick in the Sun Belt, but they never came through. Tony Samuel and his ground-based offense are gone. New coach Hal Mumme will put the ball in the air, though it could take some time for NMSU's players to adjust to the new philosophy. Jimmy Cottrell is a tackling machine at linebacker and Matt Griebel is a premiere safety, but the Aggies will have to overcome a rugged early schedule – UTEP, Colorado, New Mexico, California before the calendar hits October.
Idaho Vandals
Coach: Nick Holt, 2nd season, 3-9
2004 record: 3-9, 2-5 Sun Belt
Starters returning: 9 offense, 8 defense
Outlook: The Vandals have a chance to be much improved this season, but still post a record similar to last year. That's a function of the move up in leagues (from Sun Belt to WAC) and another tough, road-heavy schedule (seven away, four home). The ground game is in good hands with Jayson Bird and Rolly Lumbala, the receiving unit is deep, but the line needs to avoid injuries. The defense features linebackers Cole Snyder and Mike Anderson and safety Dan Dykes was a cornerstone in the secondary as a true freshman last season. A victory in September could go a long way in boosting Idaho's confidence.
Utah State Aggies
Coach: Brent Guy, 1st season, 0-0
2004 record: 3-8, 2-5 Sun Belt
Starters returning: 4 offense, 6 defense
When they play the Vandals: Oct. 1, in Moscow
Outlook: The Aggies have a number of questions on offense, starting with quarterback, where Travis Cox departed after throwing for 1,908 yards last year. Utah State averaged less than six points in the first halves of games in 2004 so some offensive punch is a requirement. The defense usually held its own and should continue to improve under Guy's direction. Aggies have a chance to build momentum in first five games – Nicholls State, Utah, UNLV, Idaho and San Jose State.
Local journalism is essential.
Give directly to The Spokesman-Review's Northwest Passages community forums series -- which helps to offset the costs of several reporter and editor positions at the newspaper -- by using the easy options below. Gifts processed in this system are not tax deductible, but are predominately used to help meet the local financial requirements needed to receive national matching-grant funds.
Subscribe to the sports newsletter
Get the day's top sports headlines and breaking news delivered to your inbox by subscribing here.
---