News > Idaho
CdA engineer to run for council
Thu., Sept. 1, 2005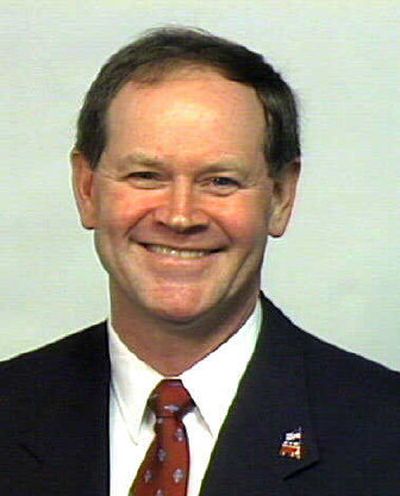 Coeur d'Alene engineer Dan Yake announced on Wednesday that he will run for city council, saying his two biggest issues are controlling city spending and maintaining the area's quality of life.
He is the second person bidding for the seat that will be vacated by Councilman Ben Wolfinger, who doesn't plan to seek re-election in November. Businessman Mike Kennedy said last month that he would run.
Yake, 52, said the city is taxing too much and, as a conservative candidate, he would work to change that.
"We should have been able to absorb those increased costs without raising taxes," Yake said. He added that he knows places the city can cut spending, but declined to go into specifics, saying he would want to discuss them with council members in a united fashion.
As far as maintaining the quality of life, Yake spoke about the importance of being prudent with the growth of the city and placing clear parameters on it.
He also stressed the importance of public safety, mentioning that his two sons were schoolmates of Dillon and Shasta Groene, who were kidnapped, allegedly by a convicted sex offender. He said police officers need to be given the resources to enforce the laws in place.
Yake, who made his announcement to a few dozen supporters gathered at Independence Point in downtown Coeur d'Alene, has held positions in the city before. Until his contract expired last year, he was the stormwater manager. Prior to that, he was the growth services director.
The Spokane native earned undergraduate and graduate degrees in geological engineering from the University of Idaho. He retired from the Army six years ago after two decades of service.
Yake ran unsuccessful campaigns for the Washington state Senate in 1980 and for the Idaho House of Representatives in 2004.
This time will be different, Yake said. "Coeur d'Alene tends to be a conservative area," he said, "and I think they deserve a conservative candidate."
Other city positions that are open for election this year are those held by Mayor Sandi Bloem and council members Deanna Goodlander and Woody McEvers.
Local journalism is essential.
Give directly to The Spokesman-Review's Northwest Passages community forums series -- which helps to offset the costs of several reporter and editor positions at the newspaper -- by using the easy options below. Gifts processed in this system are not tax deductible, but are predominately used to help meet the local financial requirements needed to receive national matching-grant funds.
Subscribe to the Coronavirus newsletter
Get the day's latest Coronavirus news delivered to your inbox by subscribing to our newsletter.
---