Sports
Counting on experience
Thu., Sept. 1, 2005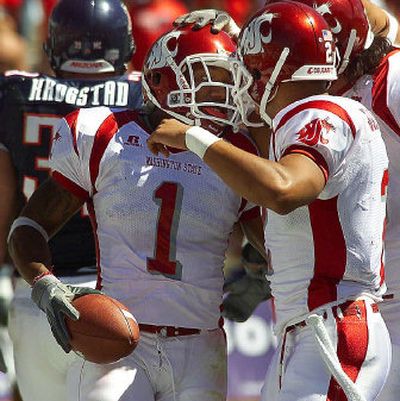 PULLMAN — Head coach Bill Doba has said his team needs to get back into a bowl game this season. He's said that his team is good enough to make a bowl game this season.
Now, it seems, there's only one thing left for the Cougars to do — go out and win more games than they lose.
"I think they came back hungry," Doba said, looking back to last year's 5-6 season. "Maybe last year they just assumed they were going to win 10 games. I think they found out it's not handed to them and they have to earn it. But, you know, ask me in about four or five weeks how much they're prepared and how well we've done."
Much of the woe from last season is placed at the feet of inexperience. Washington State started nine new players on defense in 2004, seven on offense. As a result, the thinking goes, the Cougars were destined to struggle, unlikely to repeat the success of 2001-2003.
"It's part of nature, I guess," defensive coordinator Robb Akey said. "We had the opportunity to ride some strong horses for a long period of time. And then those guys were seniors together and we got new players. So yeah, there were a lot of growing pains that took place a year ago."
Perhaps part of the reason for the pervasive optimism around WSU — and the sense of urgency — is that the excuses of a year ago don't hold water this time around.
Ten of the 11 players on offense started at least one game last season and eight did the same on defense. Couple that experience with an early-season schedule softer than the Pillsbury Doughboy, and the Cougars are privately thinking this might be another one of those years they can sneak up on people.
"I think we're going to be good, but I've got to see us do it against somebody else," Akey said. "They've got to prove it. They've got to play themselves into it. But I like our chances."
Central to the 2005 season is just how much wiser these older Cougars are. What have they learned from a blown lead against Oregon? What did they take from spotting USC two touchdowns before touching the ball once on offense? Does winning the Apple Cup help as much as a month of bowl preparation would?
"I certainly think that adversity made us better," said sophomore quarterback Alex Brink, named the starter last week after a prolonged training-camp battle with junior Josh Swogger. "Those rough games we had will help me and I'm sure they helped a lot of the younger guys — even some of the older, veteran-type guys — to learn how to deal with those and remember what it is we need to work on in the off-season to really get better."
Even though WSU sports a savvier lineup in 2005, there will be a host of new faces who could make an impact right away, with the Cougars recruiting speed in the past year.
Just four true freshman played last season but this year at least nine, perhaps as many as 12, will take the field. Three junior college transfers will play, and many of the newcomers will toil on special teams units that WSU thinks could be big-play factories.
Throw in a little wisdom on offense and defense, and the Cougars might just have a recipe good enough to keep on playing into the holiday season.
"I think we're better, I really do," Akey said. "Last week I was looking at some tape and watching our game against Idaho from last year. You look at guys across the board and I think we're better and I think we're performing better."
Local journalism is essential.
Give directly to The Spokesman-Review's Northwest Passages community forums series -- which helps to offset the costs of several reporter and editor positions at the newspaper -- by using the easy options below. Gifts processed in this system are not tax deductible, but are predominately used to help meet the local financial requirements needed to receive national matching-grant funds.
Subscribe to the sports newsletter
Get the day's top sports headlines and breaking news delivered to your inbox by subscribing here.
---