Sports
Everyone's chasing USC
Thu., Sept. 1, 2005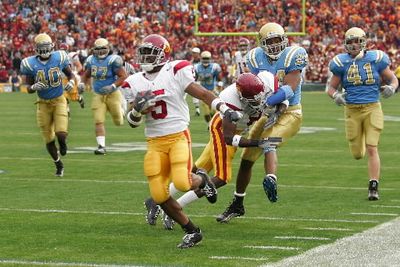 Pac-10 commissioner Tom Hansen might want to start thinking about redoing his league's moniker.
Sure, the current name is nice. But given the current state of things, Pac-1-plus-9 might just sum up this league of 10 best.
That's because – once again – USC is shaping up to be the dominant force in the West, if not in the nation. Back from two national championships and looking to become the first team ever to make it three in a row, the Trojans face a conference that has no clear-cut No. 2 contender.
Four teams received multiple second-place votes when the media types took their preseason vote, and even after another month of preseason debate no one seems to know who USC's primary challenger is this season. Could it be Cal, the top competitor two years running and the last team to beat the Trojans? Or local rival UCLA, which gave them a tough game last November?
Regardless of their own shortcomings, the "others" in the Pac-10 would love to knock USC off its high horse. Now we'll find out if any of them can.
Here's a look at the conference, in predicted order of finish.
USC Trojans
2004 record: 13-0, 8-0
Head coach: Pete Carroll, 42-9 in four seasons; 33-31 in four years as an NFL coach
Returning starters: Eight on offense, five on defense
When they play the Cougars: Oct. 29 in Los Angeles
Outlook: It's good to be the king, and the Trojans are sitting comfortably on the throne of college football these days. Matt Leinart is the best quarterback in college football and Reggie Bush might just be the best player in college football, a chess piece that can wreak havoc from the backfield, in motion, or split out at wide receiver. USC has new coordinators on both sides of the ball after Norm Chow and Ed Orgeron left in the off-season, but continuity appears possible as the replacements are both in-house guys. USC's weakness, if there is one, is going to be up front defensively, where last year's top four defensive stars are gone to the NFL.
Arizona State Sun Devils
2004 record: 9-3, 5-3
Head coach: Dirk Koetter, 26-23 in four seasons; 52-33 in seven years overall
Returning starters: Eight on offense, six on defense
When they play the Cougars: Nov. 5 in Pullman
Outlook: The Sun Devils have a new quarterback this year and a potential mess at running back. So why pick them to finish second? Well, that new man under center, Sam Keller, sparkled in relief of Andrew Walter last season and he'll be throwing to All-Pac-10 receiver Derek Hagan as well as last year's top Pac-10 freshman in tight end Zach Miller. It'll also help to have Grayling Love, perhaps the conference's best offensive lineman, moving back to center to anchor the line. Kyle Caldwell at defensive end and Dale Robinson at middle linebacker can be big-play players, perhaps enough to vault this team into the top reaches of the conference.
California Golden Bears
2004 record: 10-2, 7-1
Head coach: Jeff Tedford, 25-13 in three seasons
Returning starters: Six on offense, three on defense
When they play the Cougars: Oct. 22 at Cal
Outlook: Call this a big vote of confidence in Tedford. Cal has fewer returning starters than any other team in the league and has picked a redshirt freshman, Nate Longshore, to start over junior college transfer Joseph Ayoob at quarterback. But Tedford is a winner, and his quarterbacks always seem to play well. Running back Marshawn Lynch takes over for J.J. Arrington and he'll be one of the best offensive players in the league this year. Replacing eight defensive starters will be tough, but Donnie McCleskey in the secondary will help keep the ship righted and the Bears ought to do well again in 2005.
Oregon Ducks
2004 record: 5-6, 4-4
Head coach: Mike Bellotti, 80-40 in 10 seasons; 101-65-2 in 15 years overall
Returning starters: Seven on offense, seven on defense
When they play the Cougars: Nov. 12 in Pullman
Outlook: The Ducks have had talent almost every year but haven't been the same since offensive coordinator Tedford left for Cal's top job. Now Oregon brings in former BYU head coach Gary Crowton to fill the post. And with Kellen Clemens at quarterback, Terrence Whitehead and – sorry, Cougar fans – Jonathan Stewart at running back, plus tight end Tim Day, Oregon should be able to score lots of points. But can Oregon stop any of the Pac-10's best teams? In all likelihood, the defense could cost the Ducks a game or two along the way, maybe enough to destroy any Pac-10 title hopes even if they do upset USC in an early-season Autzen Stadium matchup.
UCLA Bruins
2004 record: 6-6, 4-4
Head coach: Karl Dorrell, 12-13 in two seasons
Returning starters: Seven on offense, eight on defense
When they play the Cougars: Oct. 15 in Pullman
Outlook: UCLA's defense was downright awful in 2004, giving up 432.9 yards a game, worst in the Pac-10. The Bruins have eight starters back on that side of the ball, which naturally prompts the question: Is that a good thing? It should be at linebacker, where Spencer Havner, Justin London and Bruce Davis hope to lead a revival that will be necessary if UCLA is to compete this year. Drew Olson has hung onto his quarterback job despite a challenge from transfer Ben Olson, and Maurice Drew will carry the load at tailback. Don't forget Marcedes Lewis, perhaps the best tight end in a league that's loaded at the position.
Washington State Cougars
2004 record: 5-6, 3-5
Head coach: Bill Doba, 15-9 in two seasons
Returning starters: Nine on offense, six on defense
Outlook: The Cougars should be better than last year's mark with more returning starters and a schedule out of the gate that was built for a big start. The sixth-place pick is the safe bet on WSU in 2005, as shown in the preseason media poll, but here's an easy measuring stick for the 2005 season. Take the road game at Oregon State and the home game versus UCLA. If the Cougars are 2-0, they'll likely do better than this. A split means this is about right. And two losses mean another 5-6 disappointment is a strong possibility.
Oregon State Beavers
2004 record: 7-5, 5-3
Head coach: Mike Riley, 23-24 in four seasons; 14-34 in three years as an NFL coach
Returning starters: Seven on offense, seven on defense
When they play the Cougars: Oct. 1 at Oregon State
Outlook: Three of Oregon State's four biggest playmakers from 2004 are gone with the graduation of quarterback Derek Anderson, defensive end Bill Swancutt and safety Mitch Meeuwsen. Matt Moore is taking over in the pocket, and his play will probably dictate the fortunes of this season with the running game lacking. Tight end Joe Newton was to be a centerpiece but a torn tendon in his left leg will shelve the junior for the season, it appears. As a result, first-team All-Pac-10 wideout Mike Hass will have to be spectacular this year. Linebacker Trent Bray and safety Sabby Piscitelli are the primary threats to opposing offenses.
Arizona Wildcats
2004 record: 3-8, 2-6
Head coach: Mike Stoops, 3-8 in his first season
Returning starters: Eight on offense, seven on defense
Outlook: After a promising first season that ended with a big upset win against rival Arizona State, Stoops will need a better pass rush in year two if the Wildcats are to move any higher than this. Arizona recorded just 20 sacks in 2004, tied for last in the Pac-10 and a far cry from the dominant pass rush Stoops' defenses boasted at Oklahoma. Even without pressure on the passer, Arizona had one of the better secondaries in the league, led by true sophomore Antoine Cason at cornerback. On offense, the Wildcats seem more comfortable with returning sophomore starter Richard Kovalcheck at quarterback and a good runner in senior Mike Bell.
Stanford Cardinal
2004 record: 4-7, 2-6
Head coach: Walt Harris, first season; 63-68 in 11 years overall
Returning starters: Ten on offense, five on defense
When they play the Cougars: Oct. 8 in Pullman
Outlook: If you're looking for a possible surprise team this season, the Cardinal could be the team but the thinking here is that Harris will need at least a year to get Stanford going. It looks as if Trent Edwards will hold off T.C. Ostrander at quarterback at least to start the season, which doesn't begin for Stanford until next week at Navy. Stanford's defense gave up the third-fewest points a game in the conference last season and if it can come anywhere near that the offense might improve to the point where Stanford could win some games. Harris should be an upgrade on the sidelines from Buddy Teevens, but how much so remains to be seen.
Washington Huskies
2004 record: 1-10, 0-8
Head coach: Tyrone Willingham, first season; 65-52-1 in 10 years overall
Returning starters: Eight on offense, nine on defense
When they play the Cougars: Nov. 19 in Seattle
Outlook: If Willingham is to lead a first-year renaissance in Montlake, it won't be because his team is more talented than the opposition. It's not. The Huskies' best shot this season will be to play tough, gritty football and try to win some close games. One thing seems certain, though – there's almost no way Washington will suffer as many injuries as it did in 2004, and that alone could provide a boost. Individually, linebacker Joe Lobendahn and tailback Kenny James have the best chance to stand out. Whichever quarterback the Huskies use will have to improve dramatically from what is expected to give this team a chance.
Local journalism is essential.
Give directly to The Spokesman-Review's Northwest Passages community forums series -- which helps to offset the costs of several reporter and editor positions at the newspaper -- by using the easy options below. Gifts processed in this system are not tax deductible, but are predominately used to help meet the local financial requirements needed to receive national matching-grant funds.
Subscribe to the sports newsletter
Get the day's top sports headlines and breaking news delivered to your inbox by subscribing here.
---