News > Nation/World
Four indicted in terror probe
Thu., Sept. 1, 2005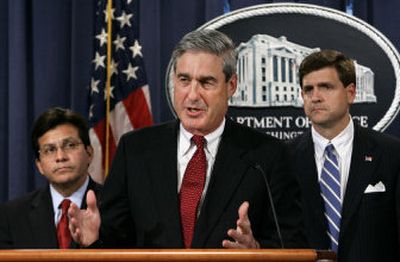 LOS ANGELES – The head of a radical Islamic prison gang and three others were indicted Wednesday on federal charges of planning terrorist attacks against U.S. military facilities, the Israeli Consulate and other Los Angeles-area targets.
The four conspired to wage war against the U.S. government through terrorism, kill armed service members and murder foreign officials, among other charges, according to the indictment.
Named in the indictment were Levar Haley Washington, 25, Gregory Vernon Patterson, 21, Hammad Riaz Samana, 21, and Kevin James, 29.
Prosecutors contend the plot was orchestrated by Washington, Patterson and Samana at the behest of James, an inmate at California State Prison-Sacramento who founded the radical group Jamiyyat Ul-Islam Is-Saheeh.
According to the indictment, Washington pledged his loyalty to James "until death by martyrdom" and sought to establish a JIS cell outside prison with members with bomb expertise.
Washington, Patterson and Samana – who attended the same Inglewood mosque – allegedly conducted surveillance of military facilities, the Israeli Consulate and synagogues in the Los Angeles area as well as Internet research on Jewish holidays. Law enforcement officials have previously said that the military facilities included National Guard sites, though the indictment does not specify.
U.S. Attorney General Alberto Gonzales, in announcing the charges in Washington, referred to the London mass transit attacks in July.
"Some in this country mistakenly believed it could not happen here. Today we have chilling evidence that it is possible," he said.
The attacks were to be carried out with firearms and other weapons at synagogues during Jewish holidays "to maximize the number of casualties," authorities said. Patterson allegedly bought a .223-caliber rifle in July.
In Los Angeles, authorities said the suspects could have attacked as soon as the Yom Kippur Jewish holiday in October.
"Make no mistake about it – we dodged a bullet here, perhaps many bullets," Los Angeles police Chief William Bratton said.
"We have a tendency to think of terrorism as (foreign born)," added U.S. Attorney Debra Yang. "And this is a very stark reminder that it can be … local and homegrown."
To finance the attacks, prosecutors said, Washington, Patterson and Samana robbed gas stations in Los Angeles and Orange counties.
The case arose after Washington and Patterson were arrested July 5 by police in Torrance, a suburb southwest of Los Angeles, for investigation of robbing the gas stations.
Counterterrorism officials began investigating after police who searched Washington's apartment in the robbery case said they found a list of possible terrorism targets.
Local journalism is essential.
Give directly to The Spokesman-Review's Northwest Passages community forums series -- which helps to offset the costs of several reporter and editor positions at the newspaper -- by using the easy options below. Gifts processed in this system are not tax deductible, but are predominately used to help meet the local financial requirements needed to receive national matching-grant funds.
Subscribe to the Coronavirus newsletter
Get the day's latest Coronavirus news delivered to your inbox by subscribing to our newsletter.
---