Sports
It's a new routine for Eastern Washington University tight end and his high school sweetheart
Thu., Sept. 1, 2005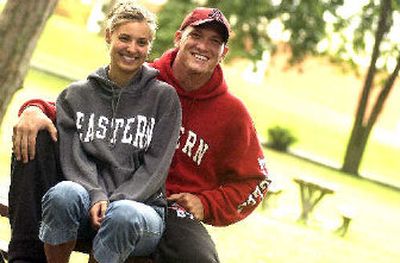 Tim Calhoun, a tight end for the Eastern Washington football team, married Heather Horsley in June and life changed dramatically – for his teammates.
The old Calhoun pad was a gathering place. Often a half-dozen buddies would drop in to play video games or just hang out with Calhoun and his four roommates.
"Now we invite people over to the house," he said.
It's too early in the season – and marriage – to have a routine, but the newlyweds are positive the fall will go smoothly.
"I understand the mental part," said Heather, who was a distance runner at Riverside Christian. "I know what it is to prepare and you want to do good."
The Calhouns were high school sweethearts – Tim at Zillah – whose older sisters were best friends, athletes and farm kids who tended orchards.
"She understands the game," he said. "She knows what kind of effort it takes. She always timed me for all my workouts in the summer. She motivated me when I didn't want to run anymore."
Heather, a year ahead of Tim in school, attended Zillah, is finishing her degree by student teaching at Cheney Middle School.
"We'll both be busy," he said. "She'll be busy correcting papers. We probably won't see each other a whole lot during the day until after practice and meetings. That will be different. All summer long and during camp we spent a lot of time together."
Finances are a concern, like they are for most young couples, and then there is the chore of feeding a 6-foot-4, 250-pound football player.
"I'm trying to cook," she said, laughing. "We're doing OK. He cooks a lot."
"We're improving," he added. "I like to cook. Even last year when I was living by myself she would come over and we would cook."
Teammates and friends are welcome at the Calhouns, but don't expect to see a dozen football players squeezed into the one bedroom apartment just off campus.
"It's not bad. They have stopped by to play video games or hang out," Heather said. "If I need to I just go do my thing. They're fun. I get along with them all."
Local journalism is essential.
Give directly to The Spokesman-Review's Northwest Passages community forums series -- which helps to offset the costs of several reporter and editor positions at the newspaper -- by using the easy options below. Gifts processed in this system are not tax deductible, but are predominately used to help meet the local financial requirements needed to receive national matching-grant funds.
Subscribe to the sports newsletter
Get the day's top sports headlines and breaking news delivered to your inbox by subscribing here.
---