News > Features
Setting the stage
Thu., Sept. 1, 2005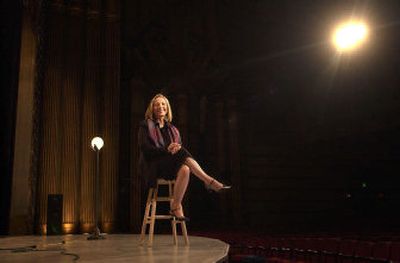 Brenda Nienhouse planned for a career in international relations, hoping to serve someplace in Latin America.
But when she took the first step toward that goal in the mid-1970s with a stint in the Peace Corps that took her to Nicaragua, she found her life pointed in a different direction.
"I went down to Nicaragua thinking I was going down to teach in the conservatory and play in the national symphony," says Nienhouse, the Spokane Symphony's new executive director.
"But I discovered when I arrived that neither existed any longer. I ended up spending my first year helping to recruit musicians, teaching, touring and fund-raising. And I discovered I enjoyed it and I had a skill for it, so at that point I decided I wanted to go into administration and orchestra management."
Nienhouse (pronounced NEEN-house) was appointed to the Spokane Symphony post in June, filling a position that had been vacant since the departure of John Hancock in September 2004. Hancock left Spokane to become chief operating officer of the Milwaukee Symphony.
She joins the orchestra for its second season under music director Eckart Preu.
"I've been in Spokane for only six weeks now, but I love being here; the city is so beautiful, the community is friendly, and this orchestra just loves making music," she says.
"Another thing I love about Spokane is that its orchestra has stayed connected to the community, listening to the community, being there for the community. That is very important as we move deeper into the 21st century."
After her experience in Nicaragua, Nienhouse, a Michigan native, returned to the University of Michigan, where she had completed a history degree. She received her master's degree in music performance as a clarinetist and served as manager of the university's orchestras.
She then was named an American Symphony Orchestra League Management Fellow and worked with orchestras in Los Angeles, Colorado Springs, Colo., and St. Louis.
After her fellowship, Nienhouse held management positions with the Los Angeles Philharmonic, the Rochester (N.Y.) Philharmonic and the St. Louis Symphony. She returned to Michigan as an independent arts management consultant, served as director of arts councils in Holland and Traverse City and then became president of the West Shore Symphony in Muskegon. Last year she applied for the executive directorship in Spokane.
"The orchestra here has a wonderful reputation around the country with its history of artistic and administrative leadership," Nienhouse says.
"The conductors and executive directors are well-respected in the business for the Spokane Symphony's tradition of a strong volunteer support, a commitment to fiscal responsibility along with a very strong commitment to artistic quality. Those things give you a springboard to be innovative."
That level of innovation has resulted in national news stories on the orchestra's March performance with Native American musicians on the Spokane Indian Reservation in Wellpinit, Wash., and its "Symphony on the Edge" series at the Big Easy nightclub in Spokane.
Nienhouse describes her job as "making sure the season happens by providing administrative leadership, oversight, planning, and assuring that the funding is available for the programming the music director wants to do. And I am very excited about Eckart's ideas about new ways of reaching people."
Preu is equally excited about having Nienhouse on board.
"My first encounter with her was in a 7:30 a.m. conference call interview," he says. "That early is murder for a musician, but the minute she came on the line it was like a breath of fresh air.
"And working with her since she has come here has been a dream. Brenda is a good listener who knows how to work with my ideas, always working to make the best possible music happen, and very much a 'people person.' We're lucky to have her."
Adds Annie Matlow, the symphony's marketing director: "Brenda was a hit with our staff from the minute she came for her interview. She has exciting ideas, and she's enthusiastic, confident and committed to her job.
"But she never gave the impression of having the attitude that 'this is the way we're going to be doing things,' " Matlow says. "Instead it was 'you have some great things going here, let's see if there is any way to make them better.' "
Like arts organizations all over the country, the Spokane Symphony faces the challenge of balancing its books. So far it has succeeded in staying within a budget of about $3.3 million.
An additional challenge is the renovation of the Fox Theater as its new performance space.
"Our future there is an exciting prospect, and our goal is still to be in the Fox by the fall of 2007," Nienhouse says.
So far, about $16 million has been raised toward the project – a little more than half of what's needed.
"To cover the project cost from the purchase of the building to opening the doors our goal is $22 million," Nienhouse says. "But added to that is the goal of $6 million for the project's operating endowment that will cover operations once those doors are open."
She says that the orchestra is planning an announcement about the beginning of the construction phase of the Fox project "very soon."
While she's been busy with work since arriving in Spokane, Nienhouse hopes to indulge in some recreational pursuits soon.
"I'm particularly looking forward to some hikes in the parks around the Northwest and, when winter comes, getting in some cross-country skiing," says the single mother of a college film student.
Asked about the hardest part of the executive director's job, Nienhouse says: "With orchestras there is just so much going on all the time _ helping plan programs and guest artists, fund-raising, educational outreach for children and adults, looking at collaborations with other arts organizations, long-range strategic planning. … But those are the joys of the job, too.
"If you love music, you're surrounded with music all the time, and you're involved creatively all the time – I can't imagine a more exciting career."
Local journalism is essential.
Give directly to The Spokesman-Review's Northwest Passages community forums series -- which helps to offset the costs of several reporter and editor positions at the newspaper -- by using the easy options below. Gifts processed in this system are not tax deductible, but are predominately used to help meet the local financial requirements needed to receive national matching-grant funds.
Subscribe to the Coronavirus newsletter
Get the day's latest Coronavirus news delivered to your inbox by subscribing to our newsletter.
---