Sports
Special someone to lean on
Thu., Sept. 1, 2005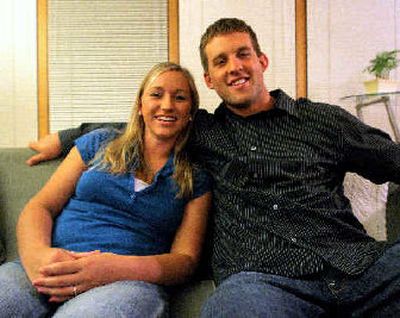 JOSH SWOGGER WALKED out of Bill Doba's office and needed to hear a soothing voice. The starting quarterback job, his for more than a year, had been handed to Alex Brink. And the junior with the big arm and the solid head on his shoulders needed a calming influence, someone on the other end of the line to brush away the voices telling him that this was all a big mistake.
That first phone call didn't go to mom or dad back in Ohio. It wasn't to his older brother, Randall. Nor did it go to a teammate, someone inside the locker room who could ease the shock of losing a role so central to him and so obvious to the world.
The first phone call went to his wife, Angie. "I said, 'That's fine, you just can't give up,'" she remembers.
That alone was enough to ground her husband. "I don't think I could have done it without her," the newly anointed backup quarterback at Washington State admits. "It would have been really tough coming home to an empty house and trying to deal with things by yourself because when you're alone your mind starts to wander. 'Maybe I should have done this. What if I do this? Maybe I shouldn't be here any more.' Even things like that. 'Maybe this isn't for me. Maybe I shouldn't be playing football right now.'"
It was Angie who had to quash those thoughts nine days ago.
"It's good to be there, to know that he has someone here that can support him," she says. "It would be 40 times harder if he had to be on his own, didn't have anyone to talk to, anyone to be completely honest with."
Josh and Angie Swogger were married on Dec. 29 before about 25 people in Tacoma, and he now joins a small group of Cougars who tack on the title of husband to student-athlete.
Four players on this year's WSU team have exchanged vows, and for them the life of a college football player is anything but the stereotype of mayhem on the field Saturday afternoon and mayhem of a different sort Saturday night.
"""
Thomas and Destiny Ostrander sit next to each other at a local coffeehouse and more often than not end up finishing each other's sentences.
Thomas is a fifth-year senior, but he hasn't garnered nearly as much attention as Swogger has in his college career. Hampered by a back injury, the wide receiver hasn't caught a single pass in his four years at WSU and probably won't this year, either. That same back problem has kept him out of fall camp and could end his career before its last season begins.
But Ostrander has taken advantage of his time in Pullman to finish work on a double major, moving on to a master's degree in education administration that should be complete by this time next year. He's also spent his entire collegiate life with Destiny, his high school sweetheart who helps him volunteer at Pullman High School when the occasional spare moment presents itself.
The Ostranders married in May, and unlike the Swoggers their wedding was fare for teammates, not just immediate family. Tight end Troy Bienemann was a groomsman, wide receiver Marty Martin and former wideout Collin Henderson were ushers — and the groomsmen even donned shiny black Air Jordans to go with their tuxedos.
Forget the normal post-ceremony pictures, too. Bienemann, who doubles as a long snapper for the Cougars, can be seen, flanked by Martin and Henderson, hiking footballs to Ostrander in the couple's wedding album.
Since they've been together for years, Thomas and Destiny say they've got a handle on how much — or how little — time they get to spend together once football season starts in August. Even with Thomas injured this year, he's still at every practice, every team meeting.
"I'll be working from eight to one, then go to lunch, then practice from two to six and then class until 10," Thomas says of the fall grind. "I think it would be almost impossible if someone wasn't together at least for a couple years. She knew how it was going to be during the season. She wasn't going to see me all that much. She knew how much of a commitment it is."
In fact, Destiny's come up with a name for Monday, the team's one scheduled day off during the season.
"For the whole time I've been here, I call them Destiny Days, because they have nothing and I love it," she says. "Monday, I always try to leave my day as open as I can. I don't work on Monday so we can hang out.
"There's been times where we have something planned out and he'll come home and say, 'We have a meeting.' And so there goes the whole weekend."
For running back Brandon Asuega-Stark, the constant hum of two-a-day practices was especially draining. The senior got married last November and he and his wife, Erika, have a seven-month-old daughter, Carolann. For him, August meant missing time with a family, not just a spouse.
"There was a time in two-a-days where I almost kind of broke down. I was just being stressed that I wasn't home enough," says Asuega-Stark, who had to sit down and talk with coaches for half an hour this fall when things got rough. "There's going to be a point where you feel like dirt when you're not coming home and it's all about football.
"I want to spend time with (Erika). And I want to spend time with the baby, too. But I don't get to bed until around 2, have to wake up at 7:30 the next morning. You definitely have to find a balance."
"""
In an NFL locker room, it's normal to see players talking to their wives on cell phones or swapping stories about fatherhood with a teammate.
In college, though, with more players going home to a dorm than to a wife, things are different. College players who are married can't always attend every team function, probably won't be at the weekend's big party and sometimes risk being isolated from teammates.
"Now that we're married," Ostrander says, "I feel like some of the guys on the team might think I don't want to hang out with them."
But they've also discovered that being married brings a certain level of respect from teammates, especially from the teenagers who may be years away from even considering marriage.
"The younger guys always ask us, 'What should I do? I'm in this situation,' " laughs Asuega-Stark, who's earned the nickname "Papa" from teammates. "I feel like I'm a dad already. I am a dad, but I feel like I'm a dad to these guys, the other guys. "I think a lot of guys look up to us. They see our life already and then you're doing this on top of marriage and school."
Strangely enough, while being married can potentially separate players from each other, it can also bring them closer to their coaches.
Quarterbacks coach Timm Rosenbach, also a newlywed this off-season, has found himself swapping tales about marriage — "not war stories … great stories," Rosenbach says, ever wary of getting himself into trouble — with Swogger, a player 18 years younger.
"Being married is being married," Rosenbach says of the connection. "Understanding the give-and-take is a big part of it. Because she's got to understand that he's going to be gone and doing that type of stuff. And he's got to understand that he also needs to be at home."
And even though coaches might have to give some extra leeway to a player with a wife at home, they generally say the benefits far outweigh any drawbacks.
"The guys that are married, when they get here and they're around all the players, they're so excited to see them because it's a change of pace from being in the married life," says defensive line coach Mike Walker, who met his future wife while playing football at WSU. "It's a chance to hang out and joke around with the boys. They seem more excited than the other guys because they can't wait to get away from their wives. I don't mean to say it like that, but the camaraderie, you can tell they're excited to be away from home. "They're more serious about school, though. They take things more seriously because they've got too much at stake."
The players have also found that they can rely upon one another. Ostrander, Swogger, Asuega-Stark and offensive lineman Riley Fitt-Chappell, the fourth married Cougar, all have talked to one another about the experience.
And older players like Steve Cook, a defensive tackle who graduated after last season, and Al Genatone, a linebacker two years ago — now a graduate assistant — have helped newlyweds adjust as well.
"You have to marry a special person if you're playing football," says Genatone, whose son was born just hours after the Arizona State game in 2003, his senior season. "Some of those guys, their families are from so far away. My support structure was a walk home."
"""
Monthly stipends are a nice perk of having a scholarship to play college football. But when you're married, that perk goes only so far.
Players receive just more than $638.50 a month, but WSU lets its married players out of an otherwise mandatory meal plan, pushing the stipend to nearly $935. That may be enough to pay the rent for two in Pullman, but it's not enough to live on.
Finding a way to make ends meet isn't easy, they say. The Ostranders depend on Thomas' graduate school assistantship for extra money. The Swoggers help care for an autistic high schooler in Pullman. And Asuega-Stark had to ask the team captains if he could go home for half the summer to work 40- and 50-hour weeks, saving up cash for the fall.
"When we got married and we were having a kid, I was just thinking, 'How are we going to do this?'" Asuega-Stark says. "I just figured during the summertime when I would go home that I would just work the whole time."
For Swogger, who's served as a team captain, an important role in those summer workouts made leaving town impossible.
"We have a car payment, we have an insurance payment," Josh says. "We pay rent every month, power, cable, cell phone, land line, Internet. But we're fortunate. We're smart with our money. We're not going to the mall and maxing out credit cards.
"It's a lot of planning, a lot of budgeting. You can't just go out and say, 'I want this, this, this and this.'"
Swogger leans back in a chair on the back deck of his apartment, occasionally turning to scold pitbulls Lexie and Tyson, who recently gave birth to 17 puppies.
That's turned the junior into a dog-food-purchasing machine, but he says the home life helps make him feel normal, even in the middle of the fall.
"A lot of guys live with guys on the team," he explains. "That's good sometimes when you find a friend, but you're pretty much seeing the same person 24 hours a day. And I think it's healthy to see different people and interact with different people.
"Sometimes it's kind of hard to find people who are genuine about it, who see you just as Josh, the kid who plays PlayStation and who has 17 dogs. The kid who's just a regular kid."
The football season that begins tonight will have its share of wins and losses, of peaks and valleys. Afterward, for three of this year's married Cougars, the student-athlete will be gone — only the husband will remain.
Listen carefully and you'll hear them wonder what life will be like without football, when normal, everyday life doesn't involve playing a sport in front of tens of thousands of people.
"I know I'll be really sad and miss it," Ostrander says. "But it is so much work. There's so much time you put into it. I don't know, I probably won't know what to do with myself."
"Oh my gosh," Destiny wonders aloud, "in the spring will we have to go somewhere on the weekends?"
Local journalism is essential.
Give directly to The Spokesman-Review's Northwest Passages community forums series -- which helps to offset the costs of several reporter and editor positions at the newspaper -- by using the easy options below. Gifts processed in this system are not tax deductible, but are predominately used to help meet the local financial requirements needed to receive national matching-grant funds.
Subscribe to the sports newsletter
Get the day's top sports headlines and breaking news delivered to your inbox by subscribing here.
---