News > Home
THE COLLECTOR
Thu., Sept. 1, 2005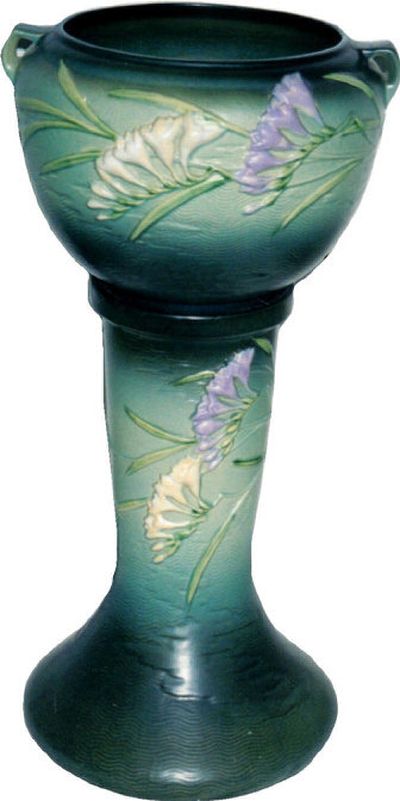 Dear Collector, Can you tell me the approximate worth of my Roseville #669-8 jardinière?
Described as a flowerpot holder, the jardinière has been around since Roman times. Production of this two-piece Freesia pattern began in 1945 at Roseville's pottery factory in Ohio. According to several price guides, current value ranges between $1,000 and $1,200.
Dear Collector, My uncle received this letter from King George V while serving during World War I in 1918. Is it valuable?
This one-page note greeting American soldiers fighting in the "Old World" for "human freedom" was reproduced in the thousands by machine. The original, probably hand written and signed by the king, is now in some file deep within the royal archives.
Dear Collector, I have an Indian Head penny dated 1907. How much is it worth?
The mintage that year exceeded 100 million, which accounts for the relatively large number of coins still around. Depending on condition, the value for a circulated coin is $1-$2.
Dear Collector, I have in my possession an RCA Victor record by Elvis Presley titled "Something for Everybody." Does it have any value?
This monaural long-play album was issued in three versions starting in 1961. There are slight differences in cover design; which puts values at $12, $15 and $20.
Dear Collector, I came across this rooster cookie jar which was wrapped in a newspaper dated 1978. How old is it, and does it have any monetary value?
Pre-dating its paper packaging by three decades, your circa-1945 FAPCO (Fredericksburg Art Pottery Company) product represents a hen rather than a rooster. This jar has a potential value of about $50.
Dear Collector, What is this old $2 bill worth?
Your series 1917 Legal Tender Note was the last large size bill in this denomination. Not in tip-top shape, it's probably worth only $18; about one-twentieth the value of a bill in mint condition.
Dear Collector, I'll bet you can't tell me what this thing was used for?
I'm pretty sure that your ornamental disc is a "horse brass," used in the Victorian era to adorn harnesses. Modern reproductions abound, and it's sometimes very difficult to distinguish between old and new.
Dear Collector, What value can you place on this old "Boy Comics" book, whose hero, "Crimebuster," has a pet monkey?
Chuck "Crimebuster" Chandler, a teenager who possessed no super powers, was featured in this Lev Gleason Publishing comic book from 1942 to 1956. Dressed in his school hockey uniform with added cape, Chandler, along with his simian sidekick, "Squeeks," fought Nazis and other nefarious types. Your 66-page issue (#61), retelling Crimebuster's origin, is now worth around $50.
Dear Collector, I received these elephant bookends about 52 years ago from a friend of the family. On the back side is stamped "LVW Ronson," plus number 03 or 23. Could you tell me something about them?
Your bronze finish (Ronson called it "Pompeiian") bookends in style #10845 originally sold for $18 per dozen in the 1920s. Market value today is between $30 and $120, depending on which price guide you use.
Local journalism is essential.
Give directly to The Spokesman-Review's Northwest Passages community forums series -- which helps to offset the costs of several reporter and editor positions at the newspaper -- by using the easy options below. Gifts processed in this system are not tax deductible, but are predominately used to help meet the local financial requirements needed to receive national matching-grant funds.
Subscribe to the Coronavirus newsletter
Get the day's latest Coronavirus news delivered to your inbox by subscribing to our newsletter.
---