Sports
Two helmets up
Thu., Sept. 1, 2005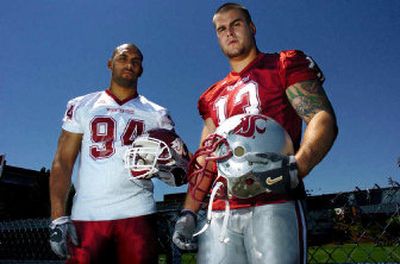 Defensive ends Mkristo Bruce and Adam Braidwood hope to wreak havoc on opposing offenses this year, starting with Idaho tonight. But over the summer, they managed to spend some time at the local movie theater, and shared some of their favorites – and, well, others as well.
MB: I really liked "The Longest Yard."
AB: I haven't seen that. I saw "Wedding Crashers."
MB: That's too bad. It was funny.
AB: What DVDs did you see?
MB: I can't tell you. … I saw "The Notebook" with my girlfriend. But I don't want anything to do with it.
AB: Write that down.
MB: I had nothing to do with it.
AB: I have a friend who saw "The Notebook" and said he cried. That's as much as I can say.
MB: I had nothing to do with it. I liked "The Longest Yard." I just like the underdog story. They're nasty. I liked it because they were nasty – just like Braidwood, who's my idol.
AB: I've seen the original. The original is awesome. I haven't seen the newer one, but I can imagine what it was like. In the old one, it's just a bunch of ragtag guys with Burt Reynolds out there. They actually had a bunch of guys that looked like they belonged in prison. Some of them might have spent some time in prison.
"The Longest Yard" is classic because I think it's almost believable when you're watching it. You can see it. The characters are hilarious.
S-R: "Wedding Crashers" was one of the biggest hits of the summer. What did you think?
AB: I think Vince Vaughn is awesome in that movie. Just the dialogue between the two is pretty funny. I don't usually laugh too much, and I was laughing the whole time in this movie. I thought it was a good one. The football scene is pretty good.
MB: I was too busy getting ready for the season (to see that movie). My favorite was "National Treasure." I saw that one like five times.
AB: That movie sucked.
MB: The suspense was killing me.
AB: He watches Disney movies.
MB: I've got a lot of brothers and sisters; I've been known to watch those movies. I still want to see "Madagascar." My little brother said it was good.
AB: I've got to take care of (roommate and linebacker Steve) Dildine. Dildine watches nothing but '80s movies. My roommate will not see a movie unless it's been in the '80s. He says movies now are just silly. He watches "Sixteen Candles," "Breakfast Club," "Top Gun," movies you've never even heard of. And he knows all the lines from it. It's ridiculous.
MB: That's Dildine for you.
Local journalism is essential.
Give directly to The Spokesman-Review's Northwest Passages community forums series -- which helps to offset the costs of several reporter and editor positions at the newspaper -- by using the easy options below. Gifts processed in this system are not tax deductible, but are predominately used to help meet the local financial requirements needed to receive national matching-grant funds.
Subscribe to the sports newsletter
Get the day's top sports headlines and breaking news delivered to your inbox by subscribing here.
---