Sports
Brink, Hill get untracked
Fri., Sept. 2, 2005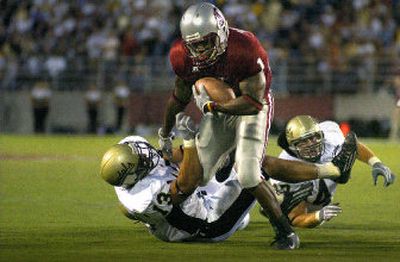 PULLMAN – Washington State University quarterback Alex Brink and receiver Jason Hill warmed up at about the same time Thursday night.
After some spotty play by both in the first half, Brink and Hill connected for a pair of second-half touchdown passes as the Cougars downed Idaho 38-26 at Martin Stadium.
Brink, who tossed two first-half interceptions, responded with 170 of his 230 passing yards in the second half.
"I think he rushed a few things in the first half," WSU offensive coordinator Mike Levenseller said. "He came back in the second half and did a really nice job. He did the things Alex Brink does."
Eventually, so did Hill, but not until he had endured a rough first half. Hill, who torched Idaho for three touchdown catches covering 109 yards last year, had three catches for four yards at intermission. He also had three drops, including a certain touchdown pass.
Hill dropped another ball in the third quarter before settling down. He beat UI cornerback Reggie Jones by a couple of steps for a 72-yard TD reception that gave WSU a 31-19 lead. On the Cougars' next series, Brink found Hill in the right corner of the end zone for a 20-yard touchdown as WSU's lead grew to 38-19.
"He really struggled; I've never seen Jason do that," Levenseller said. "I could see it after a while (that) he was putting so much pressure on himself. He wasn't doing simple things and he's a very intelligent receiver. He reminded me of a good, young player, but then he settled down."
Prior to his second touchdown catch, Hill was flagged for interference on Jesse Taylor's TD reception.
"He's a good athlete that's going to be great," WSU running back Jerome Harrison said of Hill. "He worked so hard this summer. The first game, I think he was overwhelmed with excitement and hype and was just ready to prove himself. Once he relaxed and let the game come to him, he was the 'J Hill' everyone expected."
Quarterback derby
As expected, Michael Harrington started the game at quarterback for Idaho. As expected, Steven Wichman came on in the first half. From there, Wichman provided a spark to the offense and earned the bulk of playing time.
Harrington played well, too. He completed his first six passes, but his first two series of the second half resulted in just one first down. Wichman, who handled the last four possessions of the first half, played all but a couple of downs the rest of the way. He was sidelined for a couple of snaps when he had problems with a contact lens.
"They both played well," Idaho coach Nick Holt said. "You saw the same game I did. The one guy (Wichman) could throw the ball and he got the offense moving, but Michael played solid, too. Like I said, we have two quarterbacks that can help us win."
Wichman finished 13 of 23 for 143 yards. He seemed to stretch the defense with more down-field attempts and connections. Harrington ended 6 of 9 for 37 yards. Each quarterback had a TD pass.
Wichman's touchdown pass came on a play that quarterbacks coach Jonathan Smith was desperately trying to get the attention of the officials to call a timeout. An animated Smith ran on the field and was probably 20 yards from where the snap took place at WSU's 4-yard line.
He failed to get the officials' attention, but Wichman coolly stepped up in the pocket and hit Daniel Smith for a touchdown.
Defensive lapses
Idaho had some fairly solid stretches on defense, but when the Vandals bent, they bent a whole bunch. WSU scored on Harrison's 80-yard run on the first play from scrimmage and Hill's 72-yard catch.
"My mom was in the stands. I could have pulled her out for that one," Harrison said.
"That one definitely stung me," Idaho middle linebacker Cole Snyder said. "I got cut (blocked), but I have to play off that. The defense overall was good, but the big plays hurt us. We're still learning that those big plays can't happen, but we're getting to where we need to be."
Idaho did a decent job containing Harrison after his opening burst. He finished with 165 yards on 24 attempts.
"They did a nice job stunting into things and really kind of shut us down for a while," Levenseller said. "Hey, they played hard."
Hard isn't enough, Holt said. "We had three plays go over our heads and you can't have that. At times we ran to the ball well and tackled well and made some nice plays, but you cannot give up the deep ball and that happened three times. It's inexcusable. We just have to get better at our fundamentals."
Notes
Idaho appeared to suffer the most serious injury when offensive tackle Hank Therien left in the third quarter with a neck injury. Therien said afterward he wasn't sure what he did, but he was in considerable pain. WSU safety Husain Abdullah (ankle) didn't play. Idaho cornerback Jason Martin (ankle) didn't start, but saw extensive time. Idaho's Cole Snyder missed some time in the second half with cramps in his calf and hamstring. … Jerome Harrison's 80-yard touchdown run was tied for 10th longest in Cougars history. … Idaho's Michael Barrow, 4 of 12 on field goals last season, hit two 24-yard field goals in the first half, but missed a PAT wide left.
Local journalism is essential.
Give directly to The Spokesman-Review's Northwest Passages community forums series -- which helps to offset the costs of several reporter and editor positions at the newspaper -- by using the easy options below. Gifts processed in this system are not tax deductible, but are predominately used to help meet the local financial requirements needed to receive national matching-grant funds.
Subscribe to the sports newsletter
Get the day's top sports headlines and breaking news delivered to your inbox by subscribing here.
---