News > Business
Hurricane halts crucial river traffic
Fri., Sept. 2, 2005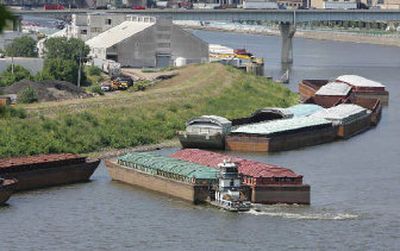 HOUSTON — Shipments of grain and other commodities have languished on barges on the Mississippi River since Saturday, unable to pass through the New Orleans ports closed by Hurricane Katrina.
It remained unclear on Thursday when the ports will reopen for business, raising questions about what will happen with this year's upcoming corn and soybean harvest.
While alternative ports in Houston, Corpus Christi and Tampa say they're ready to handle incoming ships, New Orleans ports are critical to what goes out, industry experts say. New Orleans traditionally has handled more than half of the country's grain exports to overseas destinations.
Lisa Kelley, director of public policy for the National Corn Growers Association, said it was too soon to tell what long-term transportation damage may be along the Mississippi River — the cheapest route for shipping many crops and other commodities destined for foreign markets — or to estimate damage to New Orleans ports.
Barges carrying grain, goods and oil remained halted on the river as government and industry officials focused on efforts to rescue New Orleans residents and repair the sodden city's broken levees.
"It doesn't look like ocean freight will ship out of that area for some time," Kelley said.
Matt Nosbisch, a freight trader with Pattison Brothers of Fayette, Iowa, also said it was too early to assess the impact of the ports' closure.
"If the export elevators are up and running in a week, it probably won't have much impact at all," he said. "If it takes them a month to get going, it's probably going to have very much of an impact."
Nosbisch said his company ships 40 million to 50 million bushels of corn and beans a year to the gulf.
The Coast Guard has closed ports and waterways stretching from Texas to Florida. The lower Mississippi and other waterways were open to limited tug and barge traffic to help with cleanup, the extent of which had yet to be assessed.
Aaron Ellis, spokesman for the American Association of Port Authorities, said it was up to individual shipping lines to determine whether to wait it out or take steps to move their cargo off the river for land transport.
Paul Rohde, president of MARC 2000, a St. Louis-based shippers coalition, said shippers haven't yet been forced to move cargo from barges to trucks and rail — an expensive emergency stopgap that would be further exacerbated by high fuel prices.
"We'll just have to see how big a disruption of the market this is when we get into the heart of export season for corn and soybeans," Rohde said.
Local journalism is essential.
Give directly to The Spokesman-Review's Northwest Passages community forums series -- which helps to offset the costs of several reporter and editor positions at the newspaper -- by using the easy options below. Gifts processed in this system are not tax deductible, but are predominately used to help meet the local financial requirements needed to receive national matching-grant funds.
Subscribe now to get breaking news alerts in your email inbox
Get breaking news delivered to your inbox as it happens.
---