News > Business
Motorists running on empty
Fri., Sept. 2, 2005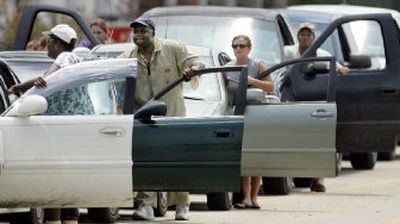 "Out of Gas" signs and yellow caution tape were draped across pumps in parts of the United States early Thursday after many retailers were overrun by panicked motorists looking to top off their tanks as prices soared past $3 per gallon and reports of shortages spread.
Gas stations in and around downtown Atlanta had temporarily run out of gas. The same was reported elsewhere, including parts of North Carolina, West Virginia, Wisconsin and Arizona. Many retailers who did have gas had no clue when their next shipments would come in.
"People have kind of panicked and they're waiting in long lines because they're afraid the prices are going to go up," said Jan Vineyard, executive director of the West Virginia Oil Marketers And Grocers Association. "We're going to have some outages."
Price hikes were first evident at stations nationwide Wednesday as gasoline costs breached $3 a gallon for the first time in numerous states, the result of fuel pipeline shutdowns and delayed deliveries since Hurricane Katrina devastated Louisiana and Mississippi earlier this week.
"Everybody is panicking. They think there's not going to be any gas," said Keturah Jackson, a clerk at a gas station in Atlanta's upscale Buckhead district.
Gas prices jumped by more than 50 cents a gallon Wednesday in Ohio, 40 cents in Georgia and 30 cents in Maine. In southern Illinois, gas prices at some stations jumped more than 50 cents in less than four hours Thursday morning.
The increases followed price spikes on wholesale and futures markets Tuesday after the hurricane knocked off-line refineries and pipeline links along the Gulf Coast that provide about a third of the country's gasoline supplies.
Concerns are now mounting over limited supplies of gasoline, including the possible return of long lines and scarcity reminiscent of the 1970s gas crisis.
"It's crazy," said Mike Currie, shaking his head as he topped off his truck's tank with gas at a station in his hometown of Bismarck, N.D. "I'm going to have to consider buying a Moped."
In trading in Thursday, continuing fears about tight supplies caused by Katrina caused gasoline futures to jump more than 16 cents a gallon on the New York Mercantile Exchange. Analysts expected some relief once electricity is restored to Gulf Coast pipelines and refineries, but they are unsure how long that will take.
This week's increases come atop a 40 percent price rise in the last year that boosted the average retail price of unleaded regular to $2.61 a gallon nationwide last week, Energy Department figures show.
"We don't have a shortage of gasoline. We have a delivery problem," said Bill Weatherspoon, executive director of the North Carolina Petroleum Council, which represents major retailers that get gasoline from the pipelines.
The situation was worse in areas closer to the hurricane's path. In southwest Alabama, gas lines of 100 cars were commonplace early Thursday, extending out onto entrance ramps along Interstate 10. And most of the gas stations were closed, not for a lack of gas but for a lack of electricity to pump it. People were sitting in their cars for hours in anticipation of when power would be restored and the pumps working again.
Brian Scapecchi of Foley, Ala., saw the long lines at gas stations Wednesday and opted to return to a 24-hour station in the middle of the night in hopes the lines would be shorter. He guessed right, and was able to fill up at 12:40 a.m. Thursday.
"I'm sure it will be taken care of in a couple of weeks, but I'm not taking any trips," said Scapecchi, vowing to converse gas and avoid going anywhere over the Labor Day weekend.
Although police in Charlotte, N.C., reported prior to daybreak that only 30 of Mecklenbur County's 230 fueling stations were out of gas, that number appeared to grow considerably Thursday as drivers continued to crowd the open stations, fearing a shortage. On some busy streets, stations that did have gas were seeing lines that were causing traffic backups.
Local journalism is essential.
Give directly to The Spokesman-Review's Northwest Passages community forums series -- which helps to offset the costs of several reporter and editor positions at the newspaper -- by using the easy options below. Gifts processed in this system are not tax deductible, but are predominately used to help meet the local financial requirements needed to receive national matching-grant funds.
Subscribe to the Coronavirus newsletter
Get the day's latest Coronavirus news delivered to your inbox by subscribing to our newsletter.
---