News > Features
Reversing the spell
Fri., Sept. 2, 2005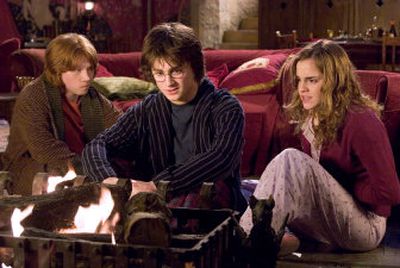 Hollywood's long, dreary summer finally is over. Now it's on to the good stuff.
And it better be good, if film studios hope to salvage what's shaping up as the worst year for movie attendance since the late 1990s.
After a summer season that left audiences generally uninterested, the fall and holiday lineup offers the promise of fresh films with an exotic cast of characters that includes country music legends, a great ape, teen wizards and a Japanese geisha.
The long-awaited adaptation of the best seller "Memoirs of a Geisha" (Dec. 9), director Rob Marshall's follow-up to "Chicago," stars Ziyi Zhang as a poor Japanese girl who becomes a geisha goddess.
Many people think of geishas as high-end prostitutes. But Zhang, who underwent two months of geisha "boot camp" to learn complicated dances, the proper way to wear kimonos and the art of pouring tea, discovered a rich artistic and social fabric behind the geisha culture.
"From my opinion, 'geisha' means a woman skilled in the arts. Like dancing, singing and playing musical instruments," says Zhang, making her first English-language movie after such Chinese martial-arts hits as "Crouching Tiger, Hidden Dragon" and "Hero."
"They are also skilled in the art of conversation," she adds.
Other big films (release dates subject to change) include Steven Spielberg's "Munich" (Dec. 23), a thriller about the slayings of 11 Israeli athletes at the 1972 Olympics; "All the King's Men" (Dec. 16), starring Sean Penn as the Southern political boss of Robert Penn Warren's classic novel; "Jarhead" (Nov. 4), a Gulf War tale with Jake Gyllenhaal and Jamie Foxx; "Tim Burton's Corpse Bride" (Sept. 23), an animated yarn featuring the voices of Johnny Depp and Helena Bonham Carter; "The New World" (Dec. 25), Terrence Malick's epic set in colonial America with Colin Farrell; and "Elizabethtown" (Oct. 14), Cameron Crowe's romance starring Kirsten Dunst and Orlando Bloom.
Also, "The Weather Man" (Oct. 28), with Nicolas Cage as a TV forecaster who has a stormy personal life; "Get Rich or Die Tryin' " (Nov. 9), starring 50 Cent as a street hood aiming for a rap-music career; "Oliver Twist" (Sept. 30), Roman Polanski's fresh take on the Charles Dickens orphan-boy classic, featuring Ben Kingsley; the animated "Wallace & Gromit: The Curse of the Were-Rabbit" (Oct. 7), the big-screen debut of TV's cheese-loving Brit and his faithful dog; and "In Her Shoes" (Oct. 7), a sister-act tale from director Curtis Hanson ("Wonder Boys," "L.A. Confidential").
"In Her Shoes" follows two sisters, one a knockout (Cameron Diaz) who has leeched all her life off her workaholic sibling (Toni Collette), and the grandmother (Shirley MacLaine) who helps them reconnect after a bitter estrangement.
Science-fiction and fantasy are shaping up as some of the season's biggest attractions, led by "The Lord of the Rings" mastermind Peter Jackson's new take on "King Kong" (Dec. 14), starring Naomi Watts as the beauty who steals the heart of the gigantic primate.
"Harry Potter and the Goblet of Fire" (Nov. 18), the fourth Potter tale to reach film, casts the young hero (Daniel Radcliffe) into an international wizardry competition that leads him to another showdown with dark sorcerer Voldemort (Ralph Fiennes).
The British fantasy franchise gets its first English director in Mike Newell ("Four Weddings and a Funeral"). For all the magical trappings of "Harry Potter," Newell enjoyed injecting a sense of his own classroom days into Hogwarts School of Witchcraft and Wizardry.
"The anarchy of youth, it is really rich stuff," he says. "I loved that. I loved doing the school side of it."
Hollywood's current love affair for fantasy continues with "The Lion, the Witch and the Wardrobe" (Dec. 9), adapted from C.S. Lewis' "Chronicles of Narnia" series.
The film, with a cast including Tilda Swinton and Jim Broadbent, follows the adventures of four English children in World War II who battle an evil witch enslaving a magical land of giants, talking animals and centaurs.
Fall's fantasyscape also includes the video-game adaptation "Doom" (Oct. 21), starring The Rock as part of a commando force taking on creatures from another realm on Mars; and "Serenity" (Sept. 30), a sci-fi adventure from "Buffy the Vampire Slayer" creator Joss Whedon.
After scoring with "Buffy," Whedon created a smart, funny TV show called "Firefly," about misfits living on the edge of the law aboard the rickety space ship Serenity 500 years in the future.
"Firefly" lasted only 14 episodes but its cult audience kept interest alive. Now Whedon has reunited the cast for a film version.
Sarah Jessica Parker returns to the big screen in "The Family Stone" (Nov. 4). After her TV series "Sex and the City," Parker is on familiar turf as a Manhattan woman in love, though her character is the flipside of Carrie Bradshaw. Parker plays a career woman who makes a terrible impression on her fiance's relatives when meeting them for the first time.
Also trying something different are Joaquin Phoenix and Reese Witherspoon as Johnny Cash and June Carter Cash in director James Mangold's "Walk the Line" (Nov. 18), a portrait of the early years of the country star who died in 2003.
"I'm not a singer by any means," says Phoenix, who did his own singing (as did Witherspoon).
"If it was a fictional character where it was a made-up voice, it might have been harder," he says. "But I had a specific voice to go after, so I had to work specific muscles and really work at hitting certain notes. It was nice to have a recognizable voice as a goal."
Also on the musical front: "Rent" (Nov. 23), director Chris Columbus' follow-up after making the first two "Harry Potter" flicks; and "The Producers" (Dec. 23), Susan Stroman's adaptation of Mel Brooks' Broadway show that won a record 12 Tonys. Nathan Lane and Matthew Broderick reprise their roles.
Charlize Theron and Keira Knightley are stepping into full action mode – Theron with "Aeon Flux" (Dec. 2), adapted from the animated sci-fi TV show, and Knightley with "Domino" (Oct. 14), a casino-heist caper inspired by the real-life story of actor Laurence Harvey's daughter, who quit her modeling career to become a bounty hunter.
Knightley also headlines the 18th century period piece "Pride & Prejudice" (Nov. 18), a new adaptation of Jane Austen's classic about love, marriage and Britain's rigid social-class structure.
And Theron stars in "North Country" (Oct. 14), a drama about a single mother who takes groundbreaking legal action over sexual harassment by co-workers at a Minnesota mining company in 1989.
"It's about a woman who decides to go and do what was considered a man's job, but was treated quite horribly for it and decides she has to fight for her rights when everyone thinks she should just shut up and take it," Theron says.
Steve Martin also has a twofer season with "Cheaper By the Dozen 2" (Dec. 21), reprising his role from the 2003 family hit as patriarch of a family of 12 kids, and "Shopgirl" (Oct. 21), adapted from his short novel.
"Shopgirl" stars Claire Danes as a Saks clerk wooed by a rich older man (Martin) and a younger guy (Jason Schwartzman). The story originated with Martin's long-held interest in how people go about looking for love.
Though he had not envisioned any movie prospects when he wrote the book, Martin said once he had adapted it into a screenplay, he felt should go ahead and act in the film, as well.
"I would have felt a little funny if another actor was playing this role," he said.
Local journalism is essential.
Give directly to The Spokesman-Review's Northwest Passages community forums series -- which helps to offset the costs of several reporter and editor positions at the newspaper -- by using the easy options below. Gifts processed in this system are not tax deductible, but are predominately used to help meet the local financial requirements needed to receive national matching-grant funds.
Subscribe now to get breaking news alerts in your email inbox
Get breaking news delivered to your inbox as it happens.
---