Sports
Hobbled Colon still too much
Mon., Sept. 5, 2005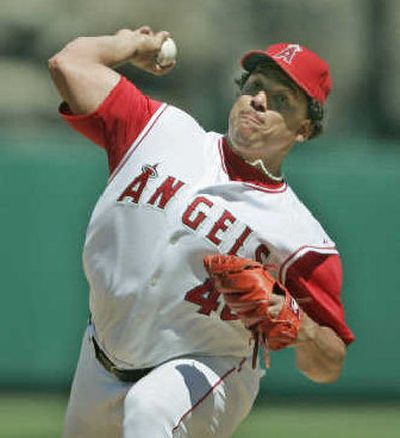 ANAHEIM, Calif. – Bartolo Colon knew he couldn't last long against the Seattle Mariners, so he made the most of his injury-shortened outing.
Colon earned his A.L.-leading 18th win despite leaving with a sore back in the sixth inning, and Vladimir Guerrero hit a two-run homer in the Los Angeles Angels' 5-3 victory Sunday.
"It's been four days of pain," Colon said through a translator. "I knew I could pitch and get the team through five innings. I feel like I had good stuff. I was staying on top of the pitches because I couldn't bend over."
Casey Kotchman hit a three-run homer, a double and a single for the Angels, who lead the A.L. West by one game after Oakland's 7-3 loss to the New York Yankees.
"Casey gave us a big lift," manager Mike Scioscia said.
Colon (18-6) allowed two runs and five hits in five-plus innings, struck out five and walked none. He won his career-best seventh straight decision.
Esteban Yan, Brendan Donnelly and Scot Shields combined to work three innings before Francisco Rodriguez finished for his 34th save in 39 chances.
Los Angeles staked Colon to a 5-0 lead, and he responded by retiring 12 of his first 13 batters to help the Angels take two of three in the series.
He gave up three straight singles to open the fifth before retiring the next three batters. The Mariners scored once in the inning on an RBI single by Jose Lopez to cut it to 5-1.
Scioscia wanted Colon to quit after the fifth, but the pitcher declined. He gave up a triple to Jeremy Reed to start the sixth before bowing out. Reed scored on a groundout by Richie Sexson to make it 5-2.
Colon was replaced by Yan, who allowed an RBI single to Greg Dobbs.
The Angels found their offense after being held to three runs or fewer in eight of their previous 10 games.
Guerrero led off the second with a walk and Juan Rivera singled before Kotchman sent a 3-0 pitch from Jeff Harris (2-2) into the right-field seats to give the Angels a 3-0 lead.
"I just couldn't find it," Harris said. "It was just one of those days."
Guerrero hit his 28th homer in the third for a 5-0 cushion.
Local journalism is essential.
Give directly to The Spokesman-Review's Northwest Passages community forums series -- which helps to offset the costs of several reporter and editor positions at the newspaper -- by using the easy options below. Gifts processed in this system are not tax deductible, but are predominately used to help meet the local financial requirements needed to receive national matching-grant funds.
Subscribe to the sports newsletter
Get the day's top sports headlines and breaking news delivered to your inbox by subscribing here.
---