Sports
One up with three to go
Mon., Sept. 5, 2005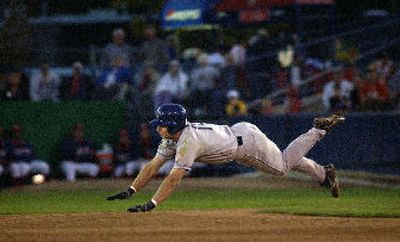 It was amusing to pick up the newspaper Sunday morning and discover that the Spokane Indians have a magic number.
Magic?
It's a miracle.
If you're attuned to baseball's arcane mathematics, you'll know that a magic number is invoked in pennant races to gauge what combination of a team's victories and a rival's losses will clinch a championship.
You'll also know that having more victories than defeats on your record is generally considered good strategy.
And yet here are the Indians, four days into September and three games under .500, not only still in playoff contention in the Northwest League but actually atop the East Division, or as it's more familiarly known, "The Brothers Grimm."
Spokane's record is 35-38 after a four-run sixth-inning propelled the Indians to a 6-4 win over Tri-City in Sunday's home finale at the Fairgrounds. The Dust Devils are in second at 34-39. Boise would be even with them had the Hawks not surrendered a six-run lead in the ninth inning on Saturday night. Yakima is an out-of-it 29-44 in fourth, although the Bears have somehow managed to beat Spokane more than any other team in the league.
No one is more amused and amazed by this happy accident than Indians manager Greg Riddoch, who saw his team go 10 days in July without a single victory.
"How can you be knocking on the door to the playoffs with a nine-game losing streak?" wondered the 60-year-old skipper, sitting in his folding chair in front of the Spokane dugout before Sunday's first pitch.
"What were all these teams doing when we were doing that?"
Never mind that. Where are they now?
The Indians have their own lovable mascot, of course, but this year his costume should be constructed of cardboard and duct tape.
For Sunday night's game, the local ballclub had exactly zero position players available on the bench after catcher Taylor Teagarden had to be scratched from the starting lineup with a back tweak. Designated hitter Jonathan Higashi was warming up pitchers between innings while Ben Crabtree wrestled into his gear.
The Indians placed three players on this summer's Northwest League all-star team and none of those gentlemen is currently at Riddoch's service. League MVP Steve Murphy has a broken hand. DH Lizahio Baez is out with a sprained ankle. A burst blood vessel in his hand has sidelined shortstop German Duran, though he could still return. On top of that, first baseman Phillip Hawke shipped out three weeks ago after breaking his hand.
"We lost the 2, 3, 4 and 6 hitters out of our lineup and still they keep hanging in there," Riddoch said.
Not to put too fine a point on it, but leading the NWL's East Division are the Spokane Indians JVs.
"It's like, 'OK, who's behind door number three?' " Riddoch said. "And damned if they don't pop in there and start scoring runs. Every night's a surprise to me and then again it's not anymore."
It is not always baseball in the conventional sense. Indians pitcher David Smith started Sunday's game by surrendering four straight hits, though the first was a generously scored bunt that he flat dropped. That led to three quick Tri-City runs, and through three innings Smith appeared to be on pace to pitch an 18-hitter.
But he eventually steadied and Spokane put up that four-spot in the sixth with two out – the go-ahead hits coming from a .233 hitter (Joey Hooft), two catchers with a combined 156 at bats (Higashi and Crabtree) and No. 9 hitter Julio Santana, whose slice to left field was magically lost in the lights.
Naturally, this was welcomed giddily by a final-night crowd of 7,022 – enough to put the Indians over the 180,000 mark for the year.
"It was like College World Series atmosphere out there," said Hooft, who played in three of them with Arizona State. "The fan support we have behind us is awesome. The intensity tonight – you could feel it on the field. We definitely had that with us. It's nice we could end the home season sweeping Tri-City and taking over first place – for the time being."
What's that?
"Hey," Hooft said, breaking into a laugh, "in this division, you never know. It's the National League West."
Ah, yes, the big-time version of the NWL East. The San Diego Padres have led that division for much of the summer with a sub-.500 record, which would make some dubious major league history if that arithmetic played out through September. This, of course, is only because the strike of 1994 wiped out that post-season with the Texas Rangers stumbling toward the same slice of heaven.
For the Indians, the patron saints of this sort of silliness are actually the 1982 Salem Angels, who won the NWL North with a 34-36 record and then stunned the Medford A's – who'd won 53 of 70 games – two games to none in the best-of-3 playoffs.
"We haven't really thought about that yet," said Hooft of the distinction of being a sub.-500 team playing for a championship. "Besides, it's not how you drive, it's how you arrive."
The odd fact of the Indians' arrival at this spot is that they've actually played better against the big, bad West – a 21-19 record – than against their fellow scufflers in the East. In that light, maybe it's not a great thing that the Indians end the regular season with a three-game series in Boise, but that doesn't seem to be of much concern in the Spokane clubhouse.
"We're smart enough to figure out that by winning tonight, we've got a pretty good chance," said Riddoch. "We don't talk about magic numbers – I wouldn't know what it is right now – because if you're doing that, you're not taking care of the game that needs to be won today.
"It's been fun regardless of what happens. I'm an underdog guy. I like to see people who aren't supposed to be able to do it succeed. Believe it or not, it's inspiring to me."
He would say magical, but he's not doing the math.
Local journalism is essential.
Give directly to The Spokesman-Review's Northwest Passages community forums series -- which helps to offset the costs of several reporter and editor positions at the newspaper -- by using the easy options below. Gifts processed in this system are not tax deductible, but are predominately used to help meet the local financial requirements needed to receive national matching-grant funds.
Subscribe to the sports newsletter
Get the day's top sports headlines and breaking news delivered to your inbox by subscribing here.
---