News > Features
School daze
Mon., Sept. 5, 2005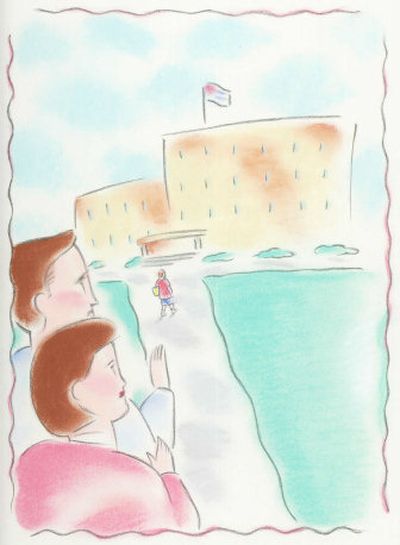 Most people make resolutions at New Year's, but parents of school-aged kids sometimes make them in June, at the end of the school year. They can be summed up in three words: Not Next Year. The time(s) your son told you he had a science test the next day, but only brought home his French (or social studies or English) book? Not Next Year.
The time(s) a search of your daughter's backpack yielded the form for choosing electives, two weeks past the deadline (or a week-old reminder to pack a bag lunch for the field trip that's tomorrow or the schedule for midterms, which it turns out were last month)? Not Next Year.
The wee hours of the day(s) a long-term project was due, ending with a squabble over whether a bibliography (or a cover illustration or a timeline) was required? Not Next Year.
Next year, of course, is already here with the beginning of school. If the prospect of browbeating your kids for 10 months doesn't thrill you, take heart. Your resolutions can actually come true with some dedication, planning and the help of professional study skills and organization professionals.
The result is that, yes, your child can take on more responsibility for running his life without running it off the rails.
Doubters can consider the experience of professional organizer Donna Goldberg.
"My son was in seventh grade when the school called me in to say he wasn't handing in his homework. I said, 'How can that be? He's in his room every night doing it.' I went in his room and found tons and tons of paperwork. That fascinated me. Why would a child do his homework and not hand it in? It wasn't just my son. Lots of kids struggle."
Goldberg's book, "The Organized Student: Teaching Children Skills for Success in School and Beyond" (Simon and Schuster, $14) is aimed at those struggling kids, specifically those in sixth grade and up.
There are several reasons why: Children at this point have a teacher for every subject, so they must organize their academic subjects individually, as well as materials for art, music or other electives.
"They're basically packing a portable office on their backs," she said.
Teachers expect that students can handle homework assignments, long-term projects and other work without helping them schedule their time. Often parents begin to ease up on the daily search through the backpack for homework assignments, field trip permission forms and other papers, assuming their child will alert them to anything they need to know. Add in sports, lessons, clubs, and for older kids, jobs, and it's no wonder things go haywire.
Organization experts believe that kids can be taught specific skills.
The three most important areas to master, she says, include organization at school, at home and time management.
Before you plunge in, however, Goldberg warns parents to expect some resistance from your child. So try to keep criticism and irritability to a minimum, and try to explain to the child that these skills are going to make her life easier and cut down on your nagging.
School organization
Goldberg calls the locker and the backpack "the two black holes in a student's life," and that's where she advises parents and kids to start.
The first step is to get an understanding of your child's school day. Remember, she said, by winter break, kids will have packed and unpacked their backpacks nearly 1,400 times. They have several minutes to get from class to class, and they have to burrow through their backpacks or lockers every 45 minutes or so to come up with what they need for the next class. So give them credit for doing that.
The point is to make the locker and backpack as user-friendly as possible.
Within a week or two of school, your child should have a good idea of what he needs on a regular basis. Then you can set up a plan to organize the locker into several categories: textbooks, notebooks, loose papers; gym bag, gym clothes; musical instruments; art supplies or other extracurricular necessities. Subdivide the textbooks and notebooks by subject. Then create a map of the locker so when it gets messy – and it will – your child can clean it up and reorganize on his own. When the student knows exactly where everything is, he or she can get books and other items in and out as quickly as possible.
You might want to add some elements to the standard issue locker – the locker "map," a copy of her weekly schedule, a basket for the gym clothes, extra pens, pencils or batteries, an extra shelf and a few dollars hidden somewhere in case she forgets her lunch. Students can jot down notes – "Bring home English book to study!" – on a message center fixed to the locker door.
Encourage your child to put things back in their designated space every time she uses her locker.
The second challenge is the child's backpack. Many kids never take anything out as the school year progresses and the result is a massive, heavy hodgepodge of old papers, never-handed-in assignments, dog-eared, ripped folders full of miscellaneous papers, months-old school announcements, and books they may or may not need for that night's study.
Goldberg advises parents and children to take everything out of the backpack. Throw out everything that's not needed.
Then repack it. First put in the books, binders or notebooks and folders. They can be packed in order of their size or by subject matter, making them easy to locate. Designate each section of the backpack for a specific use. Then create a "map" of the backpack so the child can reorganize it when things start getting out of control.
"Everything should go into the same space every time, so you can reach in and find anything with your eyes closed," said Julie Morgenstern of Julie Morgenstern Enterprises, an organizational and time management consulting firm.
It's a good idea to go through the backpack regularly with your child until she gets the hang of how to keep it organized. The goal is to phase out your involvement so she can handle this by herself. Set a time, such as Sunday evening, for the student to go through the backpack, throw out old papers, etc., to prepare for the new school week.
Of course, different books must be taken home each night, homework sheets go back and forth from home to school, dirty gym clothes are exchanged for clean ones. Your student needs a way to get a handle on the flow.
Morgenstern, the author of "Organizing from the Inside Out For Teens," and "Time Management from the Inside Out," recommends using colored portfolio folders, one marked for items to take home and another for items to take back to school.
Goldberg has two methods:
She recommends using a three-ring binder with sections for different subjects. Poly dividers with pockets can be used to separate the subjects and also carry homework papers back and forth from school. Every subject gets a different colored divider.
The other system utilizes an accordion file. Each pocket holds a task : homework to do; homework to hand in; a separate notebook for each subject that is labeled by color, or a large perforated notebook so that the day's notes can be detached and filed in the subject of the class: history, math, etc.
Home organization
Now you have to organize your home. Goldberg swears by the desktop filing system as a way to keep track of homework, notes and other papers. Set up the hanging files by subject, using the same color scheme as in the binder or accordion folder. The child can take history notes out of the binder and place them in the history file in the desktop file. When it's time to study for the chapter test or midterm, she knows exactly where her notes from two months ago are now.
Other file subjects can include extracurricular activities such as sports team information like game and practice schedules.
Students should go through their binders or backpack files at least every one to two weeks to transfer papers into the home file box, she said. Students can combine that task with the weekly cleaning of the backpack.
Time management
Now that your child's external world is organized, it's time to take on … time. Time management skills are critical to good work habits, and with more homework and projects, students need to know how long it will take them to accomplish various tasks.
A Web site dedicated to study habits has a section on time management that includes a Flash test, Developing a Schedule, to help students figure out how much time they spend on various activities.
"It's a nice exercise, a very simple clock that lets anybody see how they think they allocate their time and how they actually allocate their time," said Landesberg, the college administrator/webmaster.
Morgenstern recommends that kids put together a "time map" each week in which they can fill out what they are doing in half-hour increments.
Once you get a sense of the day, it's easier to schedule a regular homework and study time. It also helps to schedule blocks of time needed to finish longer-term assignments like book reports or to research a social studies project. Students should also think about how much time they'll need for travel, like going to and from sports practice; social life, like birthday parties and school dances; and how to factor in extra time for typing the report or designing a cover.
"They can see the limits of what time they have and also the time it actually opens up for them. I've seen a lot of kids who can fit in more at a leisurely pace, and if they plan in advance, they're not going to get caught with one hour or 90 minutes to squander," Morgenstern said.
Besides the regular schedule, there are the quizzes, tests and due dates for projects to keep track of. Students also have to look beyond their daily schedule to the weeks, or months ahead, to know when they have a soccer tournament, vacation or recital. That's where a vital tool, the planner, comes in.
Planners can be used to track daily, weekly and longer term commitments. Goldberg suggests that the planner be divided by subject matter, according to the daily schedule, as well as space for after school. Homework should be written down in the particular subject matter the day it's given. Tests should be written down the day they are announced. Deadlines for long-term assignments should be broken down into steps and given individual deadlines to keep the student on track. The planner should be a staple of the backpack.
OK, you've got the locker and backpack covered, the desk file and portable office are set up and stocked, and the planner has been filled out. At last, you can relax!
Not so fast, Goldberg advises. It's going to take your child some time to figure out the best way to handle his school work and schedule, so you'll have to supervise at first. By June, however, your resolution may sound something like this: Same thing next year.
Local journalism is essential.
Give directly to The Spokesman-Review's Northwest Passages community forums series -- which helps to offset the costs of several reporter and editor positions at the newspaper -- by using the easy options below. Gifts processed in this system are not tax deductible, but are predominately used to help meet the local financial requirements needed to receive national matching-grant funds.
Subscribe to the Coronavirus newsletter
Get the day's latest Coronavirus news delivered to your inbox by subscribing to our newsletter.
---