News > Features
Capturing hostages' psychological makeup
Thu., Sept. 8, 2005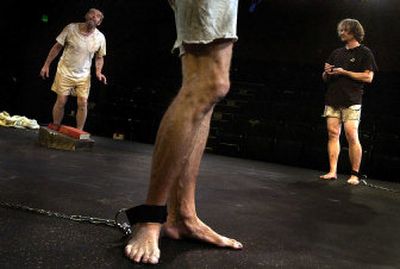 The Interplayers Ensemble chose "Someone Who'll Watch Over Me" as its season-opening play because of its timeliness: Three men are kidnapped by Islamic extremists and chained together in a cell.
"I settled on it right after the London bombings," said artistic director Nike Imoru, who is from London.
Funny how things don't change. This play was timely back in 1991, too, when it was first a smash hit in London and on Broadway.
When Frank McGuinness wrote this drama, Terry Anderson and several other men were in their seventh year of being held hostage by Islamic extremists in Beirut. Anderson was released months later and eventually went to see "Someone Who'll Watch Over Me" on Broadway.
"Parts of it were hard to watch, because the author captured the feeling so well," Anderson was quoted as saying.
"Someone Who'll Watch Over Me," which was produced by the Spokane Civic Theatre in 1994, is not a dramatization of Anderson's plight. McGuinness wrote it before Anderson was released; details of his captivity were still unknown.
Nor is this play overtly political. McGuinness clearly is more interested in exploring the hostages' psychological landscape than in making a political statement.
It shows the three attempting to defeat the most daunting adversary of all: an endless stretch of empty time.
They act out movies; they dream up potent cocktail recipes; they sing "Chitty Chitty Bang Bang." In one of the play's most memorable scenes, they re-enact a Wimbledon tennis match.
These three men become closer than most families, sometimes in the worst possible way. At times, they turn on each other with poisonous wrath.
However, "Someone Who'll Watch Over Me" is full of surprising humor.
"My goodness, I spend most of the rehearsals laughing," said Imoru. "It has that humor tinged with profound pain."
Imoru said that McGuinness, a celebrated Dublin playwright, has the kind of "wit that is in the whole tradition of Irish writers."
The play was revived in London this spring. The Daily Telegraph said that "for all its harrowing subject matter, it is also blissfully funny."
"It's clear that this is a play about far more than captivity at the hands of hostile Islamic forces," said the Daily Telegraph. "It's also a piece about nationality, about faith and its often vexed relationship with organized religion, and the amazing capacity of the human spirit to endure, and find love, hope and tenderness in even the most desperate surroundings."
Imoru said the play fits perfectly with the overall themes of Interplayers' 25th anniversary season: "triumph and celebration of the human spirit."
She directs a cast consisting of Bill Caisley, Charles Gift and Michael Maher (who played Dracula on the Interplayers stage last year).
Local journalism is essential.
Give directly to The Spokesman-Review's Northwest Passages community forums series -- which helps to offset the costs of several reporter and editor positions at the newspaper -- by using the easy options below. Gifts processed in this system are not tax deductible, but are predominately used to help meet the local financial requirements needed to receive national matching-grant funds.
Subscribe to the Coronavirus newsletter
Get the day's latest Coronavirus news delivered to your inbox by subscribing to our newsletter.
---