News > Business
Digital, delayed
Fri., Sept. 9, 2005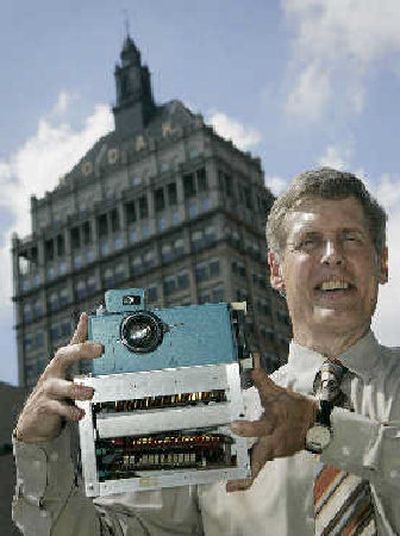 ROCHESTER, N.Y. — Steven Sasson knew right away in December 1975 that his 8-pound, toaster-size contraption, which captured a black-and-white image on a digital cassette tape at a resolution of .01 megapixels, "was a little bit revolutionary."
When anyone asked, the Eastman Kodak Co. engineer ventured that it would become a commercial reality in 15 to 20 years.
It would be a quarter century, though, before Kodak began to capitalize on Sasson's breakthrough: the first digital camera.
In the meantime, the company that pioneered mass-market photography was busily amassing more than 1,000 digital-imaging patents. Today, almost all digital cameras rely on those inventions.
But Kodak's transition to a new world of photography was hindered by a reluctance to phase out celluloid film, its 20th-century gravy train.
Not until 2001 did Kodak begin selling mass-market digital cameras, though it leapfrogged Sony Corp. and Canon Inc. in 2004 for the lead in U.S. digital camera sales.
Sasson, now 55, never imagined as a relatively new Kodak hire in 1975 all the dazzling ingredients that have, in just a few years, put digital cameras in 50 percent of American households: fiber optics, the Internet, personal computers, home printers.
His invention began with a 30-second conversation.
Sasson, who'd recently earned a master's in electrical engineering, said his supervisor, Gareth Lloyd, gave him a "very broad assignment: He just said, `Could we build a camera using solid-state imagers?"' — a new type of electronic sensor known as a charge coupled device, or CCD, that gathers optical information.
Finding the literature on digital imaging to be virtually blank — Texas Instruments Inc. had designed a filmless but analog-based electronic camera in 1972 — Sasson drew on whatever wizardry was available: an analog-to-digital converter adapted from Motorola Inc. components, a Kodak movie-camera lens and the tiny CCD chips introduced by Fairchild Semiconductor in 1973.
Completing their final voltage-variation test in December 1975, Sasson and his chief technician, Jim Schueckler, persuaded a lab assistant to pose for them. The image took 23 seconds to record onto the cassette and another 23 seconds to read off a playback unit onto a television. Then it popped up on the screen.
"You could see the silhouette of her hair," Sasson said. But her face was a blur of static. "She was less than happy with the photograph and left, saying `You need work,"' he said.
But an overjoyed Sasson already knew the solution: By simply reversing a set of wires, the assistant's face was restored.
Sasson's show-and-tell presentations over the next year "met with a lot of curiosity, some annoyance," he said. "Many times people talked about all the reasons why it would never happen. But there were many people that quietly looked at it and said, `Boy, it's a long time, but I don't see that it won't happen.'
Besides, Kodak wouldn't be rushed.
Considering that Eastman's $1 Brownie camera turned photography into a hobby for the masses way back in 1900, some critics insist Kodak discovered the "next big thing" and didn't bring it out quickly enough, letting Japanese rivals drive the digital-camera market.
Local journalism is essential.
Give directly to The Spokesman-Review's Northwest Passages community forums series -- which helps to offset the costs of several reporter and editor positions at the newspaper -- by using the easy options below. Gifts processed in this system are not tax deductible, but are predominately used to help meet the local financial requirements needed to receive national matching-grant funds.
Subscribe now to get breaking news alerts in your email inbox
Get breaking news delivered to your inbox as it happens.
---