News > Nation/World
PAC organized by DeLay indicted
Fri., Sept. 9, 2005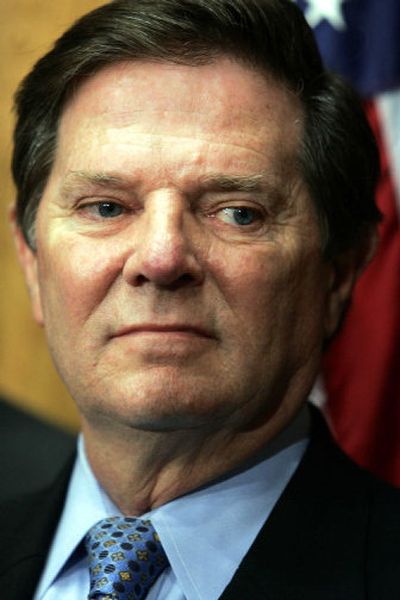 WASHINGTON – A grand jury in Texas on Thursday indicted a state political action committee organized by House Majority Leader Tom DeLay, R-Texas, for accepting $120,000 in allegedly illegal corporate campaign contributions shortly before and after the 2002 election that helped Republicans cement their control of the House of Representatives.
The indictment follows a lengthy investigation in Austin that previously had targeted the defunct political action committee's executive director, John Colyandro. He was indicted last year for accepting illegal corporate donations and for illegally laundering $190,000 in corporate funds through the Republican National State Elections Committee, funds that later wound up in the hands of Texas Republican candidates.
The criminal charges are based on a Texas election law, akin to rules in 17 other states, that strictly bars political contributions from corporations for election purposes. But according to evidence submitted in a related civil trial, the committee, Texans for a Republican Majority (TRMPAC), raised and spent at least $523,000 in corporate funds – most of which were not reported to state election officials.
The funds paid for surveys, mailings, receptions, candidate investigations, and probes of Democratic candidates that helped Republicans gain control of the Texas House for first time in 130 years, and enabled them to redraw the state's congressional districts in 2003 in a way that Texas voters elected five more Republicans to Congress in 2004.
DeLay, who was a member of the committee's advisory board, signed fund-raising solicitations and participated in at least one conference call to discuss the committee's plans, was not named in the indictment. He also has not been publicly identified as a target of the investigation by Travis County District Attorney Ronald Earle.
DeLay spokesman Kevin Madden responded to the indictment with a written statement saying that it "is limited to a political organization and does not affect Mr. DeLay."
Madden also disclosed for the first time that DeLay had "voluntarily" talked to Earle's office about the investigation last month and that DeLay said then that his involvement in the committee's activities was "limited to serving on the political action committee's advisory board along with other elected Texas officials and … appearing at fund-raising events."
Local journalism is essential.
Give directly to The Spokesman-Review's Northwest Passages community forums series -- which helps to offset the costs of several reporter and editor positions at the newspaper -- by using the easy options below. Gifts processed in this system are not tax deductible, but are predominately used to help meet the local financial requirements needed to receive national matching-grant funds.
Subscribe now to get breaking news alerts in your email inbox
Get breaking news delivered to your inbox as it happens.
---